After a $70 million redevelopment from owner Highgate and spearheaded by New York-based BHDM Design, the property formerly known as the Park Central Hotel reopened as the Hyatt Regency San Francisco Downtown SoMa. The 36-story hotel's artistic, biophilic design pays homage to its proximity to the San Francisco Museum of Modern Art, the Asian Art Museum, the Museum of the African Diaspora, and the Contemporary Jewish Museum.
In that spirit, BHDM sponsored a portfolio review of the Academy of Art University's students and alumni, evaluating a wide range of media that included fashion, illustration, architecture, and photography. Ultimately, the firm commissioned pieces from about 30 artists. "We were looking for diversity of different kinds of work," says principal Dan Mazzarini. "Things that were more thoughtful than just pictures of San Francisco."
The works appear throughout the 686-room property. Architectural drawings inspired the dark oak wall hangings above the bespoke black metal concierge desk, for instance, and pieces done in various mediums coexist seamlessly in the gallery-like La Société, a brasserie serving French-inspired cuisine using locally sourced ingredients. Fine art photography, meanwhile, graces the guestrooms.
The creative approach can also be found in the furnishings and finishes throughout. The woven arts inspired an illuminated rope installation that occupies a ceiling niche that leads to the reception desk, where it flows down the back wall to create a striking focal point. The installation is also a subtle nod to the cables supporting the Golden Gate bridge. "It's a nice double entendre," Mazzarini says.
Inspired by the concept of a sculpture garden, the team furnished the lobby with planters containing curvaceous plaster-covered forms surrounded by shapely boxwoods. The pieces are a whimsical backdrop for clubby furnishings covered in channel-tufted leather, tweeds, and velvets rendered in chocolate, olive, and burnt orange—another nod to the Golden Gate. "It's a rich, timeless, organic palette," Mazzarini says, pointing to the veiny book-matched marble fireplace.
Now relocated to a far more prominent location near the front entrance, the nearby bar is a celebration of ceramics, its vertically stacked subway tile accented by fluted wooden wall paneling and copper banding. "We responded to the mediums and the processes that artists work in to inspire timeless finishes that reference the art," he explains. In the hearth lounge, 3-by-6-foot custom Corian-over-plywood panels clad the wall behind the long concrete worktables. "They create this almost Louise Nevelson kind of art installation," Mazzarini points out, referencing the American sculptor known in part for her massive wooden wall pieces.
The palette is simpler in the guestrooms, which have white walls buoyed with faux bois vinyl accent walls, gridded rugs, and streamlined furnishings. "We thought of the rooms as almost an architect's respite," Mazzarini explains. "They are clean, simple, and timeless."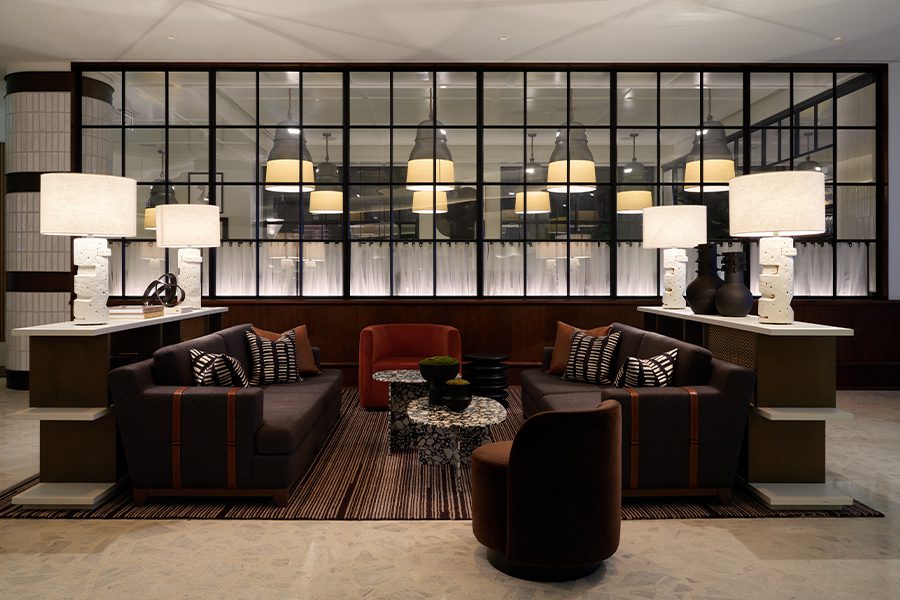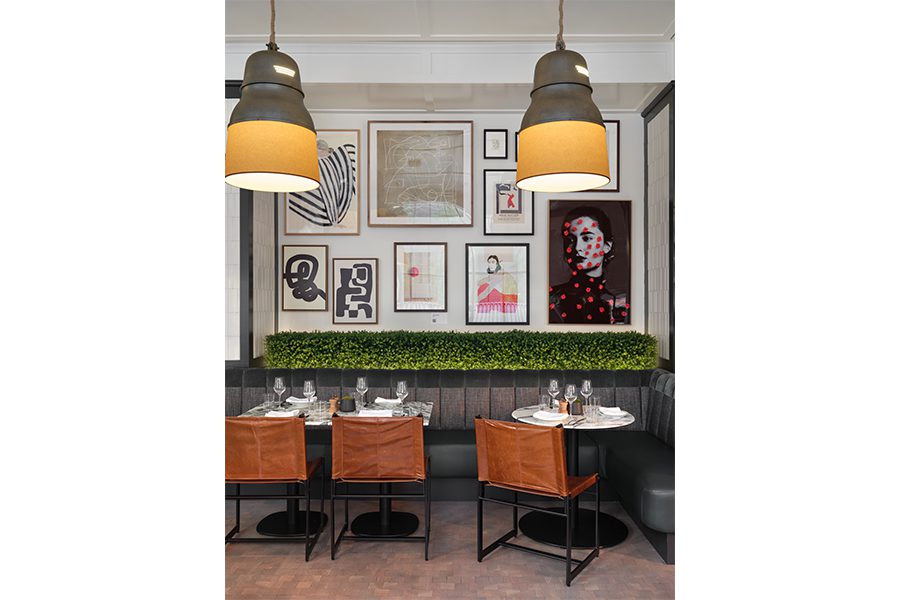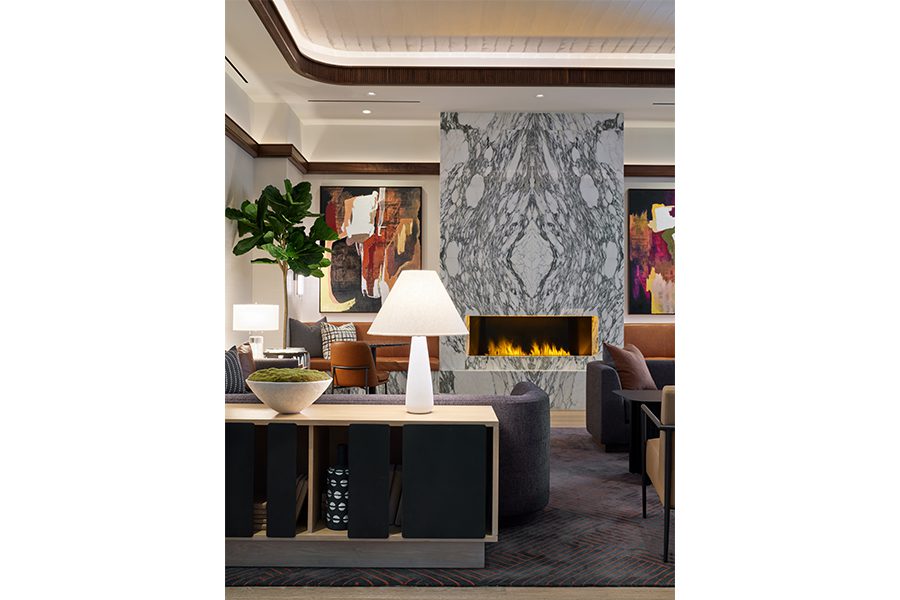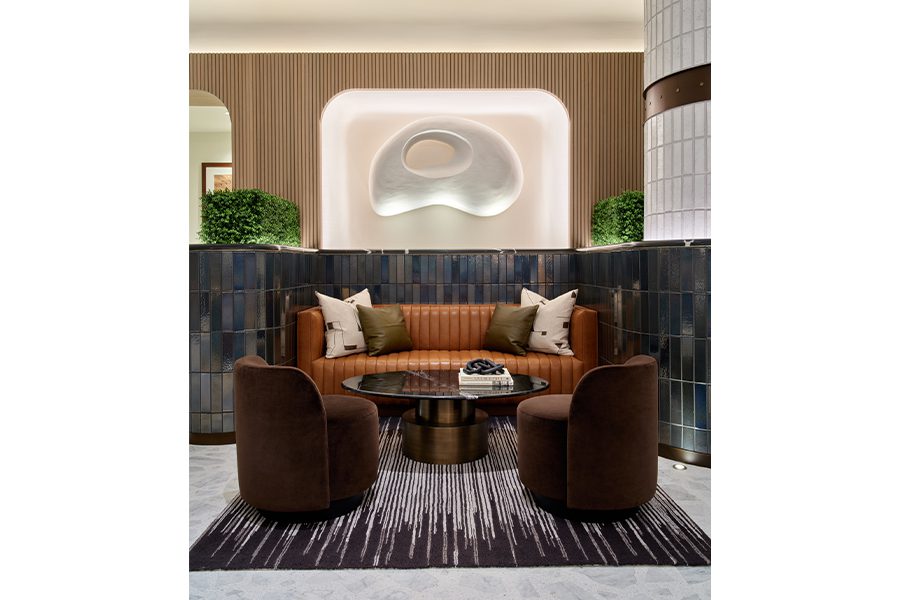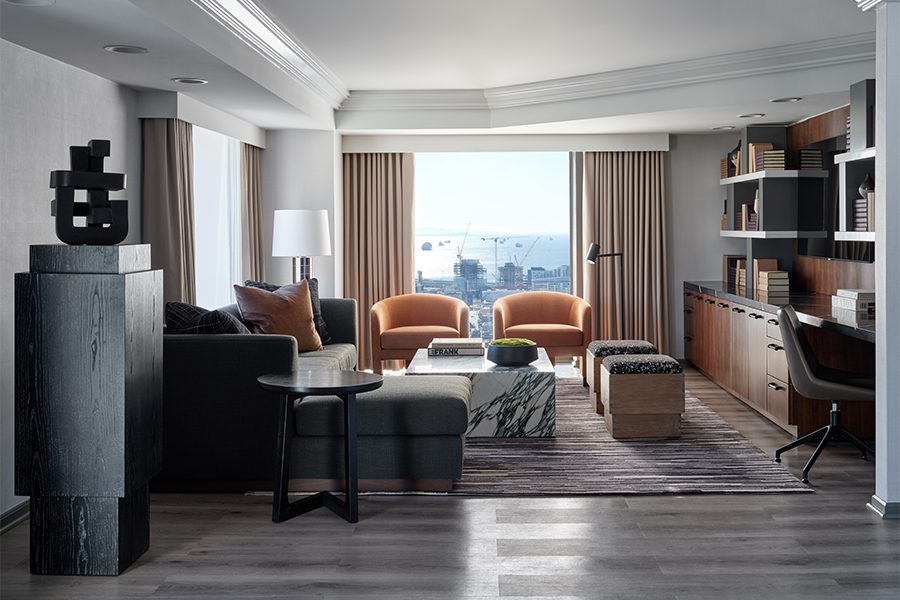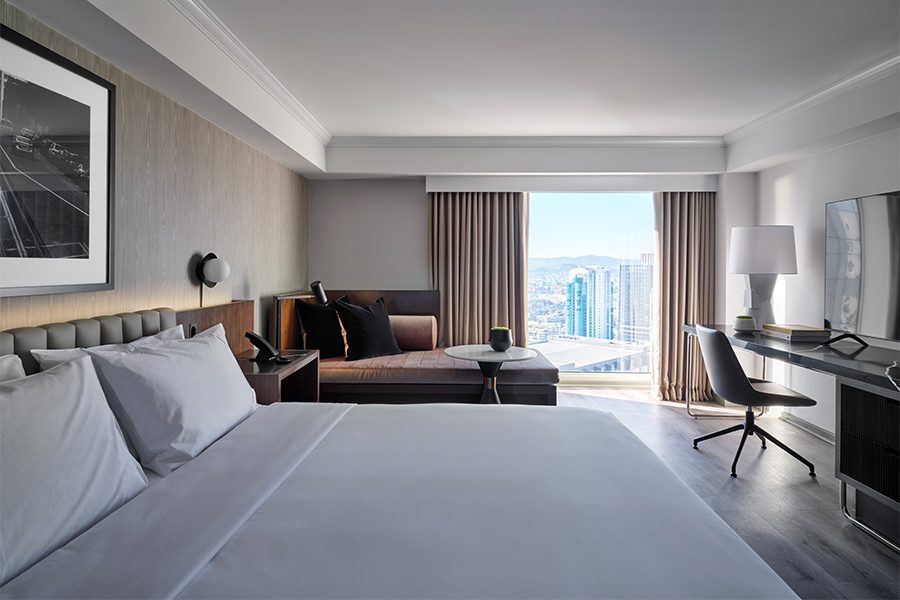 This article originally appeared in HD's April 2023 issue.