Crowning a mountain above Lishui City in Zhejiang, China, Miwo Hotel rises like a treehouse from the forest. The name is derived from a Chinese portmanteau of "rice grains" and "tree nest," which is embodied in the hotel's blanched, cubic volumes. The minimalist concept by Hangzhou-based AT DESIGN aims to disrupt nature as little as possible, with floor-to-ceiling glass that puts the surroundings on display. "We hope that guests can not only immerse in the forest landscape, but also have the atmosphere of a contemporary art space," says lead designer Moye Shen.
While it may appear the rigid geometry of the exterior contrasts the tree-filled backdrop, Miwo's unornamented presentation seeks to reflect the scenery in its simple purity, "to create a well-spaced feeling, corresponding to everything in nature," Shen explains. "The appearance of the building is well-arranged, and the heights and lows echo the natural scenery."
The ground floor is activated with a courtyard that evokes a ceremonial quality with a network of shallow waterways that further embed the hotel in its surroundings and glisten in the sunlight. An infinity pool acts as a medium between indoor and outdoor environments as it amplifies the azure sky in sharp contrast to the white exteriors. Beyond reception, a wraparound, indoor-outdoor hangout area is penetrated with narrow white columns reminiscent of trees. The elevated terrace even expands outward as if to invite guests to step into the canopy.
Marble surfaces and wood floors also infuse a delicate warmth into interiors where sinewy lines reign. Large circular forms line the ceiling of the reception area, concealing a lighting system that sets the hotel aglow after dark. Beyond public spaces, seven elevated guestrooms are housed onsite, including a trio of residential-style accommodations ideal for families.
Ultimately, the property's unadorned essence creates a healing environment and its bond with the outdoors only strengthens its ability to restore. "The architecture and nature can be independent," Shen says, "just like a cloud in the mountain."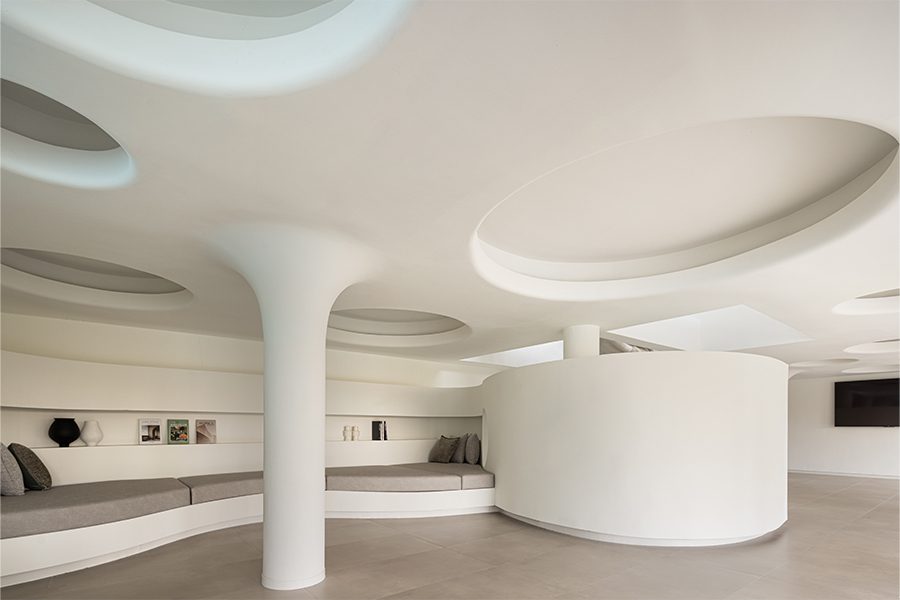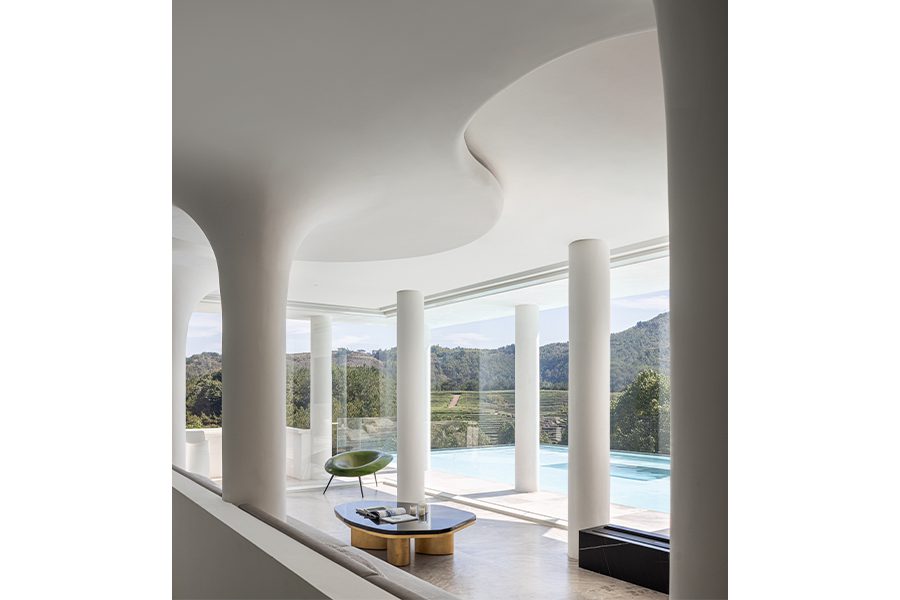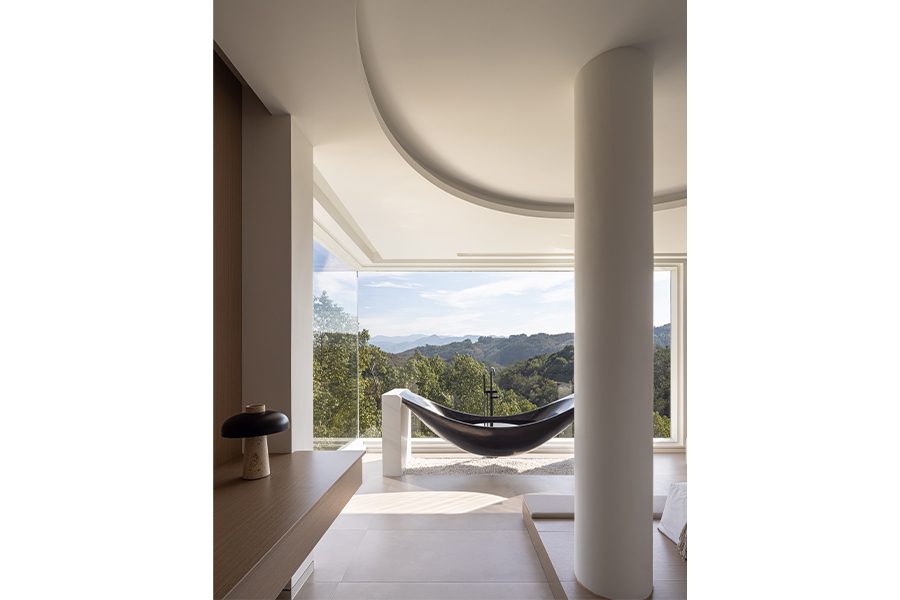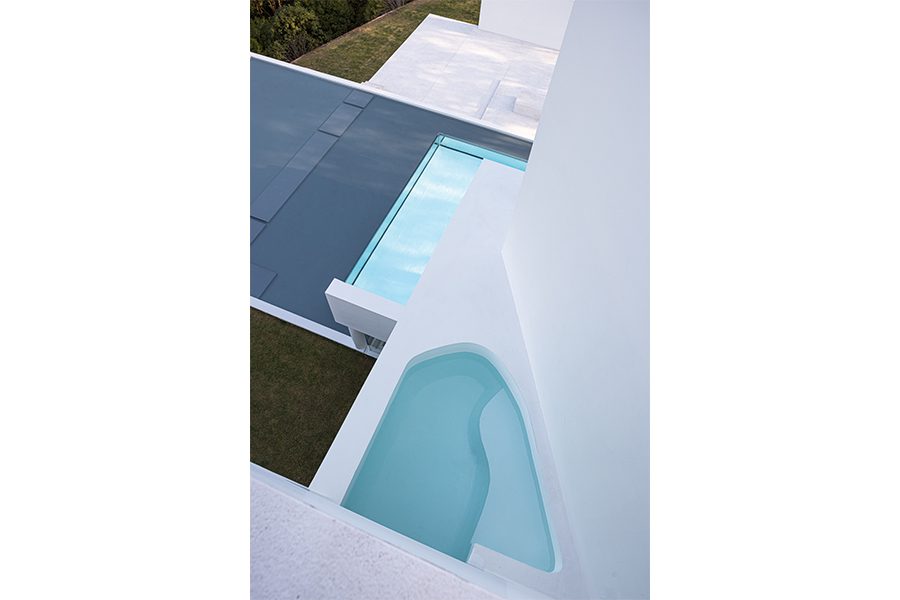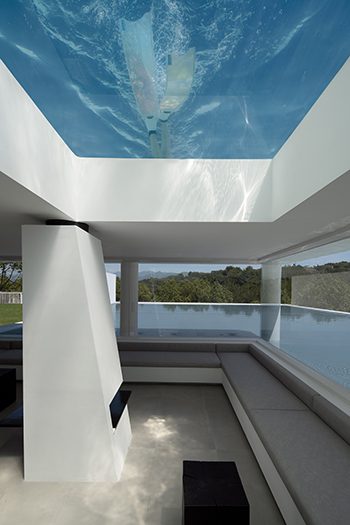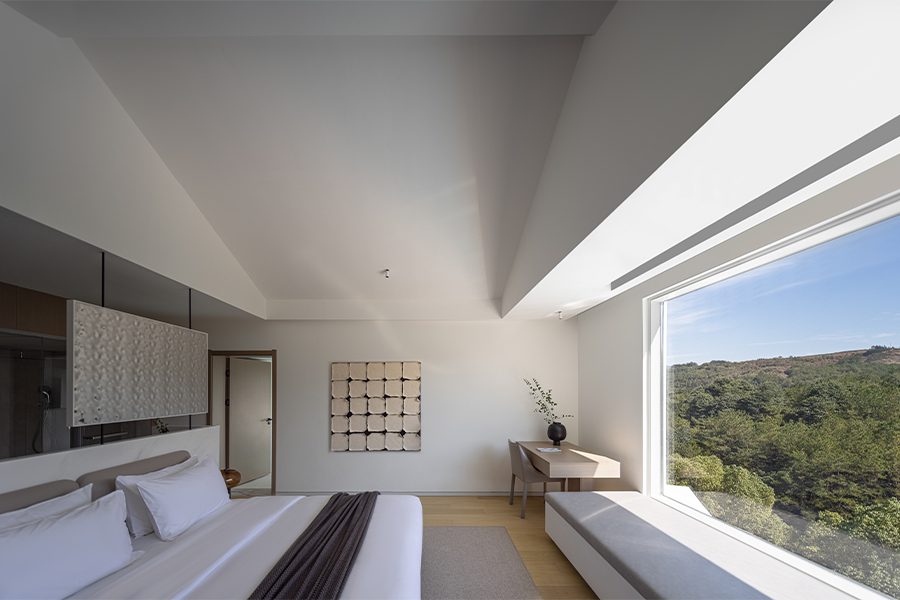 This article originally appeared in HD's April 2023 issue.