Considering the proliferation of trendy, upbeat boutique properties in New York, Hotel Chandler opted for a more subdued approach to its revamp. The 138-room hotel, nestled on a quiet side street blocks from the Empire State Building, turned to Essex, Connecticut-based Capellini Design Associates to overhaul its public spaces, spanning the lobby, library, bar, and breakfast room.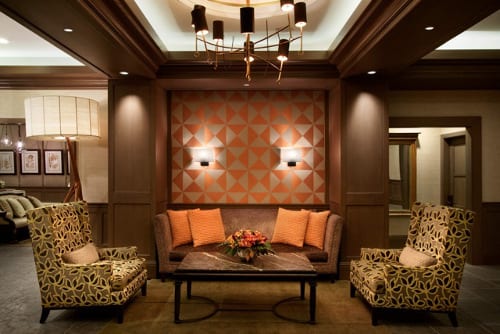 "People think of New York as cutting edge, but when I travel I want it to feel like a home away from home," says the firm's principal, Jane Capellini. Hotel Chandler, with its "earthy and organic" palette featuring shades of green, brown, and orange, feels exactly like an urban pied-à-terre, a reflection of Capellini's renown for her residential projects.
"For a hotel," she explains, "I'm not designing for one personality or one family like a house, but a broader range of tastes. Having it feel comfortable to guests from around the world was easy, though, because of the great bones of the hotel and the artifacts we found, such as sections of mosaic flooring, a stone carved cartouche, and plaster moldings."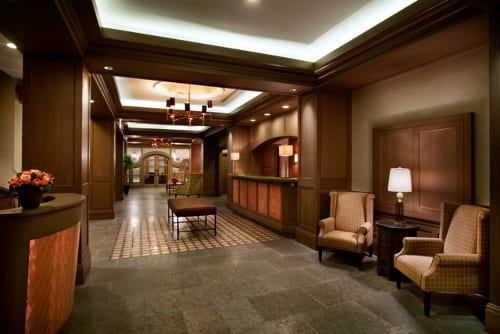 Although these artful relics could not be salvaged, they influenced Capellini's design, including the keystones hand carved in France adorning the entry and the hand-cobbled mosaic tile rug of Israeli stone in the lobby. The reception desks' copper façades, 18th-century clock hands from European watchtowers, classy overstuffed chairs, and Guatemalan lamps resembling mangrove roots also reveal the designer's reverence for understated Old World elegance-and the building's own circa 1905 history.
The cozy library off the lobby is another intimate perch, with a fireplace and English limestone mantel, upholstered wall, and playful Chiquita stools crafted from rattan poles. "There are area rugs, so it's more a residential feel than wall to wall carpets and wood floors. The modern fixtures hanging overheard are clear, so visually it wouldn't be a barrier and break up the room," Capellini says.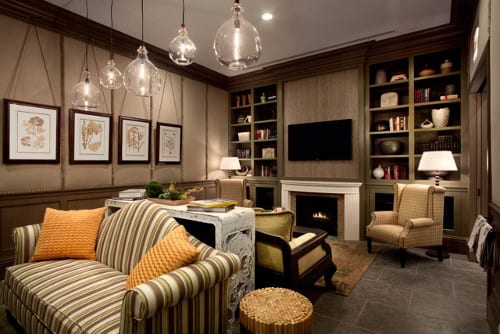 Typically concealed in back or another floor, here the breakfast room, with its copper tables, can be glimpsed beyond the expanse of the Hotel Chandler's lobby. This view, she points out, "gives you a feel of the space."
Capellini is just getting started at the property. Her calming aesthetic will also grace soon-to-be-updated guestrooms and Juni, the restaurant opening in the spring from E Squared Hospitality in collaboration with chef Shaun Hergatt.