Doug and Pat Perry have long been patrons of Norfolk, Virginia's rich arts and culture scene, and that passion led to the creation of the Glass Light Hotel & Gallery, the couple's most impactful imprint on the city yet. Architecture and design firm Baskervill transformed the property, part of Marriott's Autograph Collection, with developer Suburban Capital from a 1912 office building that was once home to the Royster fertilizer company.
"It was the tallest building in Norfolk for 63 years, and the most difficult thing was to turn it into a 117-room hotel, which it didn't want to be because it wasn't its original purpose," says David Wilbourne, studio director of Baskervill's hospitality division.
Thankfully, there were many preserved details that sprung from those challenging floor plates and heritage restrictions. In the lobby, for instance, expanses of plasterwork were maintained and large windows remain as they were, while hallways couldn't be altered, yielding guestrooms with distinctive layouts.
Glassworks, including massive, playful bunny sculptures crafted by Dutch artist Peter Bremers in collaboration with Czech Republic-based Lhotský Studio, make an impression upon arrival and at the bar. But the design firm was also eager to introduce guests to the glass-blowing process. "The entire concept is to highlight the making of glass, the forming of glass, and the different forms that glass can take when it's turned into high art," explains Wilbourne, noting the wall of wood behind the reception desk that nods to the paddles used to shape glass.
The bulk of the Perry Glass Art Collection is showcased on two floors of the gallery, an adjacent building that is distinguished by an architectural stair. "We tried to make the stair as sculptural as the pieces of art," says Wilbourne. Some of these works—by the likes of Dale Chihuly and Karen LaMonte—are best displayed against white, in dialogue with sunlight; while others benefit from a dark backdrop, so Baskervill painted the upper level black for a moodier feeling.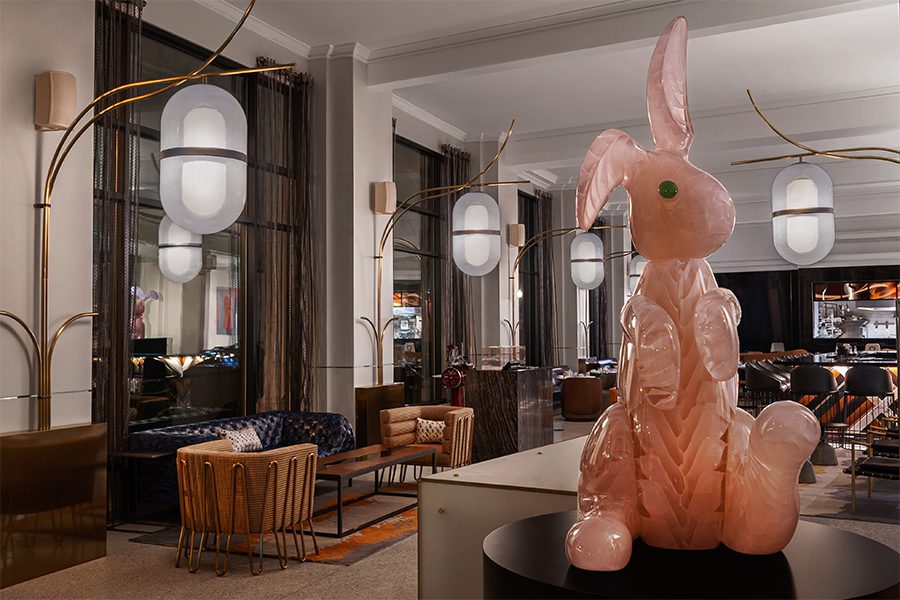 This glass theme extends to the Glass Light Hotel's guestrooms, which were imagined as artist studios and illuminate colorways of green, blue, and orange. "We wanted to create an area to sleep, an area to work, an area to be creative," says Baskervill principal Patricia Lopez. "The art is different in every room, and it was all inspired by the color chips that [artists] add to the glass. It's just so vibrant."
In many of the accommodations, the team salvaged characterful beams and unearthed brick that was left exposed, features that are juxtaposed with a contemporary custom carpet courtesy of Shaw Contract Hospitality. Its design aptly takes cues from the pre-production sketches made by glass artists and reflects "the definition and lines" that Baskervill envisioned, as Amy Jaekel, director of custom design at Shaw Contract, puts it.
It was spawned from an image of Chihuly spreading paint with a broom, culminating in "big swirls of color and movement," says Lopez, "and that's what we wanted the carpet to look like—with not as much color, so the art in the room can pop."
During the revamp, Baskervill discovered a few surprises, most notably the double-height space dubbed the Skylight Room. It was covered in plywood that was unsheathed to reveal an old skylight that let light in from the second floor down into the lobby. "We restored the whole thing using historic photographs," points out Wilbourne. "That was amazing to find."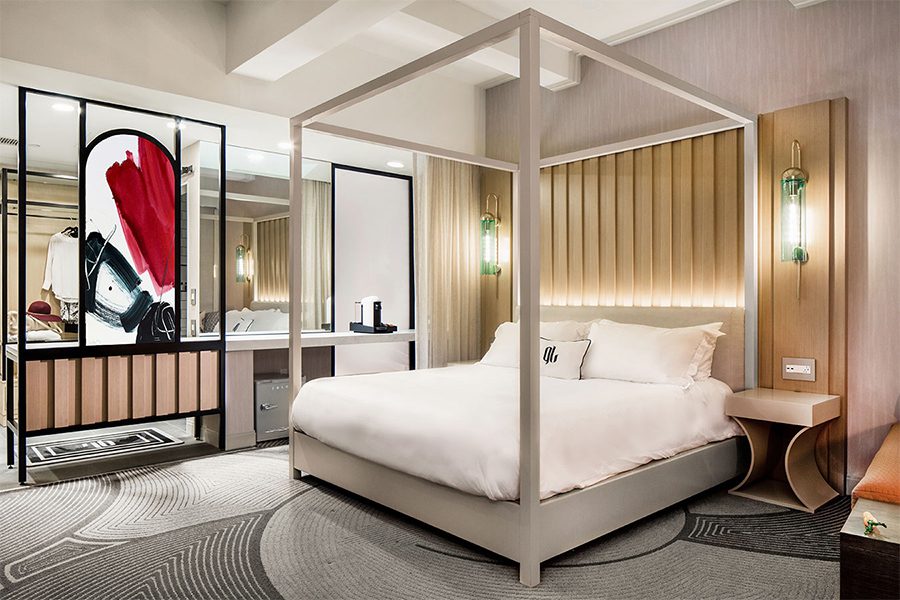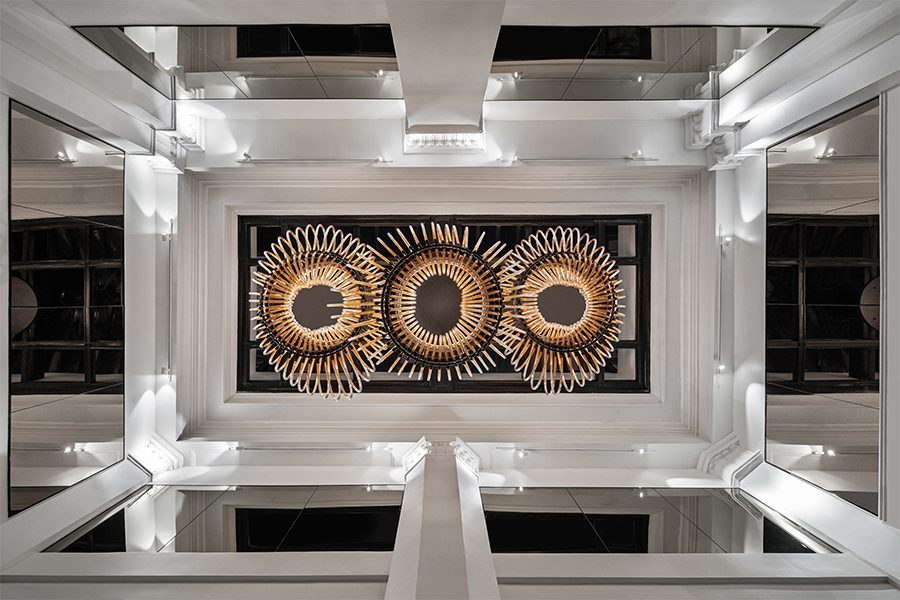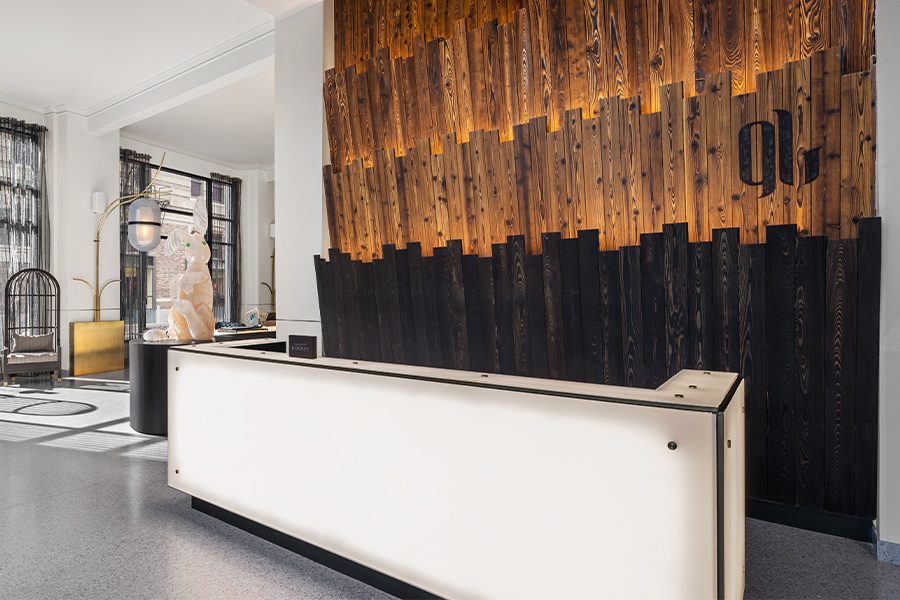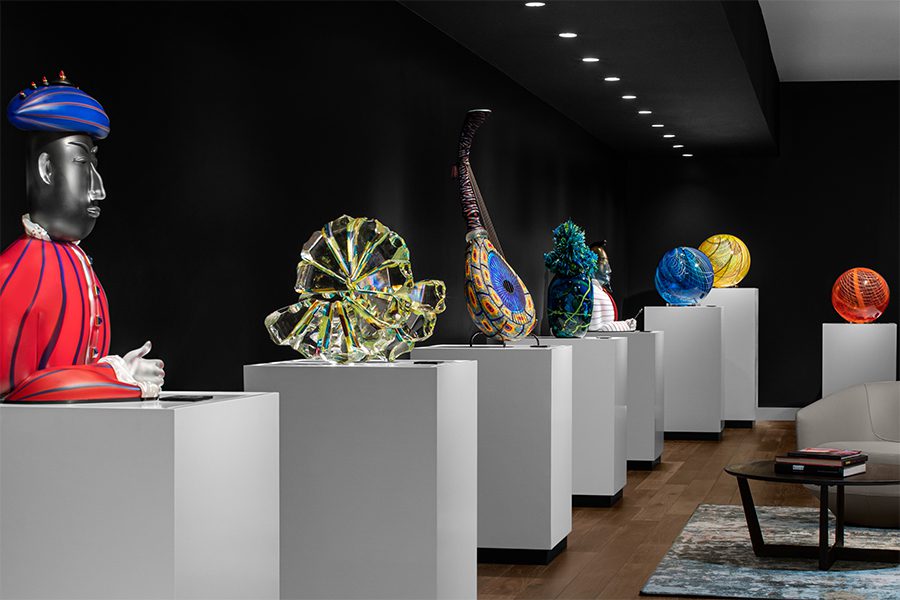 This HDTV episode is sponsored by Shaw Contract Hospitality
More from HD:
Glamping Gets Even More Luxurious at ULUM Moab
Industry Leaders Discuss the Obstacles of Running a Business
Genuine Partnerships Are Paramount for Ryan Crown