In healthcare facilities, biophilia is more than just a buzzword and rather an intentional practice that profoundly promotes healing physically, mentally, and emotionally.
Maggie's Leeds Centre
United Kingdom
Soft, soothing design is at the heart of Maggie's centers across the UK (and the few abroad), which lend emotional and practical support to people affected by cancer. The brand's most recent, Maggie's Leeds, by London's Heatherwick Studio, is one such harmonious example.
Constructed from prefabricated, sustainably sourced spruce, the building is situated on the grounds of St. James' University Hospitality in Leeds, England, on a "tricky sloped site," as Heatherwick's project leader Angel Tenorio puts it. A trio of graceful structures shaped like mushrooms and flaunting sinuous timber fins each enfold a counseling room, while underneath and between them is an expansive staircase and the communal areas, including a centerpiece kitchen, teeming with plants.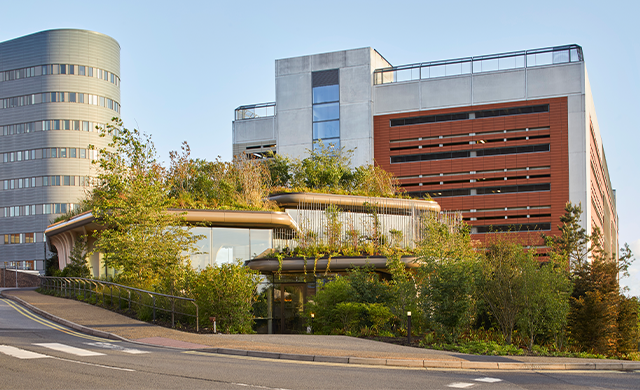 Lime plaster helps regulate the passive-ventilated structure's humidity, walls of windows magnify the outdoors, and two Heatherwick-designed tables that take cues from the surrounding curves are fashioned from cork and beech. Such elements help "remove any of the traditional hallmarks of a clinical healthcare environment. Instead of cold and harsh stainless steel, we chose to use natural materials, which have an inherent warmth to them," says Tenorio.
Atop the roof is a landscape installation designed by Wiltshire, England-based Balston Agius that calls to mind the Yorkshire woodlands. "The site was the last patch of green space on the hospital's campus. From the outset, we wanted to ensure that the center would be giving back more than it was taking away," says Tenorio. "We also knew that an extraordinary garden made up of thousands of plants and bulbs could have a powerful and transformative healing effect on visitors."
Shenzhen Children's Hospital
China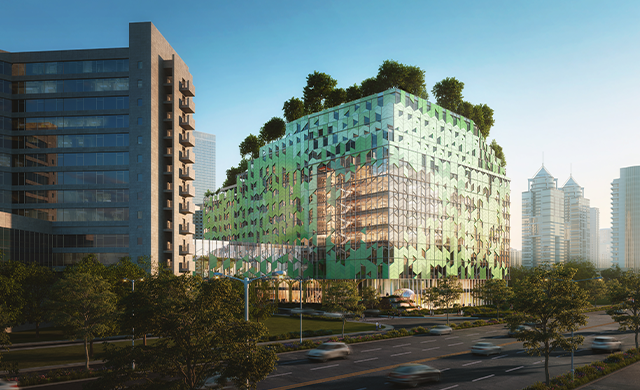 Stretching upwards to the glass-roofed lobby of the Shenzhen Children's Hospital and Science and Education Building is a wooden tree enlivened with colorful birdhouses, an amusing vertical 'secret' garden that underscores B+H Architects' desire to foster an uplifting playground vibe.
After winning an international competition organized by the Shenzhen government, B+H, in collaboration with the East China Architectural Design & Research Institute (ECADI), is currently developing this addition to the adjacent 22-year-old Shenzhen Children's Hospital as a "a place that inspires a sense of wonder for the young patients who walk through its doors," says Stephanie Costelloe, managing principal at the firm's' Hong Kong studio. "From the outset, our mandate was to see the hospital experience through a child's eyes, resulting in a design that sparks joy, curiosity, and empathy."
Lush vegetation plays a starring role in this narrative. The rippled sky gardens are conjured from the building's subtly staggered upper levels, while the urban living room is a transporting outdoor public space set underneath a botanical-patterned canopy.
"We believe nature is a powerful tool to the healing process," says Costelloe, noting how the design directly draws from its surroundings. Located on the southwestern edge of Lianhuashan Park, the pediatric healthcare facility is enveloped in views of both that green landmark and the mountains to the north. "It was crucial that we engage patients, staff, and visitors in the natural landscape," she adds. Along with the treatments it provides, the hospital extension—strewn with discussion-inducing zones that suitably look onto the park—also acts as a collaborative hub for clinicians, researchers, and medical students.
Photos by Hufton+Crow and renderings courtesy of B+H Architects
This article originally appeared in HD's December 2020 issue.