Much more than your average brick-and-mortar store, these retail spaces—both large and small—offer customers a memorable and engaging shopping experience.
Zhima Health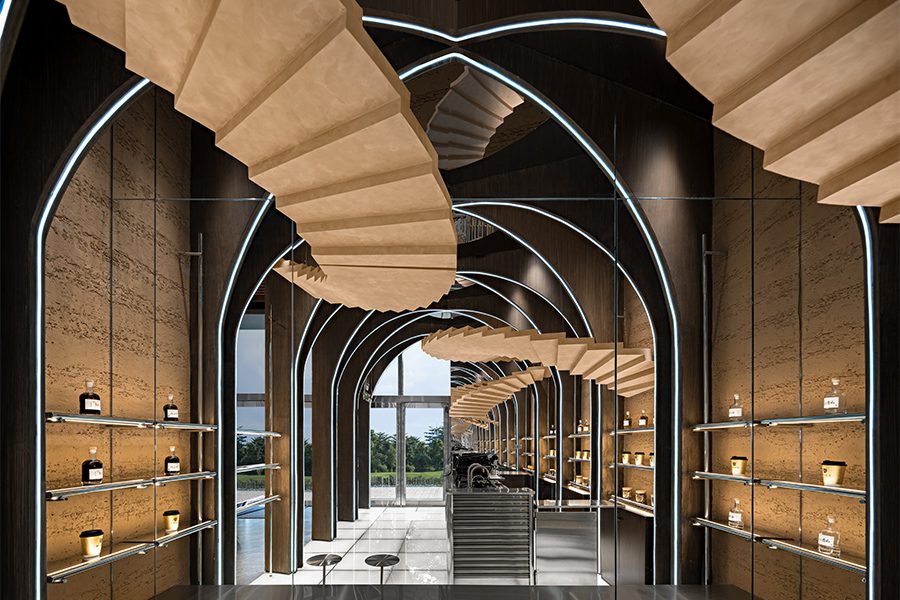 A shop-in-shop at the Universal Beijing Resort, Zhima Health, which offers a variety of dietary and healthcare products, was designed by Beijing-based Wuxiang Space Architecture Design Studio with Christopher Nolan's 2010 film Inception in mind. Mirror surfaces and rammed earth anchor the palette, with their "reflections creating an illusion of infinite space and time," says chief designer Wang Yong. "At the same time, rammed earth is the oldest building material in China, giving people a thick and rough feeling." The shop expands its limited footprint of 320 square feet by fillings its raised ceiling with towering wood arches. The Inception homage reaches its apex with four pairs of large wood spiral stairs that intersect overhead in a dizzying medley that symbolizes the folding of time and space.
Forte Forte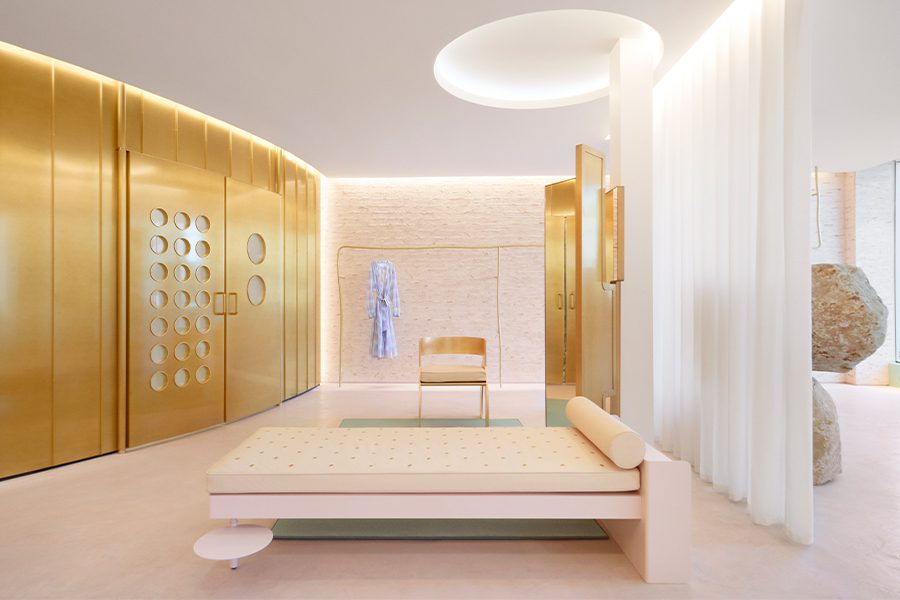 Italian fashion brand Forte Forte arrives stateside with a new boutique located on Melrose Place in Los Angeles. Crafted by the brand's cofounder Giada Forte and creative director Robert Vattilana, the store is inspired by sunny California and LA's bohemian spirit. "The design blends the collections with the space in a harmonious and delicate atmosphere," says Forte.
Beyond a pastel limestone façade that channels the midcentury charms of Palm Springs, Forte Forte reinforces California modernism and its desert landscapes. Full-height muslin curtains embody the lightness at the heart of the concept, while four thin columns pierce the ceiling through non-concentric plaster circles artfully illuminated à la artist James Turrell, known for his work that explores the relationship between light and space. A pair of stacked desert boulders are installed along with greenery to offset the commanding and curvaceous brass stage box where dressing rooms echo the same jade hue as the shop's exterior. Customers are immersed in the "colors, materials, finishes, vegetation, and even the intimacy of the dressing rooms," Forte says. "The environment creates a true sense of humanity."
Hyundai Seoul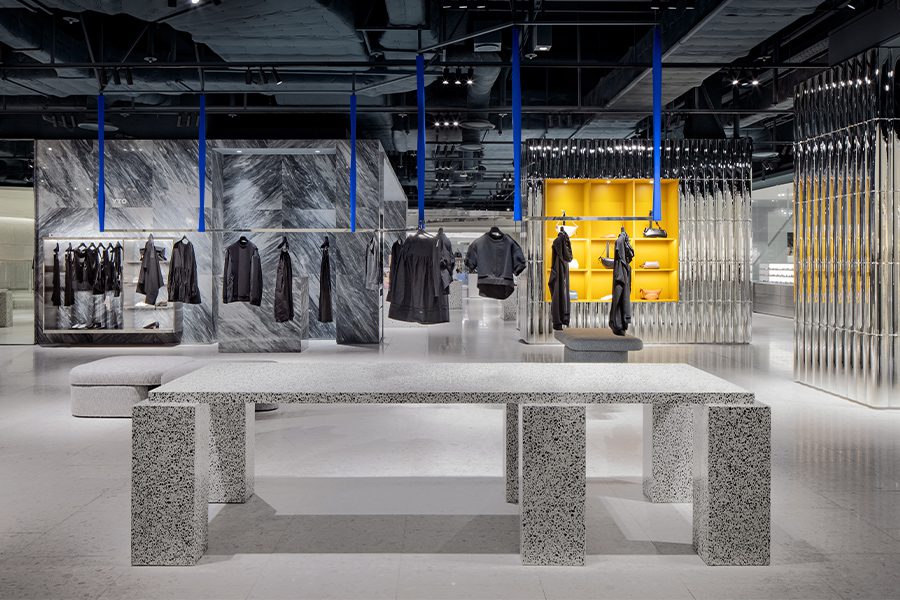 After winning the bid to transform an abandoned development into Hyundai's latest brick-and-mortar entry, Toronto design studio Burdifilek overhauled three floors into a memorable environment worthy of Seoul's sophisticated shoppers. "This was a building that was brought up to ground level and then stopped because the developer at the time ran out of funds," says Burdifilek cofounder Diego Burdi. "But the architecture was quite unique and very interesting. The competition was how do we make this feel like a department store knowing that this is the base building architecture."
The solution, of course, was experiential. Visible from all levels, an atrium crafted by Burdifilek pours natural light into the core of the department store. A 40-foot-tall sculptural waterfall reflects the nature theme, which also appears in overhead water patterns that transform ceiling surfaces. Womenswear on the second floor is distinguished by soft architectural features complemented by indirect lighting and a neutral palette. The third floor, meanwhile, is characterized by an edgier, more sculpted curb appeal of vacuum-formed, polished chrome. "It has this kind of kinetic energy," Burdi adds.
Kanuk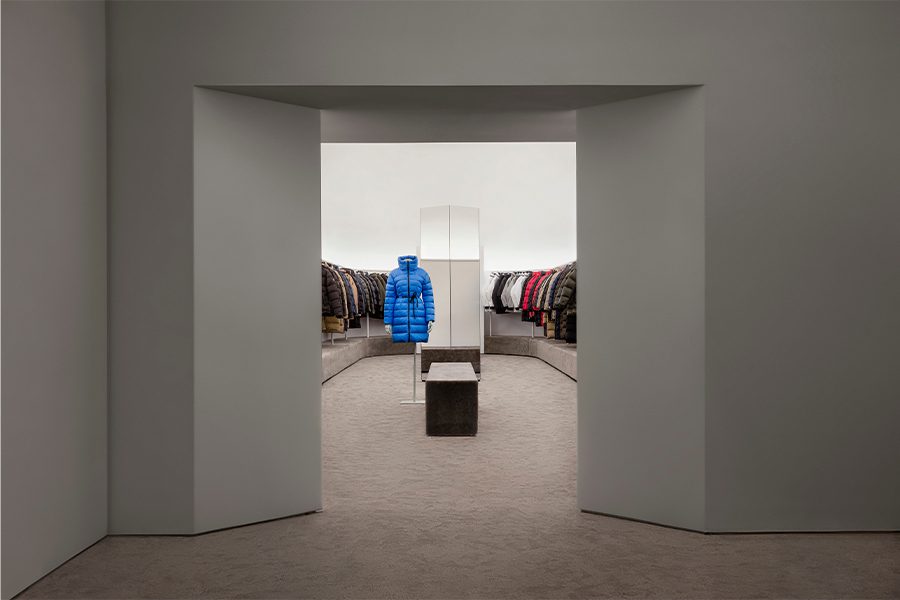 Canadian outdoor apparel brand Kanuk's first international outpost in New York's SoHo neighborhood stands out in the shopping Shangri-La, thanks to a design by Montreal-based firm Atelier Barda that embodies the "retro-cult" vernacular of the brand's hometown. "The idealistic vision of the '60s and '70s that transformed the urban face of Montreal at that time still lives in the city today," says Atelier Barda cofounder Antonio Di Bacco. "Another characteristic image is the winter urban atmosphere, with its nightly light halos enveloping the streets in layers of mist in an almost cinematic way. The sensory experience of the store is born from this feeling."
Colorful fashion on display pops against matte white surfaces, accented by directional lighting that further nods to the midcentury heyday of Montreal design. "Those years were synonymous with architectural explorations, utopian, and futuristic visions," adds Atelier Barda director Kevin Botchar. "Our idea was to give visitors a small glimpse of what that could feel like today."
This article originally appeared in HD's April 2022 issue.