Bold concepts redefine the meaning of hybrid—spaces that take the blurring of disciplines to the next level to keep guests engaged.
Capital One Café
Chicago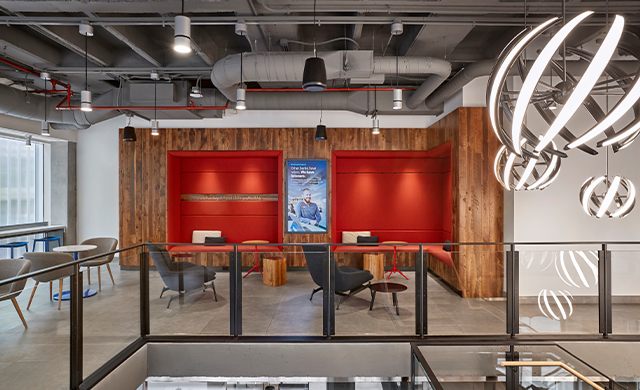 Regular in-person visits to bank branches may have been eclipsed by convenient online transactions, but for Capital One, pairing financial services with coffee breaks is proving a savvy combination that reels in customers. For its recently opened Chicago flagship in the Loop, the company once again called on IA Interior Architects, which has designed a number of Capital One's community-minded, café-centered establishments.
Drawing from the city's architectural legacy as the birthplace of the skyscraper, the design of this outpost, says John Hopkins, a principal at the firm's local office, revolved around "less powdercoated steel and more blackened steel, fewer wood surfaces, and more metal and concrete forms." For example, he explains, "there are planter boxes around the central stair and to both highlight that feature and help it feel more integrated, we provided metal grating that covers translucent, backlit acrylic panels."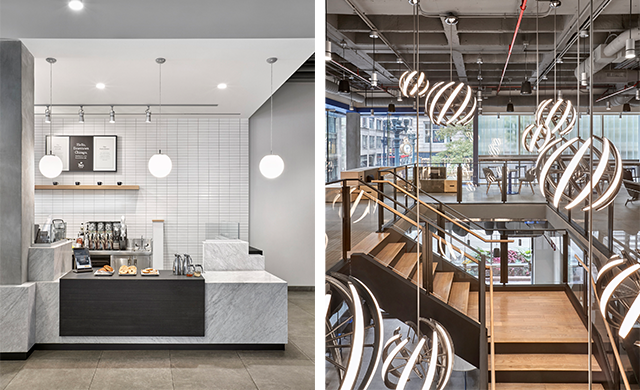 On the ground floor, clients attend to their banking needs or park themselves on the deep-blue banquette and sip Peet's Coffee. After climbing the prominent sculptural staircase, the atmosphere is more akin to a coworking space, with a range of seating that suits both boisterous Zoom sessions and quiet alcove time. "Some are high chairs and tables by the windows with a wonderful flooding of daylight, while others are small enclosed rooms with soft, moody finishes and controlled soothing lighting," Hopkins explains.
Magnifying the energy of the busy street beyond is the glazed curtain wall, which deftly integrates vertically folding, hinged glass panels. On a mild day, Hopkins says, they elicit "an inside-outside urban experience, right on the sidewalk."
Say No Mo
Kiev, Ukraine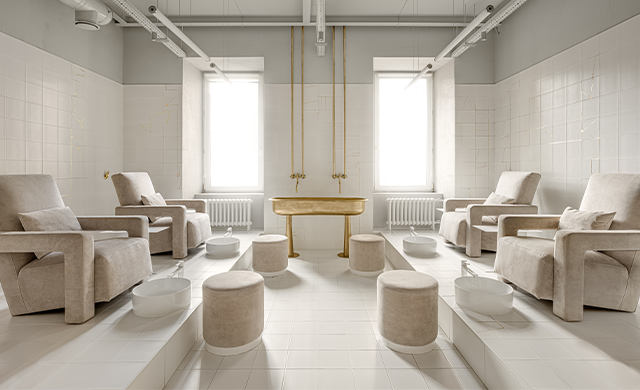 An industrial-glam vibe suffuses a two-story salon set in a 19th-century building in Kiev's Pechersk district that doubles as a sociable cocktail lair. Designed by local studio Balbek Bureau, it first beguiles customers with a dramatic duo of cast-in situ concrete forms, an arch that calls to mind ruins (which took four months to construct), and a jagged-edged reception desk. "We wanted the passage from the lobby to look monumental. The structure of the arch and the reception desk convey the design concept—imperfection, brutalism, and natural textures," explains architect Slava Balbek, the studio's founder and CEO.
This raw, unconventional approach to beauty is reinforced in the pedicure zone adorned with cracked tiles that represent kintsugi, the Japanese art of mending broken pottery. Rather than flaws, Balbek points out, the fissures "are treated as features that make the tiles unique. Perfection is boring." Another highlight of the area is a freestanding washbasin pieced together from two vintage Soviet-era baby bathtubs. Post treatment, guests can unwind in the lounge, by the bioethanol fireplace suspended from the ceiling, or camp out with a cocktail at the bar swathed in panels of titanium nitride-coated polished stainless steel.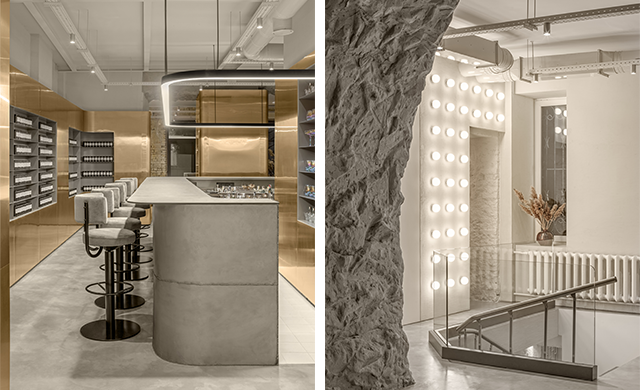 Uniting all three of these main areas (makeup and hair sessions take place on the lower level) are rounded golden panels on walls and columns that act as bar shelves and partitions. "Like beauty and the beast," says Balbek, the "cold and ascetic" concrete provides welcome contrast to the gold that "adds coziness, warmth, and introduces a touch of gloss."
GreenMonster Lab
Beijing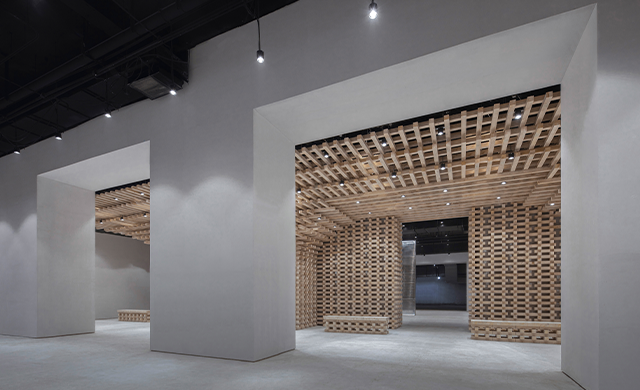 On the lower level of the Kuntai Jiarui Cultural Center in Wangjing, an area of Beijing's hectic Chaoyang District, GreenMonster Lab embodies versatility. Designed by local studio BANDe Architects, the amorphous GreenMonster Lab is, as BANDe cofounder Kung Zhou puts it, "a boundless living space with no single specific definition that combines culture and business [with] where people can relax." Transforming the basement's original muddled layout was BANDe's most challenging task, but amid the disorder, the architects discovered that once-unsightly elements could be reimagined into focal points. Fire shutters, for example, were heightened, and the exposed ductwork ceiling was amplified with black paint.
Three vignettes comprise BANDe's new spatial plan for the multifunction exhibition, retail, and entertainment venue. As guests descend into the space, they are first met with "the feast," a series of expansive timber structures fashioned from simple interlocked beams that nod to traditional Chinese pavilion architecture. This warmth then gives way to the spare, industrial-style "craftsmen shop." Arranged as if in an alley to foster communication between those selling and buying goods, five cage-like mesh steel installations—with walls that can be covered in artwork—envelop structural columns. GreenMonster Lab culminates in "le flottant," a resting point marked by a row of eight spots outfitted with artificial stone counters that conjure a contemporary marketplace.
By mixing cement with wood and metal, "we wanted to create a sense of contrast and fusion," explains BANDe cofounder Lin Xu. "Seemingly contradictory materials appear to be integrated, the continuation of our 'boundless' design concept."
Photos by Yevhenii Avramenko and Weiqi Jin
This article originally appeared in HD's December 2020 issue.