Social media meets influencer culture in these Instagrammable exhibits found across the U.S. The Houston outpost of the Color Factory conjures chromatic joy, while the Museum of Ice Cream in New York puts a cool, confectionary spin on the Big Apple—each offering patrons a chance to upgrade their grid with sumptuous environments.
The Color Factory
Houston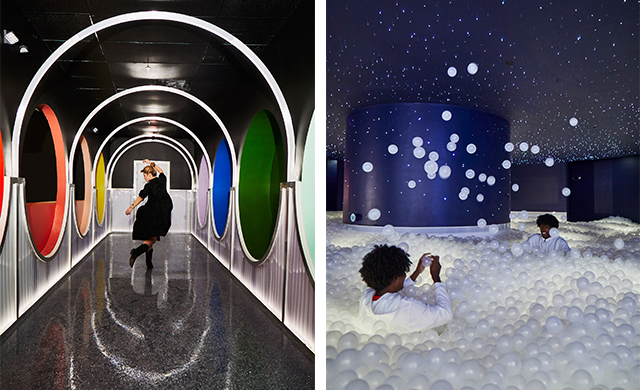 After a successful debut in New York in 2018, the Color Factory opened a Houston outlet late last year, enlisting a roster of artists to contribute to the ambience of various rooms within the interactive museum. "We strive to create an experience that inspires joy and connection," says chief experience officer Tina Malhotra. "[We want visitors] to feel the awe that comes along with something so unexpected and fun." Therefore, each room offers something different than the one before, but all share the ability to "inspire positive emotion, curiosity, and connection," she adds.
In Houston, artist Soo Sunny Park installed a dichroic glass sculpture that explores iridescence as a principle. As natural light fills the room, colorful shadows and reflections cover the space and shift throughout the day. Additionally, the "Your Magic is Real" exhibit, from artists Alicia Eggert and James Akers, requires two people to each touch a sensor and then hold hands to power the room around them, culminating in a neon light show. "Our main goal is to delight customers with experiential art that is both beautiful and meaningful," Malhotra says. "We immerse people in our colorful world with hopes that they'll take that joy back into their everyday lives."
Museum of Ice Cream
New York
Manhattan's SoHo neighborhood may be known for its high-end retail and fashion, but now a colorful, sugar-coated playhouse stretches over three floors in two combined buildings on one of the area's most walked blocks. "As with many projects in New York, space was a premium and we wanted to put every bit that we could into making a fantastic experience for our guests," says Museum of Ice Cream founder and CEO Maryellis Bunn. The organization's flagship now features 13 multisensory installations, including the locally inspired "Celestial Subway," a sizable sprinkle pool perfect for young ones and photo ops (pre-COVID), a three-story slide, and a hall of giant sculptural ice cream scoops. "We believe in creating beautiful, sharable environments that foster real-world interaction and connection, providing fun expressions of ice cream that cater to appetites of our generation," adds Bunn.
The standout, however, is the Queen Bee room. Shaped like a giant beehive, it serves the museum's in-house ice cream flavor of the same name. Visitors are led to the hive by a buzzing sound, where treats are served on a table that appears to float. "Imagination makes real impact in the world—it unites and inspires us," says Bunn. "We're so excited to share our world."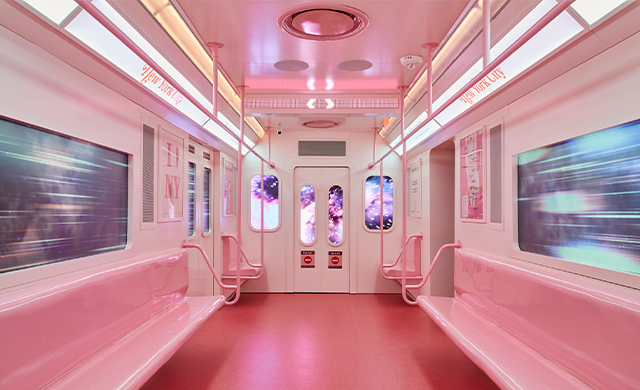 Photos by Cody Bess, Heather Moore, and Nicole Franzen
This article originally appeared in HD's December 2020 issue.