Experiential discovery is at the forefront of these two market-driven museums. The iDAC Design Museum in Shenzhen, China opens up at the base to merge with the streets like a box being opened, while the Nxt Museum in Amsterdam fuses art, science, and technology through a series of rooms that showcase artists' versatile works.
iADC Design Museum
Shenzhen, China
Shapu Art Town, a bold example of urban planning, sprung up on land once strewn with farms and factories in Shenzhen's Bao'an District, a humble fruit stand the sole reminder of the commercial-cultural development's rural origins. Anchoring this visionary hub, which includes an art school, shops, and galleries, is the six-story iADC Design Museum, courtesy of Hong Kong-based Rocco Design Architects Associates, the firm that also handled prominent neighboring home design center iADC Mall.
Minimalist yet commanding, the museum flaunts aluminum panels that fold away to elicit gaps that stream natural light inside. Inspired by a box opening, the façade both stands out as a neighborhood landmark and symbolizes Shenzhen's creative core. "The idea comes from the intention to form a connection with the public spaces," explains Rocco Yim, principal at his eponymous studio. "The museum opens up at its base to merge with the surrounding streets, blurring the boundary between the public and the private realms and connecting to the adjacent retail terraces by footbridges."
Suspended in a floating volume above this active plaza, which features sunken courtyards that link to the museum's basement, two exhibition wings are devoted to Chinese art and contemporary design. The column-free interiors mix upright and slanted walls, ideal for showcasing 3D objects. A dramatic sculptural staircase, "covered with the same black granite of the plaza," says Yim, "seamlessly leads visitors to the main lobby on the second level," maintaining the interplay between museum and community.
Nxt Museum
Amsterdam
Devoted to showcasing new media art, Nxt Museum reflects cofounders Merel van Helsdingen and Natasha Greenhalgh's fascination with the future. Bringing another jolt of creativity to the redeveloped Amsterdam-Noord neighborhood, Nxt, complete with a community-driven lab revolving around education, research and development, and an artist residency program, debuted in August, unveiling a thought-provoking fusion of art, science, and technology. Greenhalgh, the museum's creative director, designed it "in line with the aspirations and ambitions of the cross-disciplinary creators we present and collaborate with." Through a series of versatile, individual rooms for each work, she adds, "the installations are able to come to life in their fullest forms."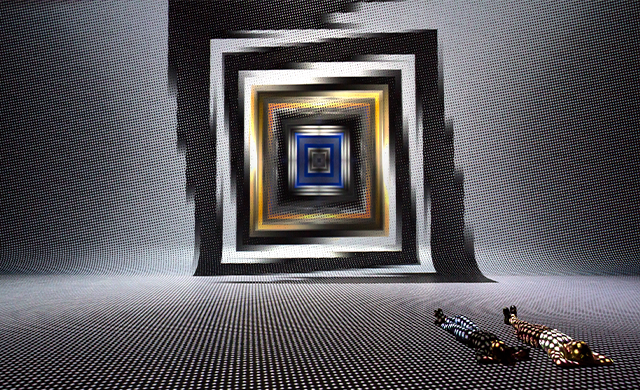 These large-scale, multisensory works are the showstoppers, so materials, including steel and soft fabrics, feature functional attributes to ensure structural, light, and sound quality. In contrast to the dark, nearly black finishes that dominate the exhibition hall—a practical decision that also lends an aura of intimacy and immersion, Greenhalgh points out—ultramarine blue is equally impactful. Covering the floor and a nearly 30-foot-tall wall in the entrance hall, it guides guests inside, "but also, conceptually, pays homage to the history of art," says Greenhalgh, noting the hue's considerable evolution, from its appearance as a rare pigment in Renaissance paintings to the mass appeal of International Klein Blue and even the infamous Windows Screen of Death.
Such storytelling is integral to the journey. "It was important to us that navigating and engaging with the space be intuitive and liberating," says Greenhalgh, so that visitors sense they are "free to move, feel, connect, seek, and learn as they please."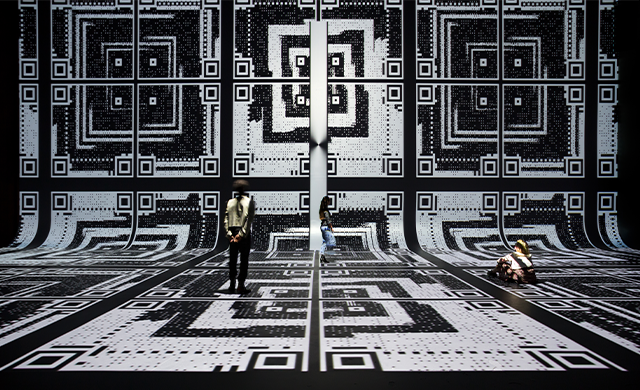 Photos by Arch-Exist and Peter Tijhuis
This article originally appeared in HD's December 2020 issue.