Toronto-based interior design studio Burdifilek unveiled its first yacht project, Entourage, last month at the Monaco Yacht Show. Constructed by shipbuilder Damen Yachting with an exterior design by Espen Oeino, the 7,115-square-foot interiors of the 207-foot vessel have a lithe spirit that harmonizes with their watery surrounds.
On the main deck, boundaries between the sky, sea, and the interiors seem to dissolve. Floor-to-ceiling windows provide panoramic views framed by meticulously chosen fumed oak wall finishes. Gentle curves, bespoke furniture, and pale blush- and sand-colored carpets create contemporary yet timeless luxury.
With fluid undulations and soft leather-clad walls, a staircase conveys artistry in motion. Marcel Dion Lighting Design's concept employs indirect illumination that casts a gentle glow, while an organically shaped wall opening introduces a colorful splash. Above the stairway, the ceiling's layered timber planes impart coziness and a sense of depth.
On the bridge and sun deck, custom outdoor furniture was ergonomically designed with soft curves and neutral fabrics, all in a matte palette.
In the stateroom, leather-paneled walls become the bed's headboard and pastel blue furnishings were selected to complement views of the azure-colored sea, resulting in an interplay of textures, transparencies, and varying degrees of sheen. A sculptural shell envelops the lowermost guestroom in cozy warmth, while atmospheric lighting strengthens the sense of luxurious escape.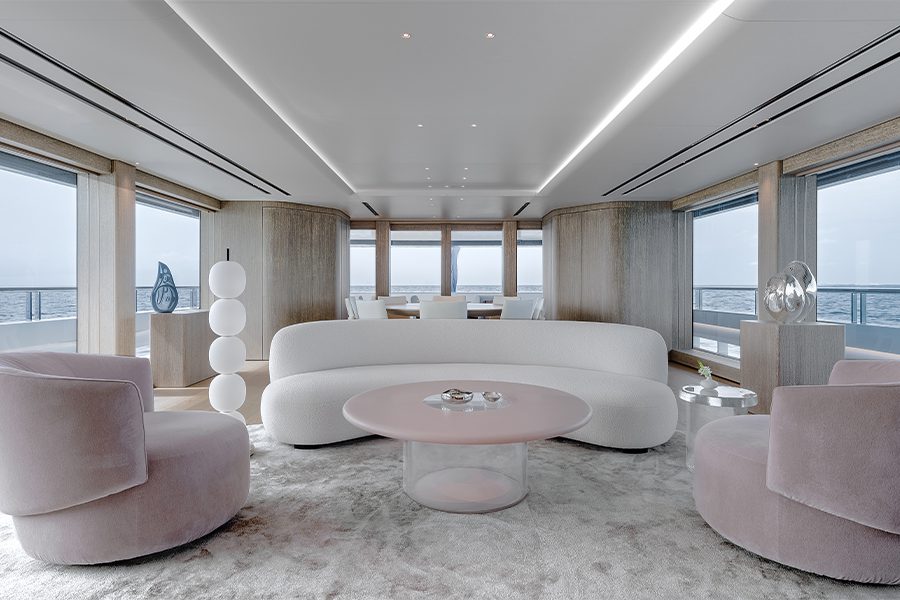 More from HD:
The Hospitality Industry Makes Strides in Sustainability
HDTV Tours the Penny Williamsburg in Brooklyn
A German Medical Spa Takes Wellbeing to a New Level