Cellular agriculture company Aleph Farms, which innovates slaughter-free meat, has announced a collaboration with chef and entrepreneur Marcus Samuelsson. Samuelsson—who owns Harlem restaurant Red Rooster among many others—joins the Israel-based company as an investor, culinary advisor, and launch partner in the U.S.
Aleph Farms' first product, the Petit Steak, is grown from non-modified cells of a Black Angus cow. The company's innovations allow it to grow thousands of tons of meat from a single fertilized egg, creating the potential for transformative and secure food systems.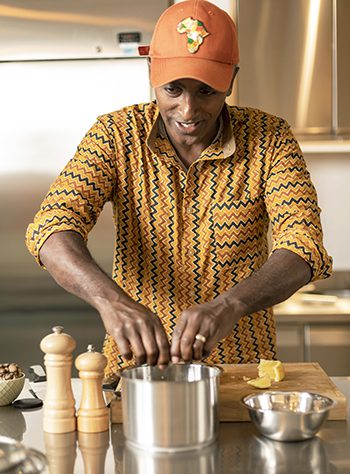 "It's essential that we look for new ways to feed our planet sustainably, which is why I was attracted to the mission of Aleph Farms and being part, both as a chef and as an investor, in bringing delicious, cultivated meat to the table," says Samuelsson. "Right now, it's a pioneering movement and one that I think will only grow to be more important and increasingly commonplace in our lives. What once felt futuristic—like electric cars—soon becomes familiar. This is a gamechanging moment in the industry to invest in the future, and I'm excited to partner with an innovative company like Aleph Farms."
Samuelsson also plans to use Aleph Cuts at his restaurants in the U.S. once regulatory approvals are granted by the USDA and FDA.
More from HD:
5 New Hotel Brands Respond to Travelers' Wants
Striking Architecture Defines This Zhejiang Hotel
Designer Mimi Shodeinde's Work Is Deeply Personal