Polish celebrity chef Mateusz Gessler has brought DOCK19 to Elektrownia Powiśle, a bustling multi-use complex in Warsaw that was once a power plant.
Gessler enlisted Boris Kudlička with Partners to imbue the space with the locally based firm's signature design philosophy, often described as "sublime comfort."
The historic building's unique layout naturally positioned the bar at its center, mirroring the shape and proportions of a ship, while the color palette is inspired by the various shades of water, and the idea of taking guests on a culinary journey across two continents.
Water motifs are brought to life through glass lampshades that mimic water's reflective qualities and the use of corrugated steel, which evokes the gentle ripples of the sea's surface. The space also features copper accents, reminiscent of electricity, with copper lines on the blue floor extending to the wall pillars, which cleverly transform into wall sconces.
As a playful contrast to the main theme, an installation inspired by a carnival gate lights up the space in the evenings. "We wouldn't be ourselves if there wasn't a surreal element in the interior, deviating from the main theme," says Boris Kudlička architect Agata Motyka, who led the project.
"In the restaurants we design, we like to create emotions reminiscent of going to the theater," Weronika Libiszowska and Rafał Otłog, co-owners of Boris Kudlička, add. "Escapism takes us, in the case of DOCK19, from the streets of Powiśle to a slightly different world. Guests of the culinary ship, led by Mateusz Gessler, 'sink' into the unforced atmosphere of the place and the fantastic dishes often served by Mateusz himself."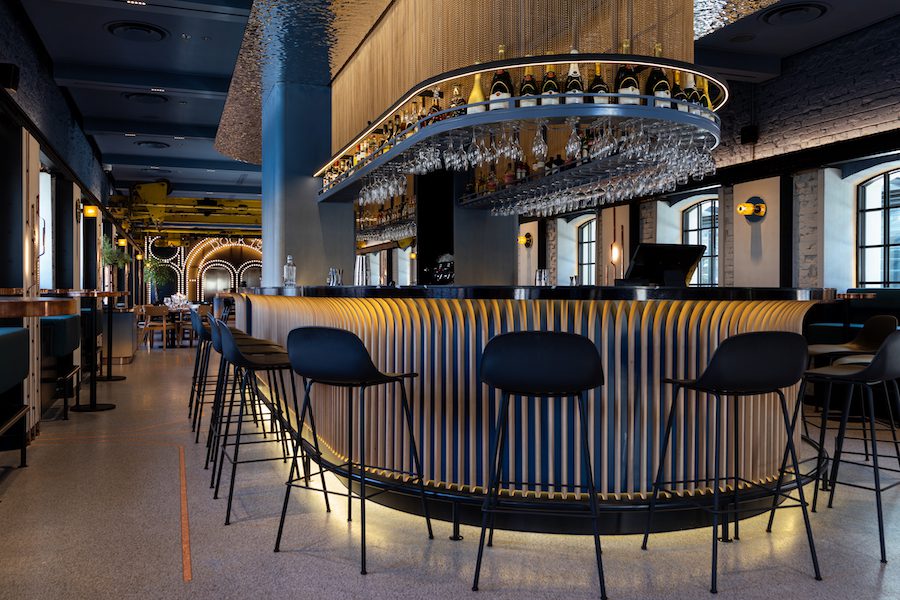 More from HD:
HDTV Goes Inside Hôtel Barrière Fouquet's New York
The Inspiration Behind the Junto Hotel in Columbus, Ohio
The Hospitality Industry Makes Strides in Sustainability