Atlantis Paradise Island recently unveiled Paranza, a fine dining experience by Michelin-starred chef Michael White. A culinary love letter to Italy, the restaurant introduces innovative Italian regional cuisine to the Cove, the Bahamas resort's all-suite retreat.
Paranza—meaning small fishing boat in Italian—embodies an elevated yet welcoming design. Designed by Jeffrey Beers International, Paranza's aesthetic weaves together the allure of the Bahamas' azure waters and white sand beaches with the dramatic charm of Italy's sweeping coastlines and sophisticated communities.
Upon arrival, guests embark on a meandering journey through a winding walkway, before stepping onto a patio beneath a wooden pergola. The expansive outdoor patio seamlessly transitions into the main dining area, characterized by a warm palette of cerused oak, smoky blues, and vibrant cognacs.
The space is furnished with thoughtfully chosen details, including hand-blown blue glass, custom lighting, and oversized antique mirrors elegantly framed in iron arches. Three family-style tables are positioned adjacent to the bar area, inviting a communal experience.
At the entrance of Paranza's private dining room, a custom wine wall housing temperature-controlled red varietals creates a striking focal point. Inside the space bespoke design elements—including oversized brass light fixtures shaped like delicate seashells—add a touch of coastal elegance.
"The goal was to create a fresh, clean, simple, yet elegant design with a sense of calm sophistication," says Robert Chamberlain, senior vice president of development at Atlantis Paradise Island. "In essence, a true reflection of the elevated Italian coastal cuisine that chef Michael White has brought to the Atlantis property."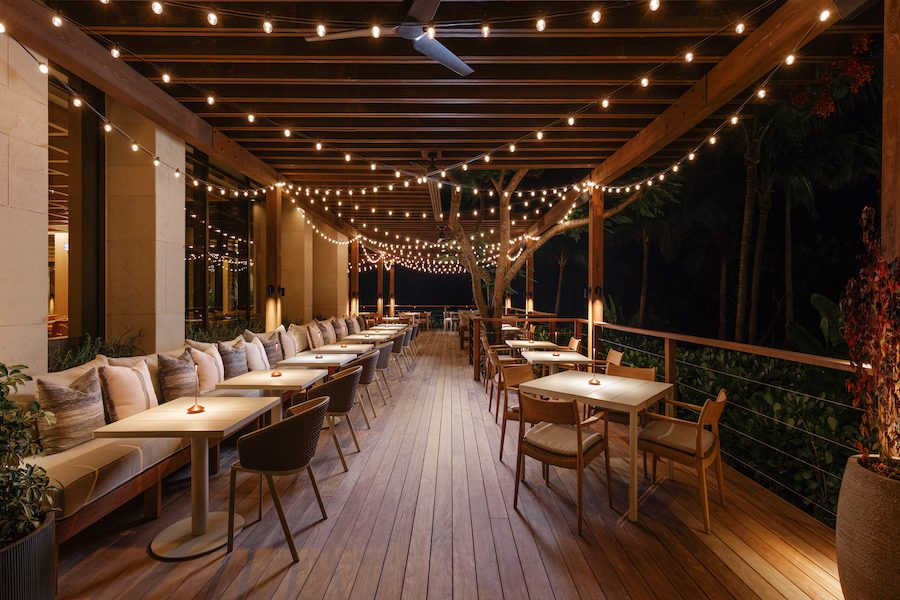 More from HD:
HDTV Goes Inside Hôtel Barrière Fouquet's New York
These New Hotel Brands Put Authenticity at Their Core
The Hospitality Industry Makes Strides in Sustainability