New York's iconic Peter Luger Steak House has made its debut in Las Vegas. Designed by Jeffrey Beers International (JBI), the 8,700-square foot restaurant at Caesars Palace boasts accommodations for more than 300 guests across the main dining room, central bar, and private dining areas.
Upon entering, diners are greeted by a pill-shaped bar with a zinc countertop and brass gantry. The space exudes an old-world elegance with exposed brick, wood paneling, oak floors, industrial windows, and plush leather seating. Antique-style mirrors line the back wall, while bronze tin metal adorns the ceiling and dark wood planks cover the floor.
At the heart of the restaurant is the octagonal main dining room with wood-framed archways that lead to the bar area, expo kitchen, secondary dining room, and private spaces. The room's triple-height ceiling creates an open and airy atmosphere, anchored by blackish-brown wood flooring and contemporary bronze chandeliers reminiscent of the New York originals. Grid glass dividers provide privacy without compromising the light and atmosphere.
Throughout the restaurant, carefully curated photographs pay homage to Peter Luger's rich history and culinary tradition.
"Our primary objective was to create a space that pays homage to the authentic character of the original Peter Luger location in Brooklyn while also honoring the rich history of the esteemed institution and its owning family," says Dionysios Kaltis, associate principal at JBI. "Our vision was to seamlessly blend the rustic charm of Brooklyn with the sophistication and theatrical flair of Las Vegas, a fusion that is evident in the choice of finishes, intricate details, and design elements throughout the entire space."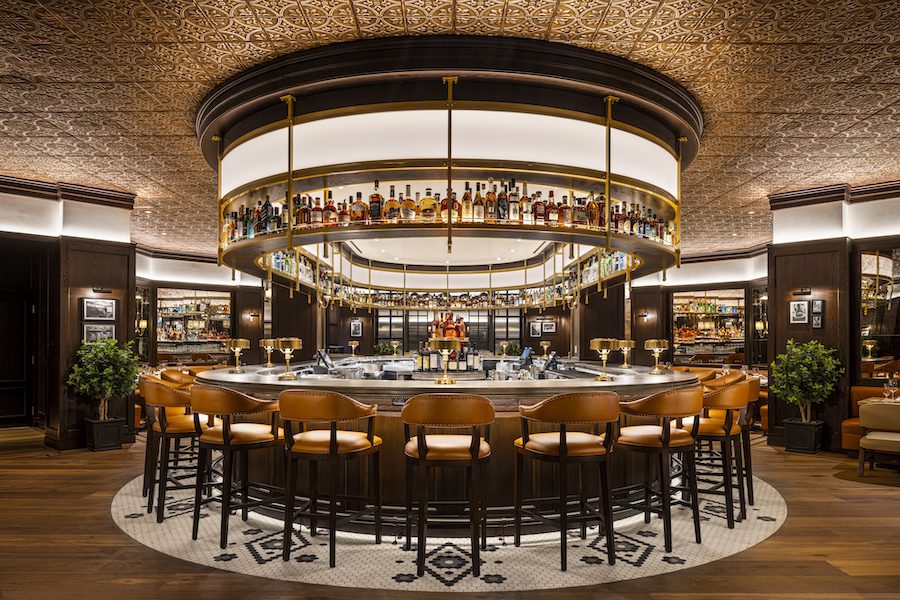 More from HD:
HDTV Goes Inside Hôtel Barrière Fouquet's New York
These New Hotel Brands Put Authenticity at Their Core
The Hospitality Industry Makes Strides in Sustainability