UNESCO pledges $10 million to help Ukraine rebuild its cultural sector, fashion designer Christian Siriano teams up with Sherwin-Williams, and HD Expo + Conference teases conference highlights. All that and more in this week's Five on Friday.
Christian Siriano collaborates with Sherwin-Williams
View this post on Instagram

Fierce, flawless, fabulous. Imitable fashion designer Christian Siriano is further expanding his impact on the industry through a new partnership with Sherwin-Williams. The winner of Project Runway's fourth season introduces a limited-edition swatch of 30 paint colors for interiors. According to WWD, inspiration for the palette ranges from a Parisian apartment and showroom to the tones found in his own fashion portfolio. The Christian Siriano x Sherwin-Williams collection also includes two peel-and-stick kits—one targeted at homeowners with neutral shades, and a designer kit with six bolder options.
Makeup joins the hotel minibar
View this post on Instagram
If overpriced Pringles or airplane-sized Jack Daniels aren't your thing, consider this new addition to the hotel minibar: makeup. Equinox Hotels is among the first brands to pioneer the trend with its RoomBar. In addition to tinctures, supplements, and even workout wear, the beauty-stocked minibar includes a range of essentials for sleep, skincare, and sexual wellness, Glossy reports. Revenue from the beauty products totals nearly 60 percent of RoomBar charges—about $55,000 a month. Last year, Soho House also introduced Soho Skin amenity kits, which offer seven products from the beauty brand's full range for guests.
UNESCO commits $10 million to Ukraine's cultural restoration
View this post on Instagram
UNESCO has pledged more than $10 million to support the reconstruction of Ukraine's devastated arts landscape. The announcement was made following director general Audrey Azoulay's tour of the embattled nation; however, a recent UNESCO report tallies the bill for proper rehabilitation at a whopping $6.9 billion, reports ARTnews. The comprehensive recovery plan projects "short-term needs" costing $2.3 billion between 2023 and 2026, while "medium- to long-term needs" are expected to require $4.6 billion between 2027 and 2033. Onsite reconstruction training will also be imperative for Ukrainian architects, conservators, and urban planners, Azoulay said via Twitter.
Biophilia grows at Brooklyn's Domino Sugar Refinery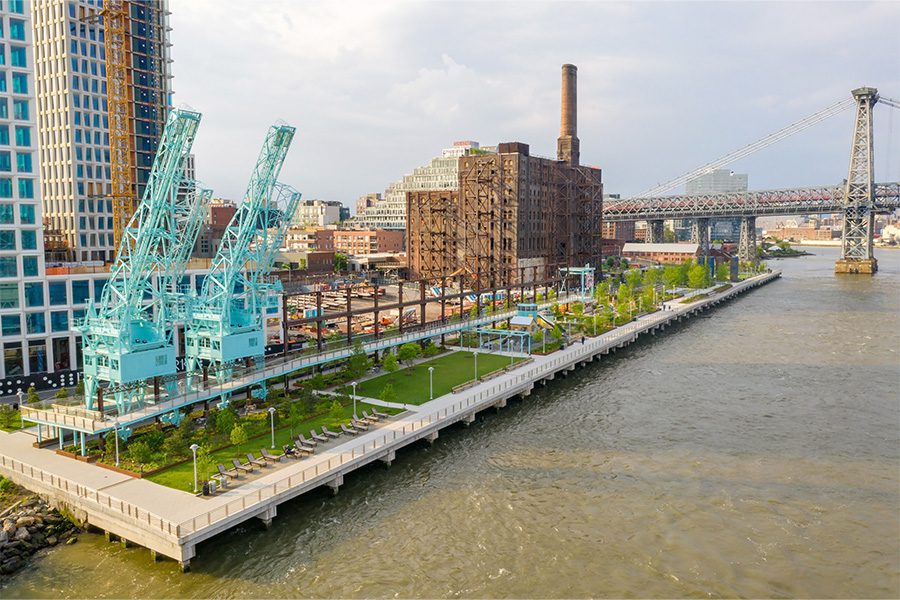 Ahead of its expected completion this summer, the Domino Sugar Refinery in Williamsburg, Brooklyn has unveiled a first look at a new biophilic installation as part of its redevelopment. According to Archinect, the installation encompasses 17 30-foot-tall trees planted at the core of the project's indoor vertical garden. Each tree weighs in at more than five tons and is hoisted above the roofline and placed inside through a 12-foot-wide opening between the brick façade and the new, 27,000-square-foot glass office addition. The $250 million redevelopment project, helmed by a team including SHoP Architects and James Corner Field Operations, is slated to wrap by the end of 2027.
Don't miss these sessions at HD Expo + Conference
A lineup of more than 125 industry titans will lend their insights and expertise to a variety of panels at the upcoming HD Expo + Conference at Mandalay Bay in Las Vegas May 2nd–4th. Hilton's Larry Traxler will be featured on Brand Identity: Leaders Take on Future and the HD|IHSP Owners' Roundtable. Aliya Khan of Marriott will contribute her savvy to these panels alongside Traxler as well. Tiffany Cooper of Kimpton and Noble Investment Group's Adi Bhoopathy will also join the Owners' Roundtable. Ahead of the three-day event, speakers offer their industry outlook and a preview of what they'll discuss during their sessions. Learn more about the dynamic panels and presentations—from Idea Exchange: Technology, the Metaverse, and Beyond to Business Sense: Advice from the Trenches—taking place. Register for #HDExpo2023 today!