The Flatiron District gets lit with holiday installation Ziggy, Snøhetta aims to go carbon-free, Gucci heads stateside with its second restaurant concept, and more in our weekly roundup.
Ziggy brings color and light to New York's Flatiron District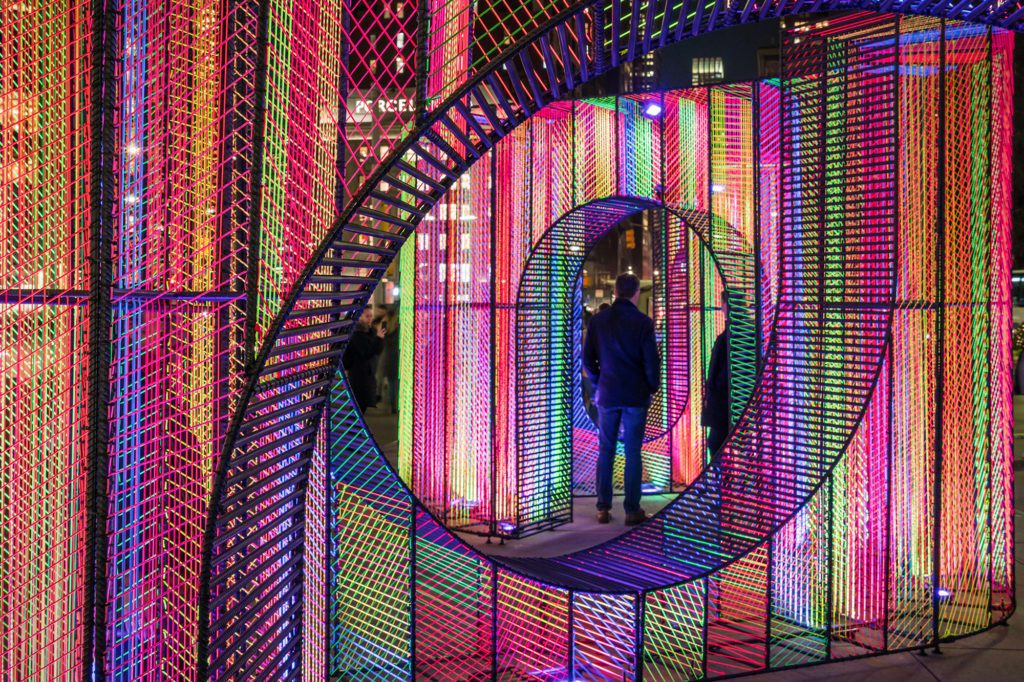 New York-based design studio Hou de Sousa is lighting up the Flatiron with its Ziggy installation. Composed of painted rebar and 27,000 feet of iridescent cord, the winning piece, which will be on view through January 1st, embraces viewers in its vibrant, shifting patterns while celebrating the joy of the holiday season. "Ziggy is a polyvalent creature that strings together gateways, apertures, and seating," Josh de Sousa, principal and cofounder of the firm, told Archpaper.  "This porous wall will welcome folks arriving from all directions while ringing in the season with a flourish of color and light."
Gucci's second restaurant concept heads to LA
Gucci heads stateside with its second restaurant, set to open on Rodeo Drive in spring 2020. The rooftop Los Angeles eatery will be helmed by Michelin-starred chef Massimo Bottura, who also leads the maiden Florence location. The 50,000 square foot rooftop space will take design cues from its Italian predecessor featuring sumptuous design details. Indeed, more and more fashion houses have been dabbling in hospitality in the past few years, including the Dior Pop-Up Café that opened in Miami's Design District last January, the historic Milanese pastry Marchesi 1824 from Prada, and the Thomas Café by Burberry in London's Mayfair neighborhood.
Abstract dolls help kids with trauma
Israeli industrial designer Yaara Nusboim won this year's Kids Design Award with her Alma Therapy Dolls during the Cologne, Germany Kind + Jugend baby and toddler trade fair. For a year, she worked alongside seven psychologists to develop the dolls, which are made from maplewood and flexible polyurethane for use during play therapy, encouraging kids to express their emotions through their anonymity, abstractness, and shapes. "I aimed to facilitate a child's connection to his inner world and promote healing," Nusboim said during an interview with Fast Company.
Snøhetta plans to go completely carbon-free
The innovative Oslo, Norway-based integrated design firm Snøhetta has pledged to design only carbon-negative buildings as their response to climate change, meaning their projects will aim to generate more energy than they consume. "For the next 10 years, the firm will focus on turning our project portfolio carbon neutral in terms of all projects in the design stage," founding partner Kjetil Trædal Thorsen told Dezeen. "Within the next 20 years [we will] ensure that our built projects are carbon neutral." The Nordic studio joins a long list of firms that are preparing to go carbon-free, including Foster + Partners British firm Mikhail Riches, and nonprofit organization Architecture 2030. 
The world's first digital retail store debuts in London
Pop-up concept Hot:Second popped up in London's Shoreditch neighborhood last month as the world's first prototype of a digital retail store. Shoppers virtually shopped for three days in November, testing out garments from brands such as Fabricant, Carlings, Virtue and Christopher Raeburn. Launched in collaboration with creative studio Holition and set designer Aaro Murphy, the initiative was self-funded by fashion academic and futurist Karinna Nobbs. Featuring four individual booths with screens on which a human digital tailor helps customers try clothes on through the use of a mixed reality magic mirror, the store also offered free workshops on the subject and stations that encouraged upcycling old garments, according to Forbes.