Marriott and MGM announce a new rewards partnership, Hospitality Design goes full Barbiecore, and a new exhibit at the Brooklyn Public Library pays homage to Jay-Z. All that and more in this week's Five on Friday.
Jay-Z retrospective opens at the Brooklyn Public Library
The Book of HOV, a new multimedia exhibit paying homage to Jay-Z opened this week at the Brooklyn Public Library. The retrospective, which will run through the summer, features thousands of personal objects from the rapper's career, including never-before-seen photos, musical instruments, a life-sized replica of the recording studio where he recorded some of his first hits, and news clippings tied to his 13 albums and companies he founded like Rocawear and Tidal. The exhibit, which is free and open to the public, started to take shape in January, when production designers Bruce and Shelley Rodgers and creative agency General Idea conceived and executed the elaborate project. "Jay belongs to the people," Juan Perez, a Roc Nation executive told The New York Times. "It's a place that feels comfortable. It's not intimidating. A lot of people go to the museum, but a lot of people don't." 
Marriott and MGM launch new partnership
Marriott Bonvoy, the world's largest hotel loyalty program with 180 million active members and nearly 9,000 global properties, signed a 20-year-long partnership with MGM Rewards. While details are still under wraps, four MGM hotels (Bellagio Resorts & Casino, Aria Resort & Casino, Park MGM, and the Cosmopolitan Las Vegas) will be joining the program in October. The news comes days after World of Hyatt and MGM Rewards severed ties, writes USA Today. Eight MGM resorts in Las Vegas and five outside of the Strip will also join the MGM Collection with Marriott Bonvoy, a new collection curated specifically for the partnership. "This is a very robust relationship, [and] it's not just a typical franchise agreement," Marriott president and CEO Tony Capuano said in in a virtual press conference. "That's really illustrated by the creation of the MGM Collection with Marriott Bonvoy. This is a relationship that allows us to take full advantage of the breadth of the entertainment, culinary, [and] sports offerings that MGM enjoys, and in turn, allows MGM and its loyalty members to take full advantage of our global portfolio."
Americans will need a visa to visit Europe in 2024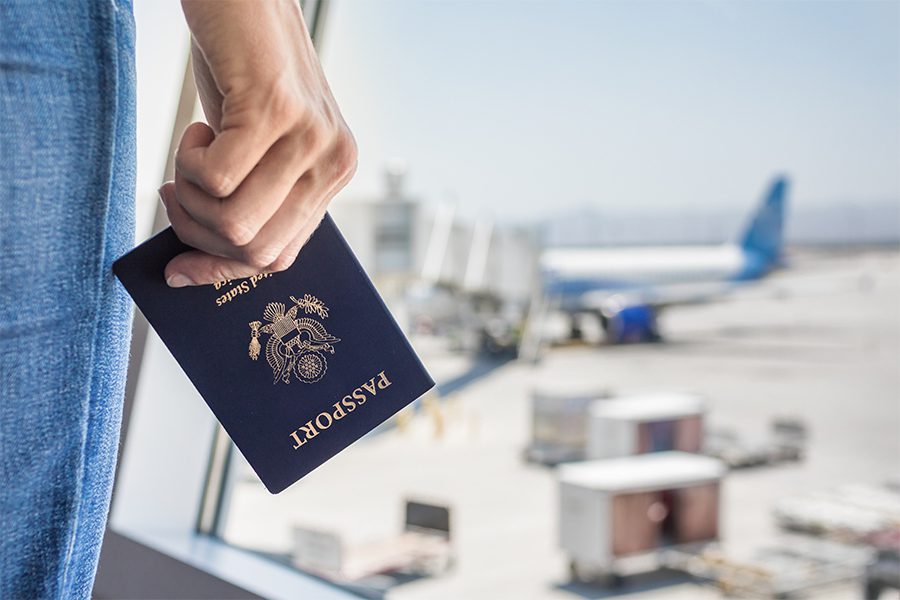 U.S. passport holders, who currently have visa-free access to 184 destinations, will soon have to apply for a visa to visit Europe. According to Condé Nast Traveler, the new regulations will require all visitors who currently travel to Europe visa-free to apply for travel authorization and receive approval prior to their departure. A silver lining: The program is not a visa in the traditional sense in that it only requires a quick online application, with approval delivered via email. The application will cost $8, but once approved, it's valid for multiple entries over the course of three years or until the traveler's passport expires. The goal of the new program is to tighten border security as well as digitally screen and track travelers entering and leaving EU countries.
Style icon Jane Birkin has died
Actress and singer Jane Birken has died at 76 at her home in Paris. The London native was known for her musical and romantic relationship with French singer Serge Gainsbourg, and their duet "Je t'aime … moi non plus" ("I love you … me neither") put Birken on the map. (The song was forbidden in Italy after being denounced in the Vatican newspaper because of its erotic lyrics.) She was a style icon, with a classic look that epitomized French fashion. Notably, Birkin was synonymous with the highly coveted Hermès bag that bore her name. Writes The Washington Post: 'In a CBS Sunday Morning interview in 2018, Ms. Birkin joked that it might be what she's best known for. 'I thought, 'Oh gosh, on my obituary, it will say, 'Like the bag' or something,'" she said. "Well, it could be worse.'" She was also politically active with Amnesty International, Myanmar's pro-democracy movement, and the fight against AIDS.
It's a Barbie world, we're just living in it
If you're in your Barbie era like the rest of us, Hospitality Design has got you covered. We've rounded up pretty-in-pink products (from blush-toned sinks from Ruvati and Industry West to Joybird's collab with the famous doll) and hotels that embody the Barbiecore aesthetic. From the whimsical Ken Fulk-designed interiors of the Goodtime Hotel in Miami—which I recently chatted with The Washington Post about—to the fuchsia neon patterns of the Shoreline Hotel Waikiki, our curated selection of pink hotels from around the world will undoubtedly make Barbie and Ken's bucket list.