Cher launches a gelato brand, Wayfair leverages AI with a new virtual room design tool, and crowd-free summer getaways are having a moment. All that and more in this week's Five on Friday.
Wayfair's Decorify uses AI to design shoppable interiors
Furniture and home goods e-commerce behemoth Wayfair has launched a web-based app that allows customers to use generative AI to design their living rooms. According to Tech Crunch, customers simply log in to the Decorify site on web or mobile (no specific app download needed), upload a photo of their space, and select their favorite style—options include modern, glam, farmhouse, industrial, and more—and the app redesigns the room with furniture, rugs, and fixtures that fit the aesthetic (which can, of course, be purchased from Wayfair). Shrenik Sadalgi, director of R&D at Wayfair, told the outlet that the service has been in the works for some time, but the explosion of quality AI-image modeling is now "good enough to drive value for a customer. Wayfair's customers are looking for, and love, visual inspiration—they get that from our rich lifestyle imagery that we custom produce and curate. Now they can blend that with their spaces." The tool only supports living rooms for now, but Wayfair has indicated plans to expand into other spaces in the home.
Cher joins the LA hospitality scene with a gelato truck
View this post on Instagram

Singer Cher announced via Instagram that she's launching her own gelato brand, posting a video of a neon-colored ice cream truck emblazoned with her photo and set to her song "Believe," which she also shared via Twitter, the Hollywood Reporter writes. The brand will, obviously, be called Cherlato and has been in the works for five years. According to Cherlato's Instagram account, Cher partnered with New Zealand ice cream company Giapo to craft the dessert, which will source local ingredients and seemingly only be available in the LA area initially.
Australia tourism surges thanks to the Women's World Cup
The FIFA Women's World Cup began last week in Australia and is expected to bring a huge boost in visitors, Skift reports, noting that Tourism Australia has estimated the tournament, which features 35 high-profile soccer matches—will have a $385 million benefit to the country's economy. Direct spending, led by international visitors, is expected to reach $169 million during the monthlong event. The biggest tourist numbers are coming from the U.S., followed by England, Germany, New Zealand, and Ireland, according to Football Australia. All of the matches in Sydney are taking place at Accor Stadium in Western Sydney. "We are seeing a high number of bookings for accommodation providers located in the vicinity of Olympic Park, and hotel capacity right across Sydney is nearing 70%, reflecting a noticeable surge in demand," Stacey McBride, the accommodation manager for NSW told the outlet.
Escape the crowds (if not the heat) at these laidback summer destinations
With tourists flocking to Europe this summer, leading to expensive flights and overbooked accommodations, The New York Times has published a roundup of hotel options in the Americas that boast more lowkey vibes. Highlights include Kentucky newcomers the Manchester and Hotel Genevieve, located in Lexington and Louisville, respectively; oenophile's retreat SB Winemaker's House & Spa Suites in Mendoza, Argentina (where it's currently winter); and AutoCamp's Zion outpost, where guests can choose from cabins or tricked out Airstreams when not partaking in desert hikes or hanging in the property's Clubhouse, a brand signature.
ICYMI: HD announces the 2023 Wave of the Future class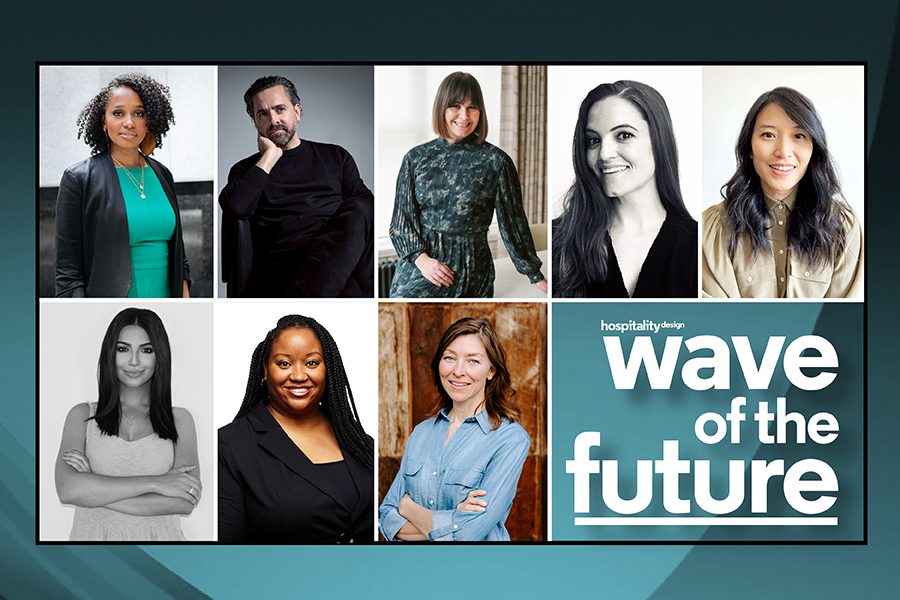 For nearly two decades, we at Hospitality Design magazine have annually honored a group of designers, architects, brand executives, and owners as our Wave of the Future—those who are young enough to be considered visionary, but tested enough to be accomplished in their careers. The eight ambitious thinkers that make up this year's Wave of the Future class are challenging the status quo with thought-provoking, meaningful, and boundary-defying work. "These deserving individuals—handpicked from across disciplines—are helping to shape the future of our industry, and we are excited to see what they will accomplish in the years to come," says Stacy Shoemaker Rauen, Hospitality Design's editor in chief and senior vice president of the design group at Emerald. Read more about the inspiring individuals, who will celebrated during HD NextGen Forum, a two-day, invitation-only event hosted at EPIC Miami in October.