Overlooking the Schuylkill River, the former Washington Fire Co. station in Conshohocken, Pennsylvania has been reborn as Hotel West & Main, one of the newest properties in Hilton's Tapestry Collection.
Global firm DLR Group spearheaded the transformation alongside Interior Image Group (IIG) to accentuate the bones of the old station, which connects to the new hotel via another new volume. "We rallied around repurposing and breathing new life into the 146-year-old firehouse, allowing it to serve a new purpose in the community while maintaining its historical integrity and charm," says DLR Group design leader and principal Stephen Cavanaugh. "The design's homage to the history of the building and community is at the core of guests' experience."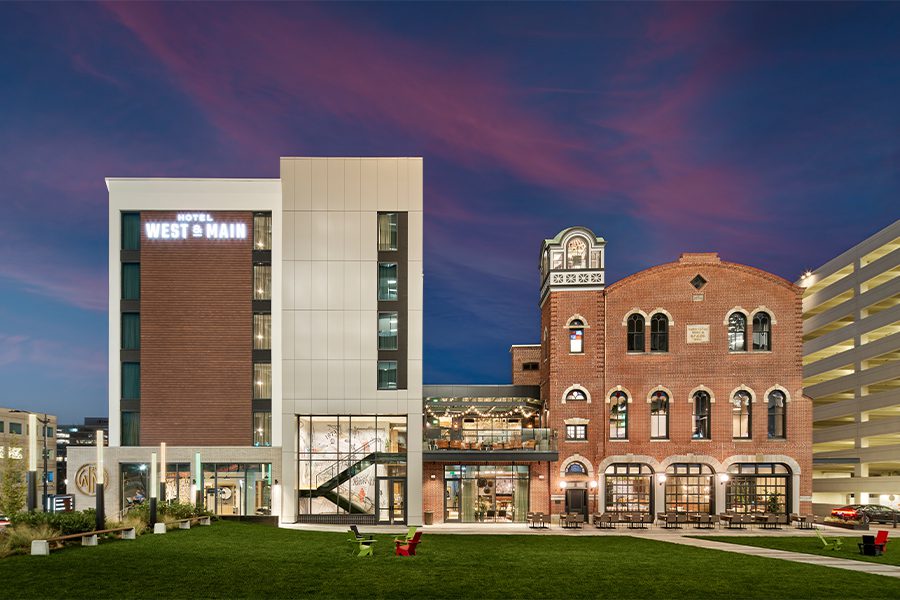 New materials connect the historic building to the new guestroom tower, which is made of expansive glass as a lighter counterpoint to the firehouse's heavy brick base. "The contrast really showcases the dovetailing of historic and contemporary architecture," Cavanaugh adds.
The hotel lobby and bar 1874 Social occupy the first floor, with the latter spanning three fire station bays clad with retractable glass doors that lead to an alfresco space. Lined with intricate wall panels, the rooftop bar and gastropub Hook and Ladder graces the second floor. Details like tire rosettes adorning the lounge's fireplace and a woven firehouse rug artfully invoke the site's past, while a custom grand staircase mural honors the community's legacy.
"The design incorporates intentional nods to the town's industrial roots, and we worked closely with members of the community to drive a true sense of authenticity," says IIG senior vice president of design Leslie Schultz. "We describe the hotel's interior as a paradox of style—a polished patina with an authentic and approachable edge that's effortlessly cool."
More from HD:
13 Products Perfect for a Real-Life Barbie Dreamhouse
Striking Architecture Defines This Zhejiang Hotel
Industry Leaders Discuss the Obstacles of Running a Business