Banana Republic enters the furniture market, a hotel that hangs 1,982 feet over a cliff, and wellness takes centerstage in HD's latest issue. All that and more in this week Five on Friday.
Banana Republic launches a furniture line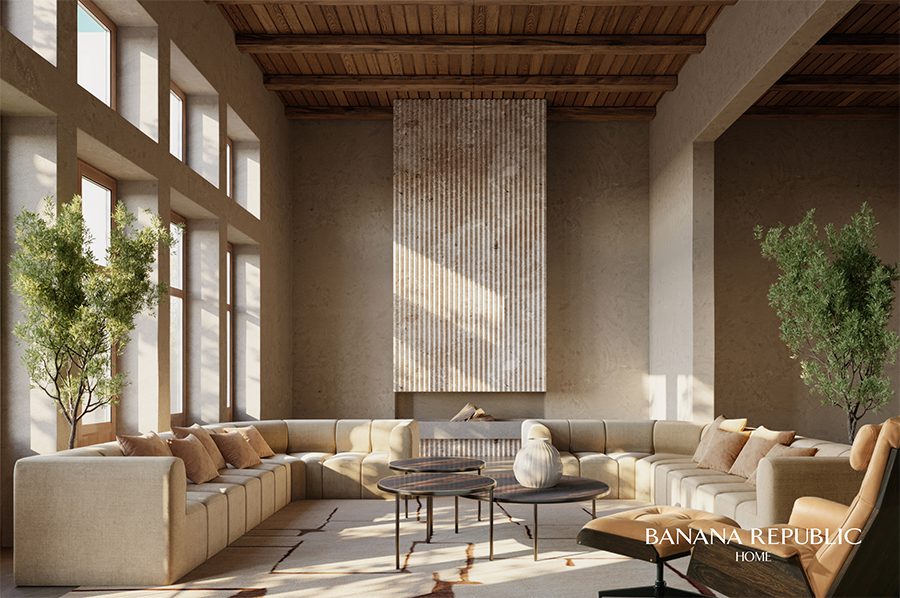 Clothing and accessories brand Banana Republic has made its foray into furnishings. Unveiled last week, BR Home offers bedroom, living room, and dining room furniture, as well as lighting and home décor. The new collection, part of Banana Republic's move to grow into a one-stop shop for all things lifestyle, follows the spring debut of a textile collection. "This dynamic collection celebrates the beauty of high-quality natural materials and skilled artisans, creatives, and those designers whose work reflects our brand values and allows us to support craftsmanship communities around the world," says Aaron Rose, chief commerce and experience officer for Banana Republic, in a press release. BR Home has plans to open pop-up experiences in New York and Los Angeles, and the line will be available in select U.S. stores by the end of September.
Check in for a thrilling experience at this cliffside hotel
Istanbul-based Hayri Atak Architectural Design Studio has created a boutique hotel concept suited for the most adventurous of travelers. Constructed into the side of the Preikestolen cliff in Ryfylke, Norway, the property, if realized, would comprise nine guestrooms and a lounge, writes Architectural Digest. As for the most extreme aspect? A glass-bottom pool extending beyond the lower-most floor, overlooking the abyss. "I thought that experiencing [the excitement of looking] beyond the edge is much more thrilling in a pool rather than on a balcony," says firm founder Hayri Atak. "The hotel can be thought of as a part of or an extension of the cliff."
Have Michelin stars gone too far?
The Michelin Guide, published since 1900, currently recognizes 16,600 restaurants at various levels across the globe. Of those eateries, 3,400 have received stars with only 142 receiving the coveted three-star ranking, The New York Times reports. Revelations of cities financially incentivizing Michelin critics to publish guides for their area have begun to muddy the waters of what was expected to be an independent review. Chefs have also begun implementing certain techniques that Michelin inspectors tend to favor, creating more sameness in the restaurant industry. "Plating is a trajector of how money has influenced the business," says Niki Nakayama of n/naka in Los Angeles. "The more labor you can afford for the tweezer work, the matching uniforms, the spotless glasses, the more Michelin stars you can hope for."
China's real estate crisis impacts architecture firms
It seems that China's booming urbanization has finally come to a head. A new article from Dezeen examines the working conditions of architects at Chinese firms. Employees at practices based in Beijing, Shanghai, Guangzhou, and Shenzhen reported pay cuts, layoffs, and wage arrears over the course of the last year. It comes at a time that new projects are diminishing rapidly, following a previously booming real estate market. One anonymous architect says: "Previously, you normally saw three to five companies in the competition, but now there are over 20 companies in one competition."
Read it now: HD's annual Wellness Issue is out!
This week, Hospitality Design released its annual wellness issue. "We had a hunch this would be a segment to watch, so we launched our first wellness issue in 2019 and added a wellness section on our website," editor in chief Stacy Shoemaker Rauen pens in this month's Editor's Letter. "It's been exciting to track the people, concepts, and projects pushing boundaries in wellness and sustainability." This issue is no different, which highlights 11 projects that rethink wellbeing across healthcare, living, and hospitality, as well as three properties—like Birch Selsdon in the UK—that take a holistic, nature-first approach. Flip through the magazine here!