Broadwick Soho is set to open this month in London's West End. Crafted by interior designer Martin Brudnizki (who was recently honored with HD's Platinum Circle lifetime achievement award), the new independent luxury hotel captures the grit, glamour, and energy of the city's Soho neighborhood, and pulls inspiration from the jazz age and Italian elegance, mixed with a touch of disco and English eccentricity.
The property offers 57 rooms, including nine suites and one penthouse. Each accommodation features bespoke furniture, curated artwork, and high-quality finishes. Geometric patterns and vibrant prints are balanced by a soothing color scheme and the artful layering of various materials, textures, and styles. The rooms also feature custom beds and luxurious linens.
Broadwick Soho will also include a range of onsite dining options. Dear Jackie, located on the lower-ground floor, is a refined Italian restaurant featuring Murano lighting, red silk walls, and plush booths. Dear Jackie's little sister, Bar Jackie, serves as the hotel's all-day street-level Italian bar and terrace.
Also on the ground floor is the Nook, a residents-only lounge adorned with intricate Italian fabrics, vintage finds, and an eclectic collection of books. Meanwhile, Flute is a rooftop dining bar, offering spectacular views over Soho streets and skyline. Inside, comfort combines with maximalist glamour by way of animal-print upholstery, cork walls, and mirrored ceilings. Just above Flute, on the eighth floor, is a private dining room awash in abundant natural light, floor-to-ceiling windows, artwork, and a fireplace.
The property also boasts an expansive art collection, featuring works by iconic artists like Francis Bacon, Bridget Riley, Andy Warhol, and William Turnbull, as well as emerging artists like Faye Wei Wei and Casey Moore, among others.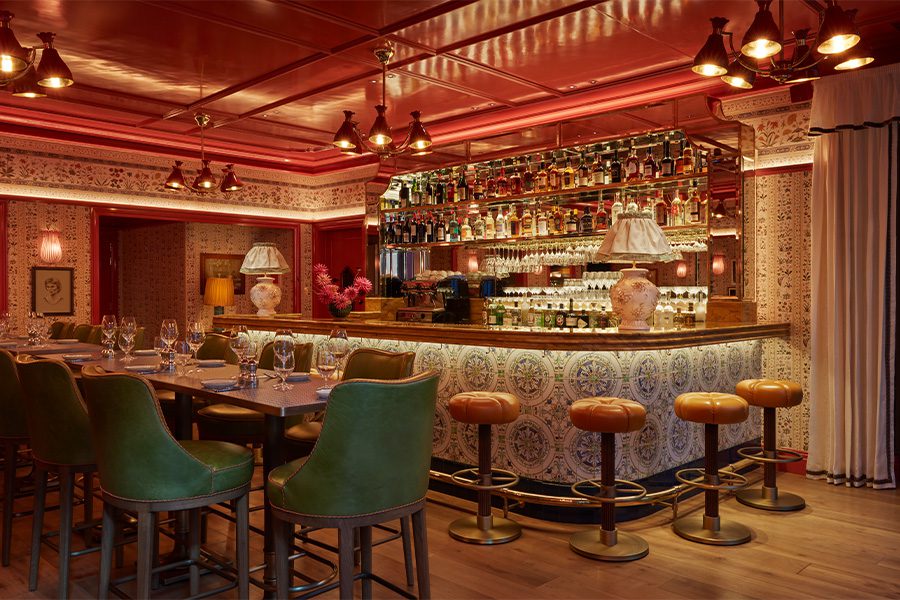 More from HD:
HDTV Goes Inside Hôtel Barrière Fouquet's New York
These New Hotel Brands Put Authenticity at Their Core
The Hospitality Industry Makes Strides in Sustainability