The debut of the Four Seasons Hotels and Residences Fort Lauderdale sets a new standard for luxury in the Florida locale. Designed in homage to the city's yachting legacy, Tara Bernerd & Partners punctuated the 189-room property with a refreshing take on midcentury modernism that channels both the Riviera and the Bahamas.
"Four Seasons Fort Lauderdale is set to usher Fort Lauderdale into a new era of luxury. The natural beauty of its location, along the Beach Boulevard immediately reminded me of La Croisette in Cannes," says Tara Bernerd. "We brought the space to life with an effortless flow throughout the public spaces, pairing fresh palettes with statement midcentury furniture creates a luxurious yet welcoming atmosphere that reflects the city's youthful and vibrant spirit."
At the heart of the hotel, the double-height lobby is adorned with whitewashed oak and silver travertine that channels the Caribbean. Striking patterns boldly radiate from flooring composed of triangular cuts of quadruple-hued travertine, while large floor-to-ceiling windows framed in antique brass reinforce the lush greenery of the landscape. Midcentury and contemporary furniture intermingle across the space alongside bespoke features, including bookcases, rugs, and jute chandeliers.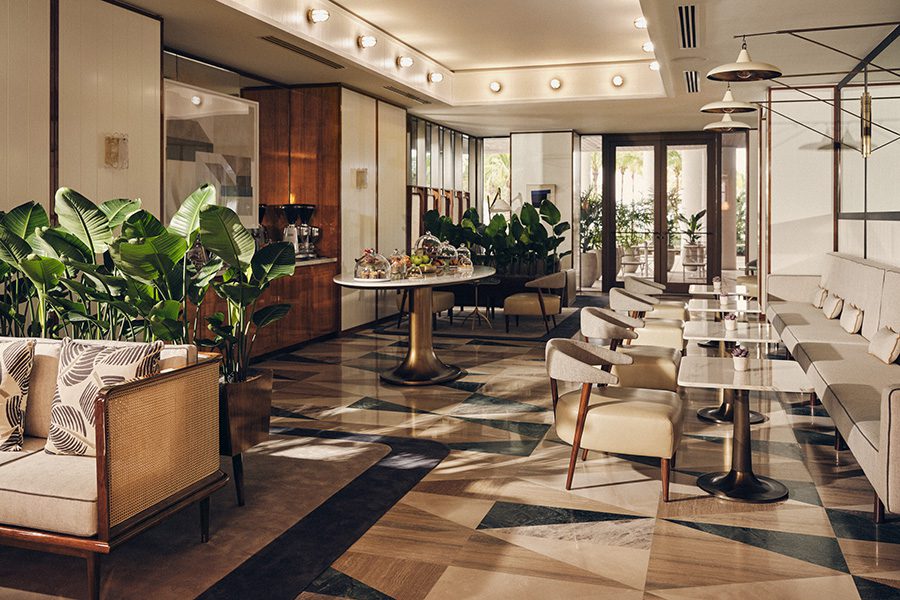 All-day café Honey Fitz is located just off the lobby, and features a medley of warm amber and mossy green tones. Wall sconces in brass, wood, and metal also add warmth to the atmosphere, where a central marble-topped table displays pastries by day and champagne by night. Groups of armchairs upholstered in yellow fabric are installed on the perimeter of the café in tandem with custom rattan sofas set against polished walnut-colored wood window screens. Double antique brass glass doors lead onto the terrace, which is positioned above the pooldeck and maximizes views of the sea.
Local waterways serve as the muse for the design of the onsite spa. Comprising lounges, salt wall saunas, aroma steam rooms, ice fountains, and a fitness center, the wellness sanctuary showcases an opulent interplay of marble, natural wood, antique brass, and pale linens.
Midcentury themes are transmuted through a light and invigorating palette comprising pale linens, creamy striped rugs, travertine floors, and notes of navy blue and oyster gray. Highly polished walnut tones reinforce the yacht motif in spacious bedrooms where brass reading light are built into the rattan and wood headboards. Deep green ottomans, desk chairs, wardrobes, and minibars are also installed, while expansive balconies are populated with outdoor sofas, coffee tables, and round dining tables. Suites are handsomely distinguished by a residential-style design characterized by cream tones, polished walnut, and midcentury furniture.
More from HD:
What I've Learned Podcast: Tara Bernerd
4 Don't-Miss Speakers Heading to HD Expo + Conference 2022
BHDM Design Envisions a Pretty-in-Pink Oasis in Miami