Nestled into the lush jungles of the Riviera Maya, Maroma, A Belmond Hotel has reopened following a revamp led by London-based design firm Tara Bernerd & Partners. The legendary property was updated to emphasize the influence of Mayan culture and Mexican heritage via a collaboration with local artisans.
"Maroma offered a rare opportunity to reimagine this iconic hotel, with its rich and storied history," Bernerd says. "We sought to retain and enhance the original character, working with local artisans, whilst simultaneously incorporating a contemporary elegance, a warmth that also has a sense of home, that speaks to the needs of the Belmond guest for generations to come."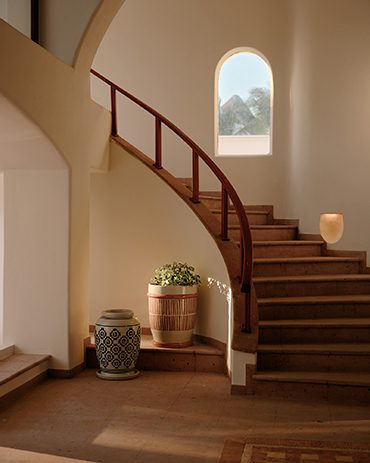 Contemporary craftsmanship and indigenous materials yields an authentic, timeless visual identity reflective of the setting. More than three quarters of the furnishings and objects found throughout the property were handcrafted in Mexico, including 700,000 clay tiles handpainted by ceramicist José Noé Suro for the guestrooms.
Maroma's original white stucco architecture reminiscent of Mayan masonry was preserved, while curved lines and organic forms inspired by the property's surrounding jungle supports a seamless flow between indoor and outdoor environments.
This confluence is, perhaps, most notable at the onsite wellness facility, Maroma Spa by Guerlain. Against expansive natural vistas, the renovated spa embodies biophilic principles and weave local design elements and geometric shapes into the immersive experience. A trio of pools were redesigned with Sukabumi tiles handmade from volcanic stone for a vibrant turquoise hue evocative of a cenote.
The resort now features 72 accommodations across a private stretch of white sand beaches. Most of Maroma's guestrooms and villas boast ocean views, including new waterfront suites equipped with private pools and gardens.
More from HD:
What I've Learned Podcast: Linda Boronkay
Industry Leaders Discuss the Obstacles of Running a Business
5 Hotels That Are Remaking Louisville