After a two-year closure and an extensive $40 million renovation, Mii amo, Sedona, Arizona's beloved wellness destination, has reopened. Working in tandem, Gluckman Tang Architects, EDG Interior Architecture + Design, and Colwell Shelor Landscape Architecture refreshed the property, which now boasts 16 renovated casitas, and an additional seven casita rooms and suites, bringing its total to 23 keys.
"The main source of inspiration for Mii amo is its location and natural surroundings, nestled among the red rock walls of Sedona's iconic Boynton Canyon," says Dana Tang, partner at Gluckman Tang Architects. "The canyon is otherworldly—with its towering red rock walls seen against the clear blue sky, dramatic light, and unique vegetation."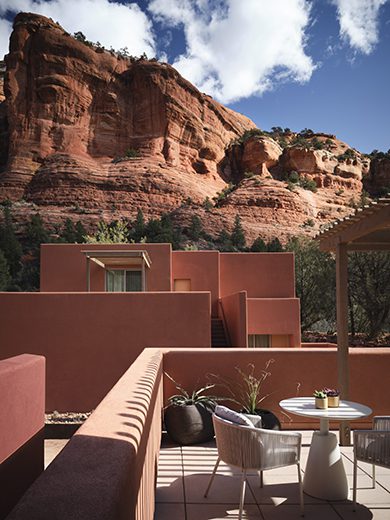 Designed to blend in with its surroundings as if it always existed, the architecture features perpendicular fin walls—rather than solid—to frame the nearby views and a spate of natural materials, including concrete, local river stones, alder wood, adobe brick, and canyon-colored stucco.
Throughout the interiors, a bright terracotta hue evokes the region's rich clay. In communal space the Living Room, a new 1970s-style conversation pit creates a place to gather or relax. For other moments of solitude, guests can enjoy the newly expanded spa, now with 42,000 square feet of wellness space, or the new pool deck, offering sweeping views of Boynton Canyon.
New restaurant concept Hummingbird, created in partnership with James Beard Awards finalist Seamus Mullen and helmed by executive chef Beau Widener, creates a calming oasis with wood accents, a palette of neutral tones, and white tile. "We want the building not to stand out, but to act as a frame for the experience of the canyon, for guests to have a heightened sense of place through the design," adds Tang.
More from HD:
What I've Learned Podcast: Malene Djenaba Barnett
5 New Hotel Brands Respond to Travelers' Wants
Asian Aesthetics Distinguish A Peaceful Retreat in Italy