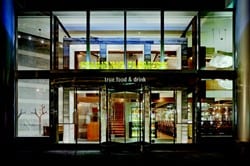 The submissions deadline has been extended to March 1st.
November 2, 2009
The new website aims to offer information about the green elements of the company's products, as well as its plans for the future.
November 2, 2009
Two years after installing a fuel cell power system, the hotel is now dissolving food waste with microorganisms and is using biodegradable keycards.
October 30, 2009
The Tucson, Arizona, resort features low-water landscaping and uses reclaimed water to irrigate the golf course.
October 28, 2009
Eco-friendly renovations to existing buildings will represent a $10-$15 billion market, according to a new report from McGraw-Hill Construction.
October 26, 2009
The Myrtle Beach resort's certification from a local group is designed to improve the environment and increase visitor interest in the area.
October 26, 2009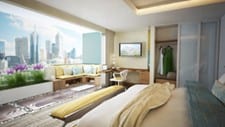 The firm's winning concept, Haptik, implements innovative green solutions such as a shower wall that captures solar heat.
October 22, 2009
Crystals becomes the largest retail center certified with LEED Gold.
October 22, 2009
The calculator allows guests to track the environmental impact they have.
October 21, 2009