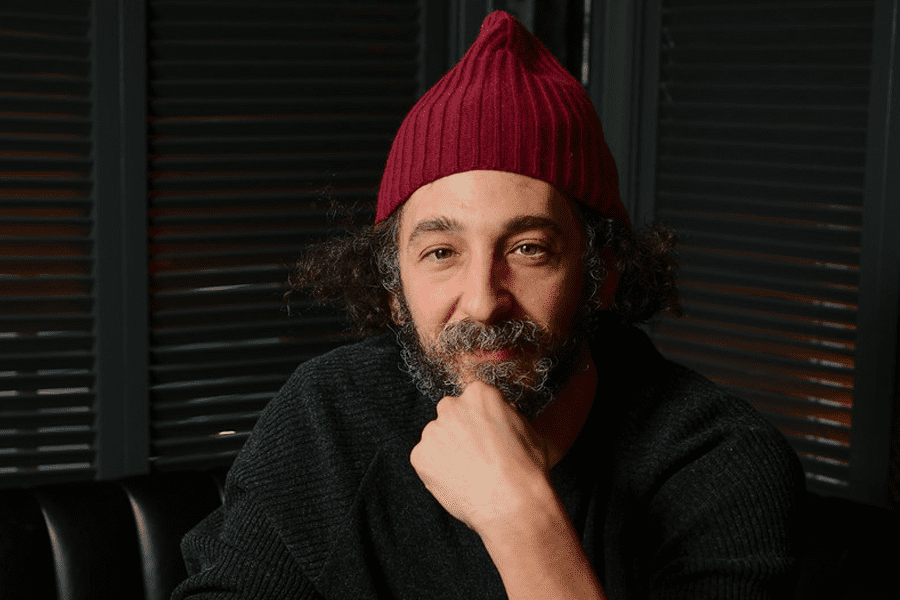 With a roster of venues including New York hotspots Ray's,
Jac's on Bond
, and Georgia Room, the trio behind
Authentic Hospitality
—Matt Kliegman, Matthew Charles, and Carlos Quirarte—has been reshaping New York's F&B scene since they opened the Smile in 2009. One of those partners, Kliegman, started his party-planning career back at New York University (NYU) and his résumé speaks for itself. Whether working with Ian Schrager at the Public Hotel or bringing an Old School sophistication to Rock Center with Pebble Bar, Kliegman says the secret to his success is his team. "Partnerships are like marriages," he points out, "and it's important to take the time to pick the right partners."
Stacy Shoemaker Rauen: Okay. Hi, I am here with Matt Kliegman of Authentic Hospitality. Matt, thanks so much for joining us today. How are you?
Matt Kliegman: I'm well. Thank you for having me.
SSR: Yeah, excited to chat with you. We always start at the beginning. Where did you grow up?
MK: I grew up on Long Island in a town called Plainview, which is the easternmost part of Nassau County before you get to Suffolk County. I went to NYU, freshman in NYU in 2001 and started throwing parties while I was student and had a quick stop, or not so quick stop, at JP Morgan four-year pitstop. Then was focused on hospitality fulltime after that.
SSR: Were you creative as a kid or any early memories of restaurants, bars, hotels growing up?
MK: I was entrepreneurial as a kid. I was athletic. But I did love the city. When it came to choosing a university, I was pretty set on going to school in a city while most of my peers at the time went to schools in campus environments. I was always a city guy.
SSR: You went to NYU and you started throwing parties. Were they big parties? Were they organized parties? Tell us a little bit about those early days.
MK: I remember I had fallen in with a group of kids from Los Angeles and New York City in the dorm. We were living on Washington Square West. They were affluent, and I was less affluent, and they were going to nice dinners, and I was… Somebody at some point had said to me, 'Matt, you seem to know a lot of people, you should throw parties." I was like, 'Well, what does that mean?" At this point, it was really promoting parties for somebody else. You would bring your friends, drink for free, and get paid.  That's how it started, and it did grow. I think Carlos, who's one of my partners and my oldest partner. I don't mean how old. I mean, the time that we have been partners, he is also the oldest, but he and I started throwing parties together in 2006. Those parties got quite large. We really started throwing these very large Halloween parties that were 1,500 to 2,000 people. But in the early days, it was anywhere from 50 friends to a few hundred.
SSR: That's amazing. So you said you had a brief stop at JP Morgan and then you went into hospitality. What was your first venture into hospitality? Was that when you formed Authentic or was there a stop first?
MK:Some could perceive it as a bit chaotic, varied. I think for Carlos and I, we were just focused on really having venues that our friends who were also our customers could be a part of 24 hours a day. The Smile was first. It was a full-service restaurant, breakfast, lunch, dinner on Bond Street. That was Jane Ballroom, which was only a few months later. March 2009 was the Smile. June 2009 was the Jane. Then we figured, well, we have a really pretty sophisticated nightclub. We need the opposite. We need wild, grimy, less sophisticated nightclub. So we opened a nightclub called the Westway.
If you had been, you would remember it unless your night was as wild as many's were, and you forgot it. But it was a full nude strip club that we had purchased and converted into a dance club. Then we had full-service restaurant, we had sophisticated nightclub, less sophisticated nightclub. Then we felt like we needed a takeaway version of our full-service restaurant, so something more casual. We opened Smile To Go. We had a few summers operating Ruschmeyer's in Montauk, the food and beverage there. That was maybe 2013, 2014, 2015, maybe. Don't quote me on that.
So we have Montauk summer, we were a little over the place. Then Carlos started doing some consulting work, and I opened Black Seed Bagels. Now we had breakfast, and I would leave the nightclub and get a hot bagel at 4:00 or 5:00 in the morning. That was the early part that I would describe as being just really focused on having 24 hours worth of stuff for our friends. Then we started to think about how we can be more efficient, how we can have maybe a more balanced quality of life. Having 24 hours worth of stuff did not a balanced quality of life make. So Black Seed has a great, terrific team. Then we really wanted to put together a great and terrific team on the nightlife side because that was an area where we have always felt like we do a great job, and we're a little bit different in the way we operate.
So we opened the Public with Ian Schrager and a handful of other folks. We focused on the basement venue called Public Arts. We had tried to extract some of the stuff we had learned from our previous nightlife venues. We wanted a space that we could do great events with best-in-class AV capabilities. We wanted to do more of what we started doing at the Westway, but our AV capabilities were the worst. Concerts, comedy, dance, I mean, magic. We started to experiment with a lot of things. We wanted to do all this great cultural stuff. Then we wanted to continue to do nightlife. Public Arts was really this three-legged chair.
We were there working with Ian for a few years before we opened, and then about a year after. Soon after that COVID happened. That really shook everything up. But I think for us, it was quite positive because Carlos and I reflected on the last 12 years of doing this, and felt like, 'We love the evening, but we're getting older, and we've met some great people along the way. So let's continue to lean in here and build out a team of best-in-class team members.' That's when Matt Charles came aboard. That's when Kaitlin Prince came aboard and Jeff Decanio. We just built a great team. So that's Authentic today, which is Pebble Bar, Georgia Room, Bar Calico, Jac's on Bond, and Ray's.
SSR: I mean, you had some legendary spots like The Jane Ballroom, and like you said, Westway. Was it just organic as you grew with the Smile to the Jane to the Westway? Because also, it was 2008, 2009, which was a challenging time before COVID hit you. Were these just ideas that you had and the spaces became available, or you had these ideas, and then you found the spaces? Just curious how that process worked back then.
MK: We've been really thoughtful about the brick-and-mortar. This space has to speak to us. I think there's always ideas swirling in our heads, but the space brings them to life. Sometimes it does create the concept. The Westway, which is unique, Carlos had rented it out for a party for an artist at a gallery he was helping with. I went to the party because we were close friends, and we were like, 'This place was wired. The energy running through the walls here, it's real.' So that was an art world party. There were some projections where the artist was Doug Aitken, who's a pretty well-known artist.
Then we decided maybe six months later, maybe a year later, to do our own party there, and we rented the venue. It was a Valentine's Day party, of course. That party was pretty wild, pretty fun. Again, it confirmed for us there's energy in this building that is undeniable. That's when we started the process to acquiring the lease. If you look at across our places, and I would include the Smile, which is now Jac's on Bond. But The Smile To Go and even Black Seed, we don't love certain real estate, and then we love other real estate.
I mean, we're opportunistic. There's no one driving us to open more things. With that said, we will open more things because there's lots of great real estate and lots of interesting stories. With the Jane, I mean, the part of the story that I didn't tell is that we were not unfamiliar to the building. When I was convinced by a friend of mine to throw parties again, when I was working at JP Morgan, it was in the building. If you recall, we had a restaurant off the lobby of the Jane called Old Rose. We closed it during COVID and didn't reopen it.
But before Old Rose, it was Café Gitane. Before Café Gitane, it was Socialista. Before Socialista, it was a place called Salon. So now I'm going back to maybe 2006, '07, it was a place called Salon. So I did a party at Salon that went on for maybe 1.5 years. The plan was I would do the downstairs, and they were downtown kids, and my friend Jeff Zalaznick would do the upstairs, and they were uptown kids. I always loved the building, and I loved the story and the age, and the beauty. I mean, it is just one of those absolutely incredible structures that there's only so many with such rich history in New York.
SSR: Yeah, exactly. Do you partner with designers back then for the Jane and the Smile?
MK: Sean MacPherson designed the Jane. He's multi-hyphenate operator, owner, designer. Money was tight in the early days for the projects that we did ourselves. I mean, it was still disciplined, but we had put together a team of very talented antique dealer who has a shop up in Germantown, New York, but previously, he was in Williamsburg, Luke Scarola. He had a shop called Luddite, and he basically assembled all these incredible antiques, and we've just built a place around them
Then over the years, we have leveled up, I guess was one way to describe it, but we've also come to appreciate that the design of these spaces is critical to them feeling right. We don't farm it out. I think probably John and Christine [of Gachot Studios] would describe us as involved, but we trust our collaborators, and we try to pick the right ones.
SSR: Then how did you meet Carlos, your partner?
MK: He was doing the marketing for a denim company called Earnest Sewn, and they had a shop on Washington.
SSR: I loved that shop.
MK: Yeah. It was a great shop. They made great denim, and they would do a really innovative thing that Carlos created, which is they would do these once-a-month installations. They had a small backroom, and instead of just putting more denim in this backroom, they would do these partnerships. He, as the marketing person, would create and identify who these collaborators would be. So after one of them, he was looking for a space to do an after-party. Salon, which was at the Jane Hotel. This was such a rich period in that neighborhood. It was a great neighborhood that lacked some of the gloss that it has now. He wanted to stay close to the store, so a mutual friend of ours had said, 'Oh, you should talk to my friend Matt. He does this party around the corner a couple blocks away.' We were introduced and we became fast friends.
SSR: The rest is history. One more question before we get to where you are today. What was it like working with Ian and creating Public Arts, which was very different for what New York had elsewhere?
MK: I mean, Ian, he is an incredible entrepreneur who I consider myself lucky to have spent as much time with him as I did in the process leading up to opening the Public, and then having it open. Public Arts was different. It was a model that was designed to do more than just be a nightclub. I've reflected on our first year. I mean, we accomplished an enormous amount from having great live music performances. I mean, Patti Smith, Grizzly Bear, Billie Eilish, Francis and the Lights, Christine and the Queens, Rostam. I mean, there's a long list.
Then comedy, we had Michael Che, we launched a couple of comedy shows that went on to be quite successful. We had magic, we had dance, and we did all the things that we wanted to do. It built a really rich community around the space. Events were a significant part of the economics. To this day, I think the room is largely an event venue, and the night was fun. It was a great experience. I'm thankful for it. Ian also works with terrific people, so I would never have met Matt Charles. I would never met Kaitlin Prince. So our businesses are better because of the Public, and I'm thankful for that experience.
SSR: All right. COVID happens. That had to be tough operating all these different venues. Did you have to let everyone go? Did you stay? 
MK: The nighttime was not open. It was disappointing, obviously. There were moments where I was like, 'Carlos, is this it?' I had a second kid during that period. Carlos had a second kid. I'm like, 'Is this it?' But then honestly, we started to get excited about the energy,  the reawakening of the city. That June 2020, God, I don't remember, was it '21 or '22. But it was that June when things started to open again. It was incredible. So we swung where we were like, 'We're going to lean out until we're going to lean in.' We were able to bring back so many of the great people that had gone elsewhere and then moved onto their parents' house in Florida. That part of the business had scattered. Then they came back, and it was an incredibly memorable period. Then Omicron happened, and that was really a kick in the gut, but we were working on Pebble Bar throughout that process, people would be, 'What's it like at Rock Center?' I'd be like, 'Everyone should go to Rock Center right now.' I mean, there's nobody there, but we were working on it. The opportunity to do Georgia Room and Bar Calico, that was only possible because of COVID. So challenging, but frankly, it worked out for us, gave us new opportunities.
SSR: Let's go through some of them. Pebble Bar, as you mentioned, it's in Rock Center, it's in a really cool townhouse that just stands on one of the corners. It's surrounded by these big buildings. Again, was that a property that came to you, and then you got to create what it was inside?
MK: I think it is a microcosm for how we generally open projects, which is I've maintained a great friendship with someone I met years ago who works in leasing at Tishman. She previously worked for a leasing company that worked on Hudson Eats, Brookfield Place. She said, 'Matt, I want to show you this space. It used to be a bar and we're thinking of maybe it should be a bar again.' I said, 'Let's see it.' I went to see it. At the time, I mean, the outside was the outside that you see today. The inside was, it was just like a random office from the '90s. It was not particularly impressive, but I just knew, especially having worked in Midtown from 2005 to 2009, what a dearth of quality places there are. I mean, that's not fair, but I would say because there's people that do a great job in Midtown, but a lack of downtown-inspired venues, places with intimacy, places with character, you can only do so much when you're in the base of a giant office building where the ceiling heights are 16 feet tall and it's concrete and glass.
There are only so many options to do something else. The history and the architecture and the location. I mean, if you literally drop a pin in the middle of Manhattan, it lands very close to that corner. She showed it to us. I said, 'We're in. Let's figure out the details.' It took a long time to do that. Then we signed the lease September 2019, but the landlord had some work to do, demoing the space, building the staircases. So we didn't get the keys to do our work until February 2021. We were locked and loaded before COVID, and then things moved a little slowly and then started to pick up steam again in February 2021.
SSR: You mentioned John and Christine of Gachot. You had worked with them previously, correct? You wanted to bring them back for this space?
MK: Well, we had worked with them in not unusual relationship, but we were not the client. They were working with Shinola designing a store in Los Angeles and in Dumbo. We had a history of opening a coffee concept in Shinola when they had their store in Tribeca. We hadn't worked super closely, but we really them and we knew them. They lived at the time on Bond Street, and they lived there for quite a while. We knew them socially and respected them and had done some work, but in a more collaborative way, I guess. We were at a wedding, all of us, and I had told John originally about the project, and he was just like, 'Christine, you got to hear this.' Then I told him where it was and what it was, and he was just like, 'We have to do it. We're in. We'll figure out the details later.' But I knew they would get it. It is so quintessentially New York that I felt really strongly we needed to work with someone or a team that really understood New York and could bring a little bit of that downtown energy to a space that is very much not that. I think that combination is part of what makes it so special. It's a residential component to that place that I think John and Christine really excel at. That combination of residential and commercial hospitality being right in the center of that.
SSR: Did you tell them to create that intimate space that it is because it is almost like a breath of fresh air when you walk in right off the busy streets of Rock Center and you come in and it feels like a townhouse, feels like somebody's home, really has that mood and just simplicity that make it stand out.
MK: I've gone in there, I don't know, 5:00 or 6:00, and it's still a little light out, and then you spend a couple of hours in there and you come out and you're just like, 'Whoa, where am I?' Going in is jarring. Then coming out it's like, 'Wow, am I literally one block from Times Square because this insane?' I'm not being entirely fair, but the majority of my description or my mandate was I created this idea in my head of a moment in time that didn't really exist. It was this moment of Johnny Carson moving to LA and Saturday Night Live moving in.
They didn't actually overlap. I think it was actually a couple of years difference, but just a scenario where that second floor that you come into there, it's John Belushi at the bar, and he's buying shots for everyone. Then you walk up the stairs and you're on the third floor, still very much a bar, but there are tables and there's Dan Aykroyd in the corner telling the story to a group of really curious fans. Then at the very top, there's a very intimate power meeting happening between Johnny Carson and, I don't know, Henry Kissinger, a real serious conversation with a serious drink. That was how we thought of each floor. Then John and Christine made it come to reality in a way that…
SSR: Then the Georgia Room that's at the Freehand, how did you want that to be different or add to your portfolio? I mean, is that something too that you always are thinking about creating these different experiences, so you're almost not competing with yourself or again, building your portfolio? Is it more what fits the space?
MK: There's a little bit of both. At this point, we weren't working with the Public, but we were well aware of the benefit of advance and scale. It felt at times we wanted to have an east side Jane, but one where we can do a lot of private events because of the proximity to Midtown and the proximity to Flatiron. It was Melissa Bowers who helped us with the design there. The space was originally designed by Roman and Williams. There was stuff there that was interesting, but it was definitely not a night venue.
Melissa helped us shape it into a venue that would work better for the night. Previously, that floor, it was a full-service restaurant with fixed seating that occupied a large part of the Georgia Room. Then, eventually, they swapped it out, but it was still very much a full-service restaurant with a coffee bar in the middle section, and then the small bar at the very end, which Bar Calico was a bar called the Georgia Room. It was creating a narrative that connected all three spaces but focused on the night as opposed to the day.
SSR: Got it. Being in a hotel too was helpful, right?
MK: It doesn't hurt. That hotel is unique in that you have a bar on the rooftop, you have a bars on the second floor, you have Smile To Go, which is us on the ground floor. There's a terrific restaurant on the 23rd street side. There's a lot of F&B there. We knew that while being in the hotel would be helpful, we would have to build something that connected with New Yorkers. I think what we've done there, thankfully, has.
SSR: I don't know if we mentioned the hotel, it's at the Freehand. Just people know where we are, what we're talking about. Awesome. Then why did you decide to redo the Smile into Jac's?
MK: Well, the city evolves and it's like a living organism. In our business, I think we can get quite emotionally attached to things. I think about my previous life working at JP Morgan, and I turn my spreadsheets off and go home and come in the next morning, and start working on them again. But our business, you can't sleep. I don't know. It is hard not to get emotionally attached to the work we do. The Smile in 2009 when we opened it, it was exactly what the neighborhood needed. Me and Carlos and our partner Melia, we each lived within three blocks of that place. Carlos was on First Ave, Melly was on Second Street, and I was on Elizabeth, and all our friends lived in that neighborhood. It was a mixed concept. We had a cafe, retail, a tattoo shop in the basement. We were young. I was 25 years old and our friends lived in and around that place. We closed it in 2023.
You think about a concept that's open breakfast, lunch, dinner, 8 a.m.  serving mostly eggs, trying to serve affordable food in a neighborhood that unquestionably has gotten more fancy. It was a business model that was not perfectly aligned with where the neighborhood had evolved into. Karmically, it's a funny loop because both the Jane and the Smile were both these 14-year roughly loops, so both closed in 2023. You have to evolve. I think for Jac's on Bond, it's a really beautiful, excellent concept from top to bottom. We've got all our collaborators. I mean, from Jeremiah and Fabián, from Wildair and Contra to Angelo, from Awake doing the uniforms, [Gachot] obviously designing the place.
It's a terrific concept and it serves an important purpose in the neighborhood, which is a place where people can go for a casual drink, where anyone can make a reservation, where anyone can walk in, there's room, before dinner, after dinner. We open at 5 p.m., we close at midnight, and it works. Sometimes things aren't aligned, and they need to be aligned. It requires you to close something and start something new. I think in our business, people get attached sometimes to what they think something should be. So that's the story of the Smile into Jac's.
SSR:I guess it's hard to rethink one of your first babies, but it's good to do at the same time. Speaking of that, how has F&B and the bar seen in New York changed over the last, call it 10 years, 15 years that you've been. What are you seeing people wanting more of today?
MK: It's a good question. Again, it's always evolving, but there was a certain nightlife that we did at an earlier part of our careers that moved largely to Brooklyn. When I think of a place like the Westway. The Westway today would probably live in Brooklyn, just what we're doing. There's a lot of great venues doing that kind of nightlife in Brooklyn. I think Manhattan, for a whole bunch of reasons, it's harder to do that. In some cases, your guests don't live here, a lot of them have moved to Brooklyn, but also to have real estate that size is expensive, and it's less expensive there. Sometimes the creative class that helps make some of these environments really interesting. They really live in, primarily in Brooklyn now.
But most people still work in Manhattan. We like to go out to great restaurants in Manhattan and some of us live in Manhattan. So I think that to have places that just want to do a great job, they want to provide great service, want to have great drinks. There's no shortage of demand for places that take those things seriously. I've had conversations with people about private clubs, and obviously, I feel a particular way about them, which is not great. But somebody had said that they liked the private club that they go to because they know their name. I said, we know people's name too. I think it's incumbent on the owner to care about those things. If you care about them, then you'll make people feel like they're part of your club. It doesn't require a membership fee to be part of our club. But no shortage of demand for nightlife in Manhattan. It is just a little different than it was 10 years ago.
SSR: How much of the process are you still involved in? Are you still into the details and the nitty-gritty? Or is there part of the process you love? Then how does it work with your partners too with Matt and Carlos?
MK: I think we've got a great team. Again, over time you realize that it's like… Sports analogies can be… I wouldn't be the first one to have used one, but it's like to win a championship, you need to have a great team. One all-star is probably not going to win a championship. So Matt is a really outstanding operator. Carlos and I did a pretty good job. There are people that were better at that than we are, and Matt is definitely one of them. As I think of events, which are a very large part of our business, Kaitlin is event prodigy.  Jeff, who is one of our directors of operation, he's been operating these places for years. He ran Surf Lodge. If you can run Surf Lodge, you can pretty much run anything. What I personally like to do is I like to identify need opportunities, and my highest and best value is probably assisting on the early end, on the front end of realizing these opportunities, making them come to reality a bit, and then passing it on to people that can operate the businesses better than me.
SSR; What do they always say, surround yourself with people that are better at things than you are?
MK: I believe so strongly in that. We've all encountered people in this line of work that do have a bit more of a my way mentality. Because we approach it like a marathon, not a sprint because we've got nobody pushing us to do new things. Having a great team also helps us have a good quality of life. Part of why, and everyone gets into this line of work for a different reason, it is a line of work that invites a variety of impulses, I guess. For us, this is across our entire team, our general managers included, we just like people having a good time. We want to help people have a good time. New York, it can be intense. There's a lot going on. I've always described New York like a highway. Some people have a really easy time emerging, and some people it's touch and go there. We just want to help people have a good time, and we don't want to make ourselves a central part of their experience. We want them to have the experience. We just want to help make it happen. We have a team where everyone shares that same philosophical foundation.
SSR: Well, it's easier said than done, right? I mean, where does form meet function meet operation, it's a fine line. I mean, where do you think you all find that success, right? It is almost not a formula, but something you have to figure out for each property.
MK: I guess that's part of the secret sauce. I mean, at the operational level, who have good work-life balance, who enjoy what they do, who are positive, who abstain from some of the temptations that exist in our business that are just focused on. Again, helping our guests have a great time. Then the way that each property finds its own spot to thrive. I think it relates a little bit to the lesson that we talked about the Smile is being okay, that things will evolve a bit from what you originally anticipate that they will be. That's okay. That's part of the fun is watch it evolve a bit, communicate well with the folks on the ground, and be a bit malleable, be a bit open-minded, and then you find it.
SSR: Was there one project that was the most challenging over the last few years, or something you learned the most from?
MK: I think a lesson I've learned, and it's something that I am reminded of is just partnerships are like marriages, and it's important to take the time to pick the right partners. I think about my partnership with Carlos, which is 14 years long, and I think it's operating better today than it ever has. It's made both of our lives better and my quality of lives better. I think it's about being patient, picking the right partners.
SSR: Why do you think now more than ever, it's working? Is it just now that you guys know each other that well, you've been through so much together that you can read minds almost?
MK: There's that. But there's also evolving. When he and I decided, we probably should add a partner. If we want our business to be better, we should probably add a partner. I don't think we disagreed at all about that. I don't think we disagreed when we eventually chatted with Matt about it. Frankly, any disagreement that's happened internally is a helpful part of the process. I think that malleability, just being open-minded and being flexible. It's important probably in lots of businesses, but I think in our business it's particularly important.
SSR: The business you're in is not an easy one. It's 24 hours going back to that. Well, I think that's a perfect place to stop. Thank you so much for sharing the last hour with us. Really appreciate it and can't wait to see what you guys do next.
MK: Cool. Well, we've got a couple of things in the queue, so looking forward to sharing it with you.