From abundant blooms to cascading greenery, plant life isn't only meant to be celebrated outdoors. Here, we pull together more than a dozen lush interior spaces in hotels, restaurants, and beyond where great design and beautiful flora go hand in hand.
Twenty Three Grand
New York's ModernHaus SoHo hotel recently welcomed Twenty Three Grand, a new Mediterranean restaurant from chef Ashley Rath and hospitality veterans David Rabin and James Julius. Designed by stylist and consultant Melissa Bowers (with branding courtesy of Once Upon a Time Hospitality), the verdant 2,700-square-foot space spans indoor and outdoors areas, complete with a retractable glass pergola that takes cues from Philip Johnson's Glass House and European atrium cafés. Custom velvet and leather banquettes, floral-patterned wallpaper, and vintage Murano frosted glass sconces also add a romantic air to the buzzy eatery.
JW Glass Garden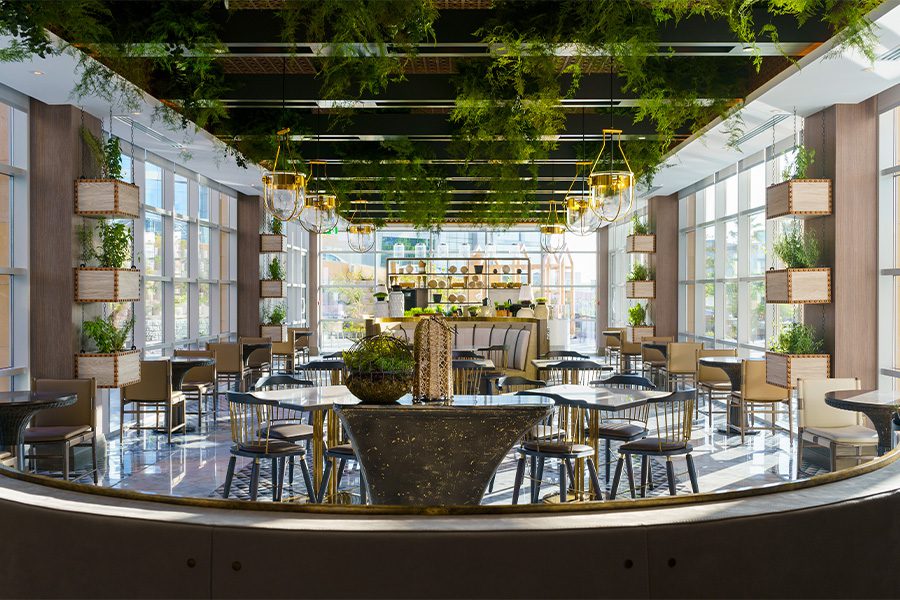 The JW Marriott Hotel Riyadh in Saudi Arabia adds a unique spin to the brand's signature JW Steakhouse restaurant with JW Glass Garden. Designed by Dubai-based David T'Kint, both concepts occupy a 5,300-square-foot space where a tree rises from the center of the bar area, penetrating the ceiling and infusing nature into the inviting, greenery-filled setting. "The greenery of the décor is only one part of a full experience, where chefs use fresh ingredients taken directly from the garden outside to prepare dishes," T'Kint adds.
Fandi Mata
Inhabiting a converted 8,000-square-foot industrial structure in the Williamsburg neighborhood of Brooklyn, New York, Fandi Mata echoes the vibrant flair of markets and bazaars that line the Mediterranean coasts. The bi-level, greenery-filled restaurant also boasts a greenhouse effect courtesy of a glass ceiling. "The design of Fandi Mata was inspired by the lifestyle of a modern day Bohemian," says designer Matthew Maddy, who collaborated with partners Emil Radonic, Marjanne Motamedi, Dragan Ristovski, and Milos Zica on the space. "It is a tale of a world traveler visiting different parts of the world and collecting well-crafted and artisan items."
Le Pavillon
Brazilian designer Isay Weinfeld created a lush escape for chef Daniel Boulud's Le Pavillon—inspired by the traditional pavilions found throughout France, yet located in the One Vanderbilt building on a bustling Midtown Manhattan corner. "Our intent was to create a welcoming and comfortable ambiance within the grand scale and proportion of the space, where one could spend time and feel protected from the city's rush," explains Weinfeld. Indeed, as Boulud points out, the designer "has a very Zen way about the way he works and cares about choosing the best materials to achieve his vision." A lush garden winds its way through the length of the restaurant, creating pockets for semiprivate tables, while a fabric ceiling that hangs over the main dining room mixes with warm materials, such as American walnut, Italian sandstone, and brass to create a sense of comfort for diners.
Crep Nova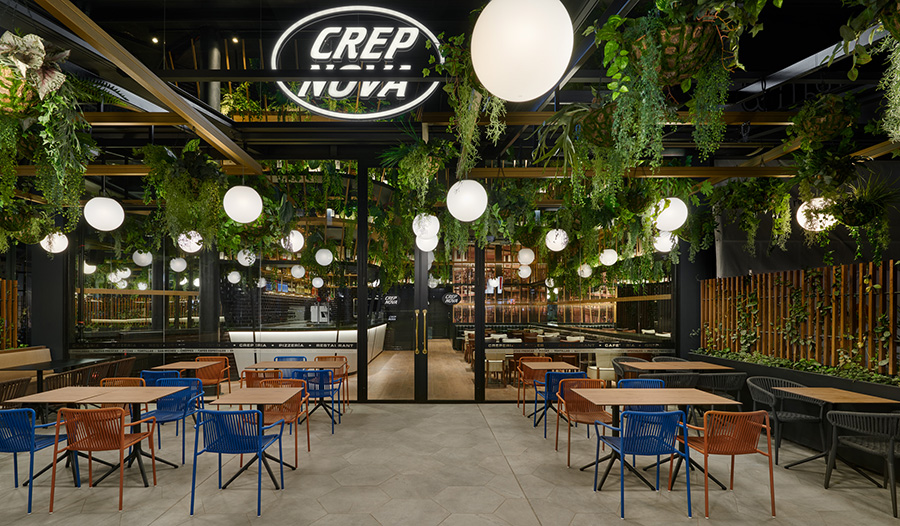 Local design firm Carlos Martínez Interiors has crafted numerous greenery-filled restaurants across Barcelona for pizza and crepe chain Crep Nova. "The aim was to create jungle spaces, located right in the center of the city of Barcelona, allowing users to take a break from the city itself and make them feel as if they are in the middle of a natural environment," Javier Martínez Ochoa says of the brand's overall design concept. Most recently, a nearly 2,400-square-foot outpost popped up within the city's open-air La Maquinista shopping center. "The vegetation is the absolute protagonist and acts as the common thread of this unique space," Martínez Ochoa adds. "A personalized lighting design is also key to grab the attention of visitors from a distance."
Linnaean
A hybrid restaurant, spa, and hair salon in London's central Nine Elms neighborhood, Linnaean is inspired by Swedish botanist Carl Linnaeus with a fresh and clean design evocative of a secret garden. "Linnaean responds to nature with its choice of materiality," says Martin Brudnizki, founder of his New York- and London-based namesake firm, which collaborated on the design with local architect Holloway Li. "[It is] whimsical and relaxing and feels like a private garden-turned-wellness sanctuary."
Spring Place
The Spring Place restaurant—located within the Manhattan members-only workplace and social club of the same name—is punctuated by an abundance of tropical greenery planted in minimal stainless steel pots set along the floor and even suspended from the ceiling above the fluted marble and brass bar in a vegetal glass box. "Having been brought up in the West Indies, I have always been very sensitive to plants and, more generally, nature. I try to enhance my projects with a coherent plant selection—whatever the context," explains architect and designer Nathan Litera. "Greenery always infuses more soul into a space."
Café Lido
At Café Lido—the all-day restaurant at Mar Monte Hotel in Santa Barbara, California—various potted plants suspended from arches create an eye-catching focal point. Envisioned by Santa Barbara, California architecture firm Andrulaitis + Maxon and Los Angeles-based design studio Beleco, the venue (which was a 2021 HD Awards finalist in the Casual Restaurant category) evokes an artist's studio. The theme is compounded by "pencil sketch" tiles that line the floors of the space. Inspired by the rooms Jean Cocteau once painted in a house on the French Riviera, the design team also commissioned an artist to dream up whimsical murals depicting local flora and fauna.
Ace Hotel Kyoto
The 213-room Ace Hotel Kyoto comprises a new build as well as the former Kyoto Central Telephone Office, originally designed by modernist architect Tetsuro Yoshida in 1926. Ace's in-house design team collaborated with Commune to imagine interiors that echo the setting's tranquil sophistication. A palette of natural materials complements ryokan-inspired spaces that balance tradition and innovation. "This project saw renewed potential in the possibilities of connecting the past and the future," says Kelly Sawdon, partner and chief brand officer for Ace Hotel Group.
Café Polet
Envisioned by Brooklyn-based Asthetíque Group, Moscow restaurant Café Polet features a design scheme that takes cues from the past, present, and future. The airy environment comprises eight distinct sections for a total of 173 seats—including the main dining room, a coffee shop, and an intimate VIP room—separated by decorative partitions and openwork metal structures entwined with living greenery.
Atelier Playa Mujeres
Cancun lends itself to Mexico's emphasis on craftsmanship and tradition. This is what Chicago-based Curioso wanted to celebrate with Atelier Playa Mujeres, an elevated, all-inclusive luxury resort that is one with its lush landscape. Fittingly, the natural, "very locally sourced" palette contributes to the open feeling, conjured via cast concrete, native materials like chukum (a type of stucco), and vegetation that springs from hidden corners throughout the 700,000-square-foot resort's 15 restaurants and bars, as well as across the 30,000 square feet of convention space.
The West Hollywood EDITION
The West Hollywood EDITION—the first West Coast outpost of the luxury lifestyle brand Ian Schrager founded in partnership with Marriott International—features architecture and interiors by London-based John Pawson. The 190-room, 20-residence hotel is home to a refined spa and four F&B concepts, including the Ardor restaurant, which celebrates the outdoors with its plant-filled garden terrace.
The Well
Throughout the Well, a members-based health and wellness club in Manhattan's Union Square crafted by design studio Rose Ink Workshop, each room is outfitted with its own signature look, but connected by a crisp white palette accompanied by natural wood accents. The restaurant, for example, is inspired by a greenhouse, while the reflexology room has a green wall of herbs that are harvested for use at the onsite restaurant.
Down 2 Earth Plant Parlour
The seating area at Down 2 Earth Plant Parlour, a family-owned vegan restaurant in British Columbia, features a combination of booths with wood tables and chairs upholstered in emerald velvet. The coziness of the 1,470-square-foot space, designed by Vancouver-based House of Bohn, is reinforced with a custom plant trough that hangs overhead, as well as a wall dotted with several plants of different sizes and shapes leading toward the outdoor seating.