Embracing local craftsmanship and its signature sustainable design philosophy, 1 Hotels has set down roots for the first time in Europe with the 1 Hotel Mayfair in London. The nine-story, 181-room property was built to BREEAM standards, maintaining 80 percent of the existing structure, formerly a Holiday Inn. "We were able to salvage most of the construction, giving the building a second life and adding on to it," says Christopher Alvarado, senior vice president of design at SH Hotels & Resorts. "It's a respite from the high-traffic area of Dover Street, creating a sanctuary space within the chaos of Mayfair."
Designed by the local office of G.A Group in collaboration with SH Hotels & Resorts' in-house team, the hotel overlooks Green Park, an oasis of mature, stately trees and lush lawns. But the biophilic principles extend far beyond the views. More than 200 local and regional plant species and upwards of 1,300 individual plants, shrubs, and trees populate the building and its grounds.
"Working with a brand such as 1 Hotels where nature takes centerstage, it was critical to look for moments where we could bring the outdoors in," says G.A Group associate Jessica Morrison. "Whether this was the orientation and space planning of the suites on the upper floors—which feature [4,305 square feet] of terraces—or simple additions to guestrooms, such as mirrors on window reveals to get light bouncing around, it was considered at every stage."
Living green-trellised walls on the building's exterior announce this intention. The lobby takes it even further with an attention-grabbing chandelier enveloped in live Spanish moss; a 200-year-old naturally felled oak tree from Sussex repurposed as the check-in desk; and a prominent dry stone wall stacked by local artisans.
"The approach couldn't be industrial or rustic—this wouldn't be appropriate for one of the most upscale areas of London," Morrison explains. "It is centered around pieces of design that last and stand the test of time. This, in turn, is a very sustainable way of living."
The F&B options stick with the theme. The sultry cocktail lounge Dover Yard features dramatic handcrafted dry stone walls along with furniture made from sustainable timber by British designer Katie Walker. An art installation by Kate MccGwire, composed of 3,000-plus molted pigeon feathers, traverses the glass bar counter. Meanwhile, Dovetail, helmed by two-Michelin-starred chef Tom Sellers, boasts light wood and terrazzo flooring that accentuates olive green-hued chairs.
Nature-inspired moments abound in the guestrooms, from the live plants and artwork to the neutral palette that mingles with warm woods, contributing to a serene atmosphere.
Additionally, the Bamford spa is devoted to nurturing the mind, body, and spirit, and is joined by wellness and fitness services that are, like the rest of the hotel, supported by eco-friendly practices, including ethical production of its specially formulated collections.
Indeed, throughout the property, lighting, energy usage, water and waste management, and materials selection are all informed by sustainable policies. For example, the combined heat and power system produces electricity that's fed back into London's utility grid. It also captures waste heat and uses it to preheat the domestic hot water on the property, which saves on gas used from the main boilers. The lighting program uses 50 percent less energy than typical UK hotels, and most of the light fittings are 80 percent recyclable.
"The combination of luxury and eco-consciousness is the first of its kind in the area," Morrison says. Adds Alvarado: "We want to highlight the best of the location. There's not a lot of diversity within the design language here. It was important to us to bring nature and British craftsmanship into an area where it's not prevalent."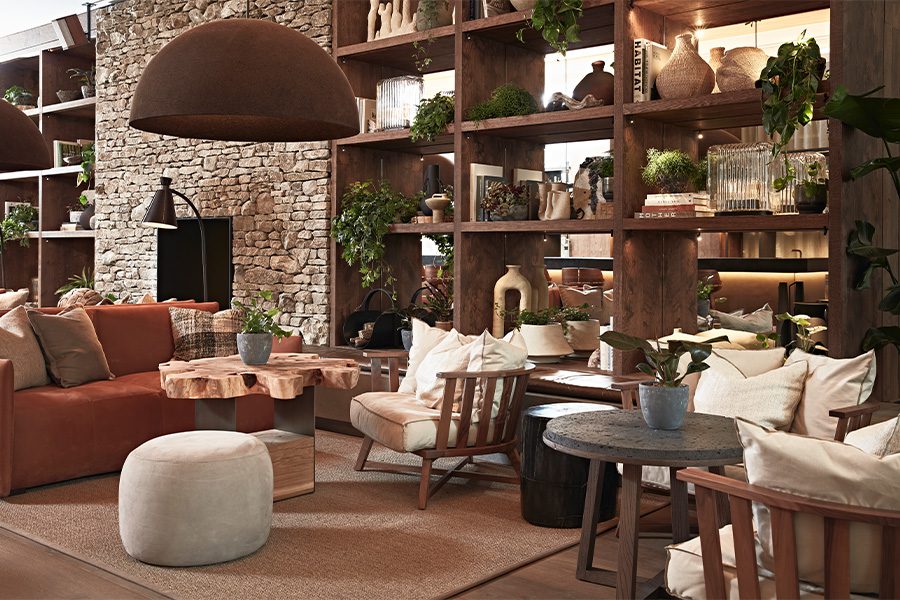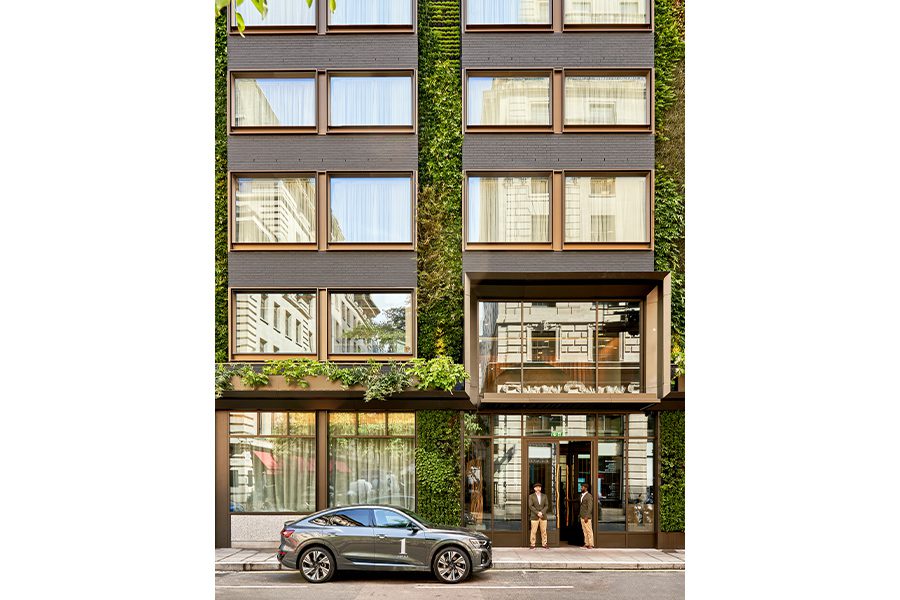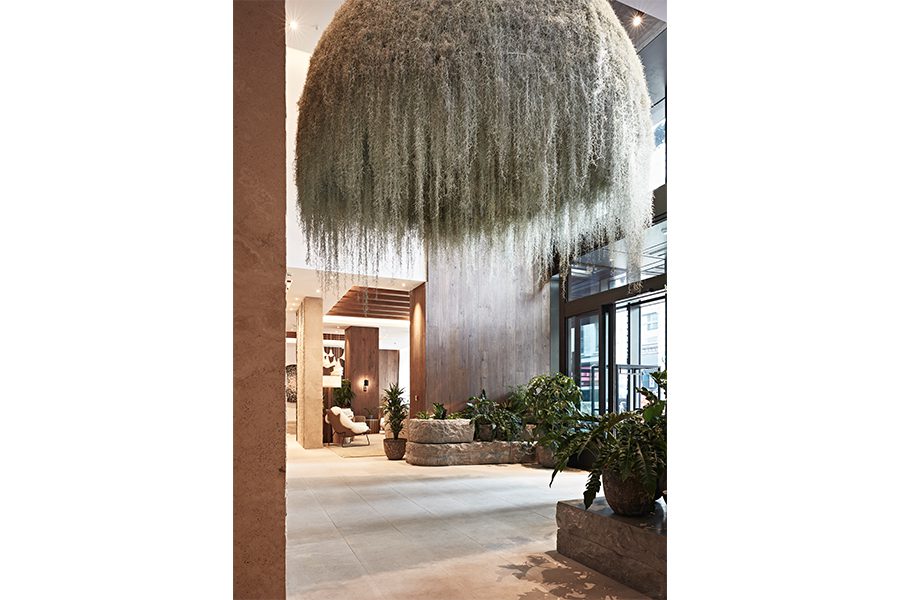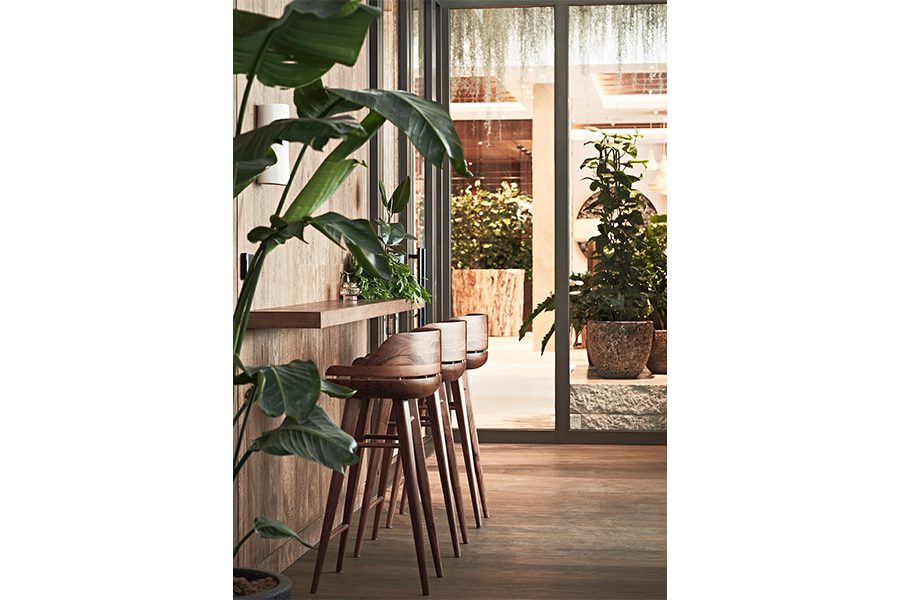 This article originally appeared in HD's September 2023 issue.