With tourism surpassing pre-pandemic levels, Asheville, North Carolina has become a city to watch. In 2021, 12.5 million visitors spent $2.6 billion across the Asheville economy, with the lodging industry accounting for $812 million of total visitor spend, according to Explore Asheville Convention & Visitors Bureau.
Additionally, hotel room demand grew by 47 percent in 2021, with occupancy increasing to 68.9 percent from 49.9 percent in 2020. Indeed, a slew of new properties are on the boards to meet the demand of visitors coming to the area to enjoy its proximity to the Blue Ridge Mountains as well as its vibrant art scene.
Glamping options include Mirror Hotel, which will comprise 18 cabins wrapped in mirrored architectural panels and coated with a glare-reducing film. "The [exterior] effect of the buildings is striking," says John Yurko, principal of locally based Yurko Architecture. "Inside, our design goals were to use light, color, and texture to create a modest-sized volume that feels spacious and cozy."
By spring 2024, AutoCamp will set up shop in Asheville as well. The property's Clubhouse, a 5,000-square-foot common space, will feature "custom furnishings and a bright palette of yellow, olive, and terracotta," says Karie Reinertson, founder of local firm Shelter Collective, to complement the wood and concrete building by Brent Campbell Architecture (BCA).
BCA also handled the interiors and architecture for Wrong Way River Lodge & Cabins, a riverside compound of 16 A-frames that opened last July near the River Arts District. The aesthetic marries "fun Appalachian vernacular architecture to more refined interiors," principal Brent Campbell describes.
Asheville is also seeing an influx of "new independent adaptive reuse lodgings," says Explore Asheville CEO Victoria Isley. "Each of them draws on the sense of place and storytelling that is so distinct here."
Here, we offer a closer look at four of those properties.
The Radical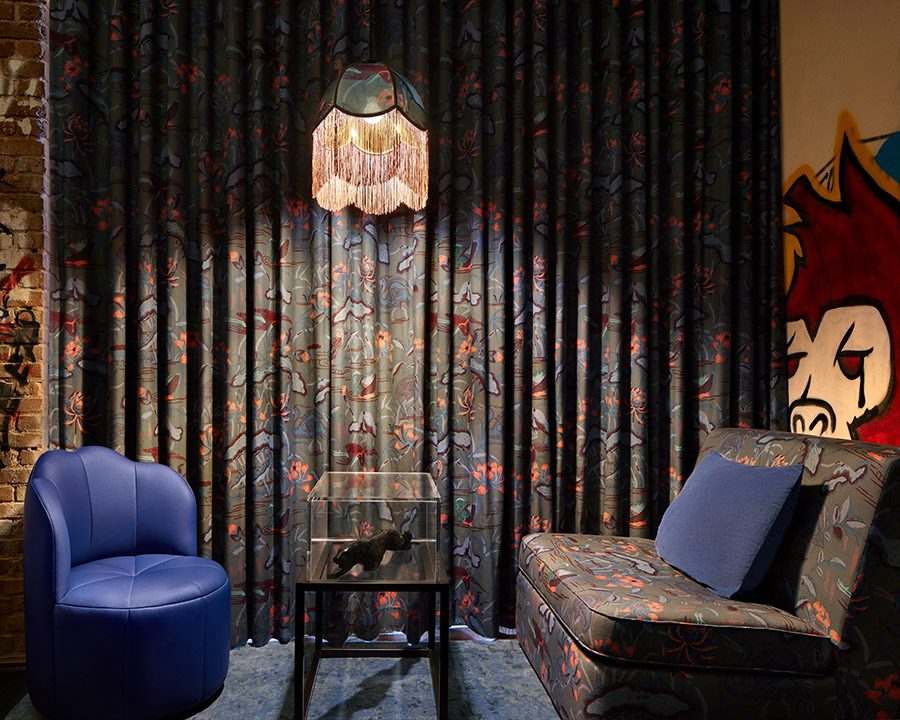 The Florida- and New York-based Suomi Design Works is behind the Radical, a 70-room River Arts District property expected to open this fall. Public spaces include a restaurant, coffee shop, and several bars. The project's developers mandated that the design play off the graffiti-covered exterior of the existing historic building as well as its various past uses—a produce depot, breakfast cereal headquarters, and bomb shelter, among them—along with the "1980s East Berlin scene and the contemporary synthwave music movement," says Suomi Design Works president Michael Suomi.
Alongside Kris Moran, a former set designer who's worked with filmmaker Wes Anderson, the firm imagined the "backstory of a fictional family and their very colorful life within the old building," says Suomi. Turning to '80s-era movies like Tron and Wall Street, as well as storied New York nightclub the Palladium, there are many standout moments throughout the property, Suomi adds, notably the recreations of historic Schumacher fabric patterns found on guestroom curtains, seating, lampshades, and bed canopies.
Zelda Dearest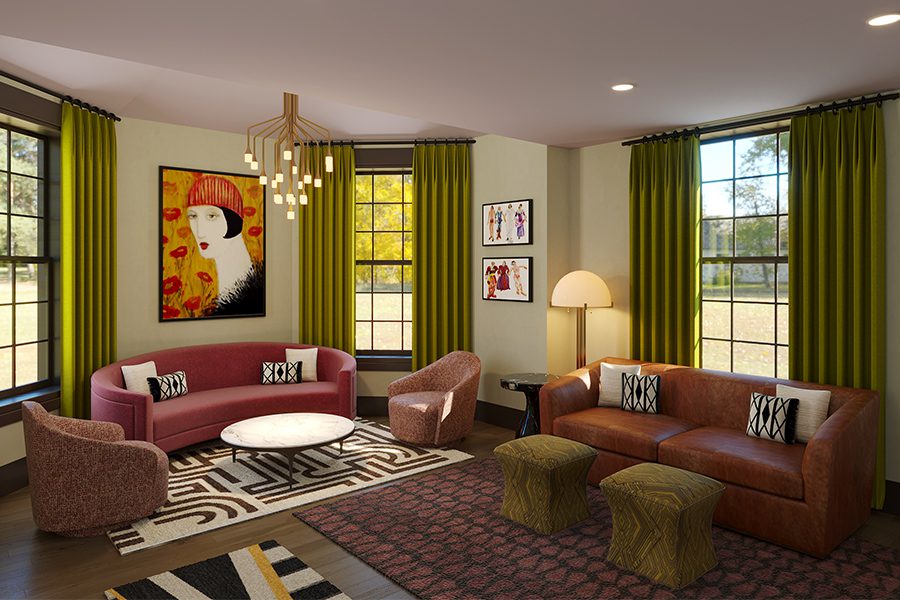 Following on the heels of the June debut of Blind Tiger Asheville—an inn sporting beautifully landscaped gardens and a handful of eclectically designed sitting areas and guestrooms from Maine-based Elder & Ash—Lark Hotels is at it again with the 20-room Zelda Dearest, set to open in October. For inspiration, Nashville-based Anderson Design Studio turned to the romance between Zelda and F. Scott Fitzgerald, who vacationed in the area often.
Merging three historic homes, the goal of the project, according to design director Katie Stix, was to feature a unique design for each home, while maintaining a cohesive aesthetic throughout the hotel by way of furniture and fixtures. Many original features were retained, including trim, wainscotting, and sliding doors. "We wanted to lean into Art Deco while staying relatively modern, since Zelda was always on the cutting edge of arts and fashion," she adds. "We wanted to represent her personality with loud, luscious colors and gold accents, while maintaining a sense of luxury and comfort."
Taking cues from passionate letters between the couple, bold lines and sketch-like contours of the written word are subtly integrated into custom floor coverings, fabrics, and wallpaper. "Our favorite design moment is the bar and lounge," Stix says. "It represents Scott and Zelda's love of parties and socializing, [and offers] a perfect backdrop for meeting new people and creating joyful moments."
The Flat Iron Hotel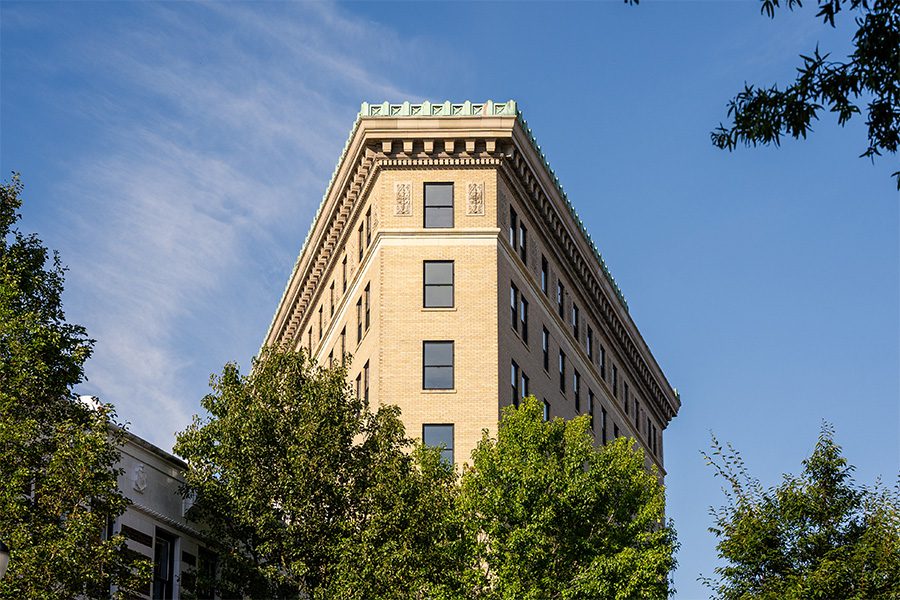 Slated to open downtown by the end of the year, the Flat Iron Hotel is the adaptive reuse of a 1920s office building with plenty of existing features and character, including original stonework and large decorative windows. "The building has a little austerity to it, and Asheville has some earthiness to it," says Carrie Dessertine, principal of Portland, Maine-based firm Mey + Co. "We tried to thread the needle between those two aspects."
Guestrooms feature 16 different floorplans and are outfitted in custom wallpaper and carpeting, while an expansive ground-floor Italian restaurant features classic touches like wood paneling and red leather seating. The rooftop bar sports 1970s accents—a wallcovering made of vintage speaker fabric and cork penny tile flooring, for one—as a nod to the radio station that used to transmit from atop the building.
The Restoration Asheville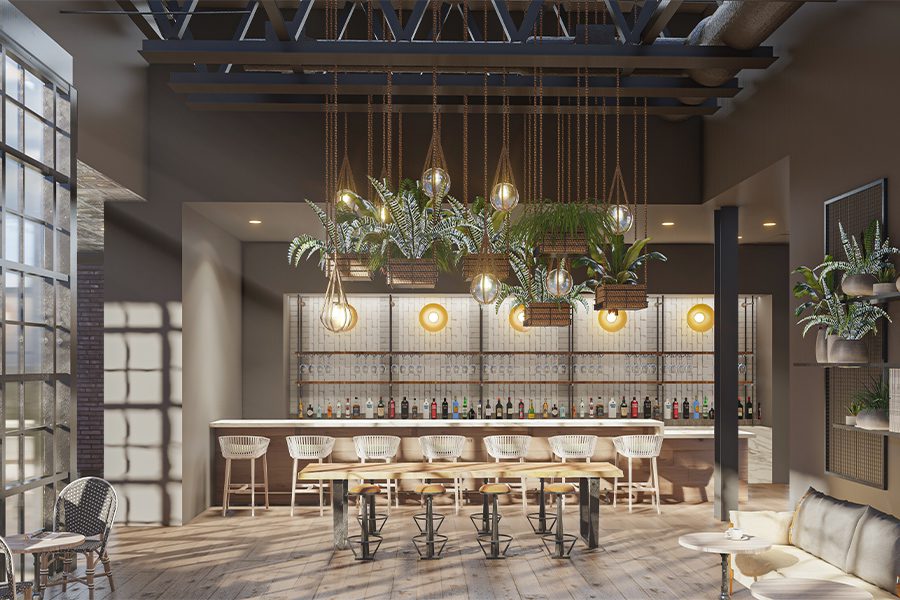 In 2016, Cincinnati-based developer Jeffrey R. Anderson Real Estate opened its first boutique property, the 54-room Restoration Charleston in South Carolina. This year, it unveiled a second outpost, the 60-key, all-suite Restoration Asheville in an abandoned bank building in the heart of downtown. Working with Rule Joy Trammell + Rubio (RJTR) and Pixel Design Collaborative, both out of Atlanta, the company "did a deep dive into the area's history to craft a story that made it feel like the space has been there a long time," says CEO J.R. Anderson.
Turning to the lush surroundings, the design of Restoration Asheville is characterized by materials like walnut, oak, and hickory. Locally based Brushcan Custom Murals and Design was also enlisted to convey the city's fondness for art.
Accommodations are accented by bright textiles and wood floors, while many rooms also offer exposed brick walls and terraces. Additionally, the Exchange restaurant features an open kitchen and reclaimed tin ceilings, with garage doors opening to the street. Other lobby spaces include a library and coffee shop, while the Draftsman bar offers video games, live music, and a bowling lane. Crowning the property is the Observatory, a rooftop bar boasting unobstructed views of the Blue Ridge Mountains.