The phrase senior living often evokes notions of sterile, impersonal spaces peppered with heavy furnishings more readily associated with an outdated waiting room than someone's home. A product born of necessity rather than preference, these care-driven settings are a vital resource in the last years of life. But these traditional models, even at the high end, hold little appeal for today's growing senior population, the baby-boomers.
Boomers are leading longer, more active lifestyles than the generations that preceded them. They also have more financial resources, which afford them an earned expectation of choice, explains David Ashen, founder and principal of dash design, known for its lifestyle hospitality offerings, and cofounder of the Ageless Living Collaborative, a think tank of advocates dedicated to creating optimum outcomes for seniors through the lens of design, psychology, and culture. "Boomers demand options," he says. "They want to live in places that promote wellness, active learning, and socialization." In short, they don't want to sacrifice their lifestyles in retirement.
A growing force of designers and developers like Ashen is promoting a new model of next-generation housing by embracing a hospitality-inspired approach. Projects like the Handel Architects-designed Inspīr Carnegie Hill in New York from Maplewood Senior Living and Ashen's recently unveiled Heartis Buckhead in Atlanta are taking cues from high-end hotels and incorporating amenities like spa-like wellness centers, rooftop pools, and locally sourced and chef-designed F&B programs.
Many of these communities are finding homes in metropolitan areas: In 2024, Austin, Texas will see the opening of Grand Living at the Grove with a design by St. Louis firm Spellman Brady & Company, while Maplewood's Inspīr brand is establishing a second location in Washington, DC, transforming the historic Fairfax hotel into Inspīr Embassy Row with the help of New York firm Beyer Blinder Belle.
The emergence of these urban developments is a gamechanger, according to Ashen, who notes that historically, retirement communities have been built in suburban areas, adding to concerns about the effects of isolation on aging adults. By inserting a community into an urban environment, access to shopping, restaurants, and cultural institutions is easily established with a happy byproduct: the opportunity for beneficial cross-generational interaction. To that end, we highlight two projects in New York that are putting a new spin on senior living with elevated design, curated amenities, quality care, and a sense of community.
Coterie Hudson Yards
Following the debut of Coterie Cathedral Hill in San Francisco, Related Companies unveiled Coterie Hudson Yards, the company's latest development for its Atria Senior Living brand, in Manhattan's West Side earlier this year.
"Coterie properties are designed to foster community while providing the expertly designed residences, unparalleled access, and services residents want with the tailored care they need," says Hailey Sarage, vice president at Related Companies. The property offers everything from onsite healthcare facilities with industry-leading treatment and diagnostic capabilities, to a theater, yoga studio, and salon operated by Oscar Blandi.
Global firm March and White Design (MAWD), which crafted the San Francisco location, was again tasked with designing interiors that would set the foundation for 24/7 programming, care, and social activity. For Hudson Yards, MAWD opted to create a sense of warmth and elegance through muted colors; layered, luxe materials like quartz and marble; and vibrant artwork.
On the Memory Care floor, for instance, leather-wrapped handrails line a circular corridor, helping guide residents with cognitive impairments who may forget where they are headed by encouraging them to continue on as they pass a small café and living areas to rest. Illuminated glass boxes stand in for room numbers on this floor, to be filled with personal photos and mementos that will ensure each unit is recognizable and representative.
In the piano lounge, the bar is lowered to easily accommodate people who use wheelchairs while barstools were swapped out in favor of comfortable chairs. To remain at eye-level, the bartender steps down onto the sunken floor behind the bar. "Every detail has been tailored to elevate comfort, safety, and accessibility for residents," says MAWD cofounder Elliot March. "I'm often asked what luxury means to me, and my reply: personalization."
The Apsley
On Manhattan's Upper West Side, Champalimaud Design crafted the Apsley. This is the second luxury property from Sunrise Senior Living, whose sister location, Sunrise at East 56th, also designed by Champalimaud, opened in late 2021 on the Upper East Side.
The Apsley offers an opportunity for seniors to continue living in the city they love while embracing all that New York has to offer, says Sunrise Senior Living's COO Pascal Duchauffour. Through Sunrises' proprietary Live with Purpose initiative, residents have access to classes, events, and programming thanks to a variety of cultural partnerships with institutions including Broadway Cares/Equity Fights AIDS, the Metropolitan Museum of Art (MoMA), Lincoln Center, Juilliard, and the Intrepid Sea, Air & Space Museum.
To provide the setting for these offerings, the locally based firm sought to reflect the historic character of the surrounding neighborhood. "The Apsley is designed as a celebration of the Upper West Side lifestyle," says Champalimaud partner Winston Kong. The resulting spaces are grand, filled with natural light and artful accents that reference nearby landmarks like Lincoln Center and the Beacon Theatre, lending a playfulness to the calming mix of colors and natural materials. That scheme also continues in two model residences done by local studio frenchCalifornia.
The Apsley was "inspired by the unique feel of the Upper West Side and infused with creativity and curiosity," adds Duchauffour. "It brings brand-new senior living residences to a sophisticated audience."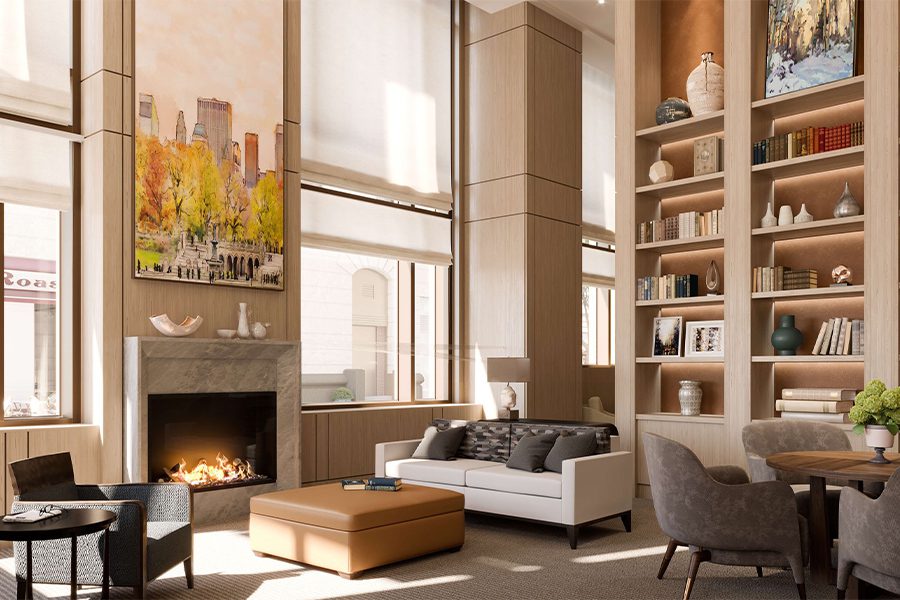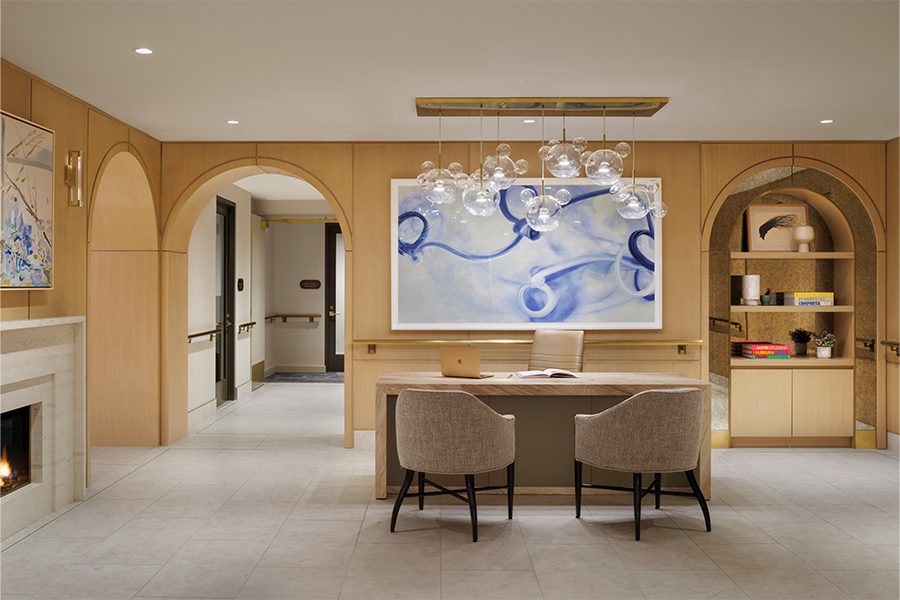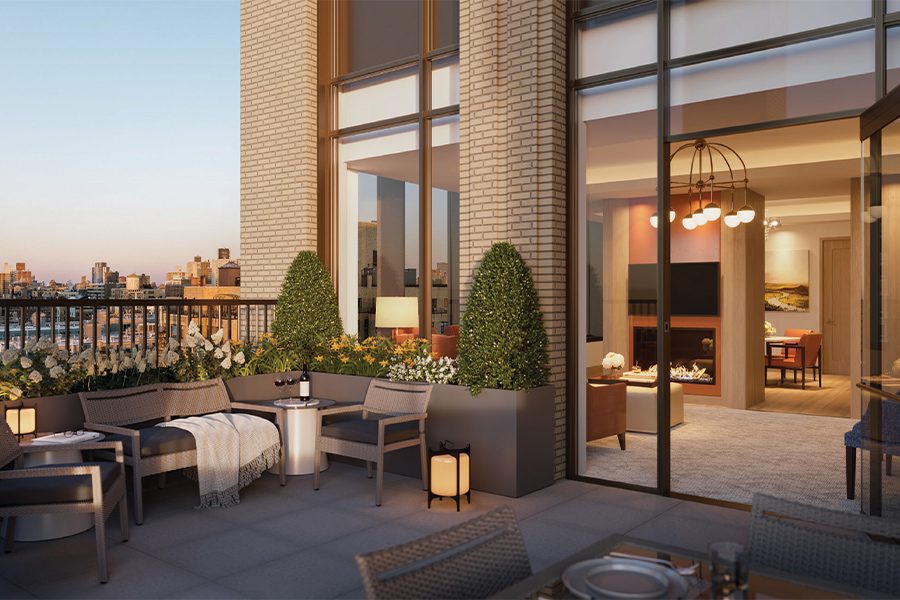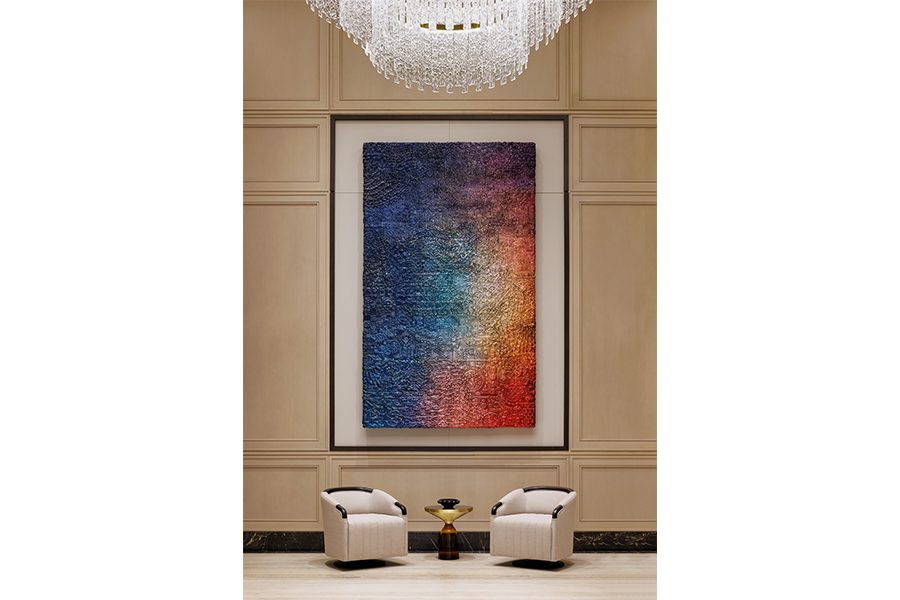 This article originally appeared in HD's September 2023 issue.