Set in Miami's fashionable Brickell neighborhood, the 120-seat restaurant Zeru is the brand's first venue outside of Mexico City, as well as the first U.S. project for Faci Leboreiro, the Mexico City-based architecture and interior design studio that also crafted Zeru's other locations.
"The interior design concept for Zeru Miami is the Basque country in Spain," says Carlos Faci, cofounder of Faci Leboreiro. "We took the original concept from Zeru Mexico and made it meet Miami's vibe, keeping the soul of Zeru and giving it a twist with art, vibrant colors, and more exotic materials."
Translating the layout and design of the 4,843-square-foot space to meet the preferences of Miami's dining scene was the biggest challenge of the project, which led Faci Leboreiro to collaborate with Philippe Moullet, a local restaurateur who has created concepts such as Zuma and Novikov around the world. Together, they created an elegant yet laid-back ambience where the warmth of wood pairs with shades of green and deep blue as a reflection of the Basque area's coastline and verdant landscape.
In reception, a lattice inspired by the Zeru monogram allows glimpses into the restaurant without revealing all the interiors. Inside, the ceiling's wooden herringbone pergola inspired by fish bones (fish is a house specialty) directs patrons' attention to the bar.
"The bar itself is very important for the design and experience; it is the heart of the project, which overlooks the open kitchen where magic happens," says Marina Leboreiro, cofounder of Faci Leboreiro. "In the main dining room, the double height bookshelf makes the space interesting and fun with Meninas art and other decorative elements, which reinforce the concept of Zeru."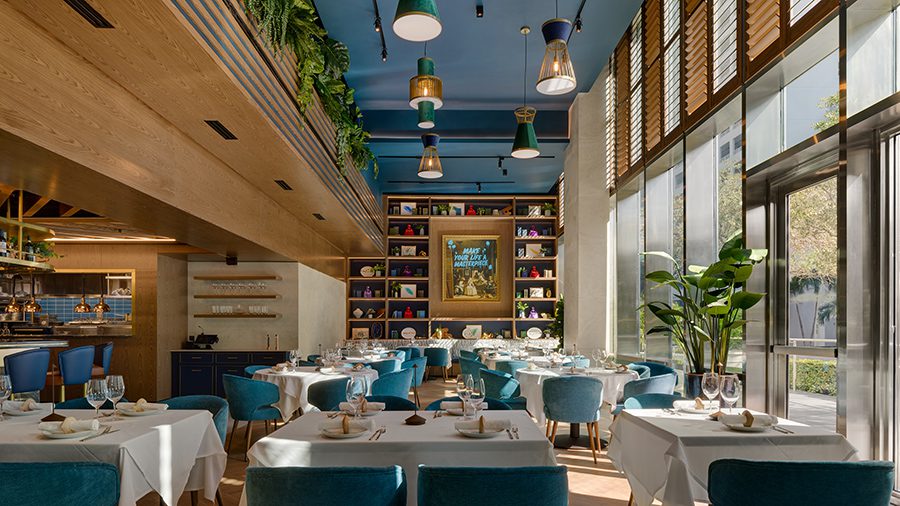 More from HD:
What I've Learned Podcast: Tina Edmundson, Marriott International
Asheville Emerges as a New City To Watch
With Quartz Linked to Silicosis, Manufacturers Seek Alternatives