Boutique hospitality company Songtsam has launched its first low-carbon destination, the Songtsam Linka Retreat Lake Basong Tso in Nyingchi, China.
Songtsam joined forces with Siemens Energy last year to promote green and low-carbon circular development in rural areas. As a result, the hotel group's inaugural outpost boasts self-generated solar electricity to reduce energy consumption and carbon emissions.
With views of prayer flags blowing in trees alongside Lake Basong Tso and the nearby Jieqing Naragabu mountain—both considered holy in Tibetan Buddhism—the hotel is located in the historic Jieba village, where residents don traditional costumes and keep Gongbu Tibetans' age-old customs alive through festivals.
Designed by a predominantly female team from Hangzhou-based architecture and design firm Studio Qi, Songtsam Linka Retreat Lake Basong Tso mimics the architectural structure and layout of the nearby Cuogao Ancient Village. Staggered heights allow expansive views while harmoniously integrating the complex into the landscape. This moving sightline, along with placement of wood on the buildings' upper areas and stone on its lower parts, is inspired by the Gongbu Tibetans' practice of using architectural space to strengthen people's connections with nature and each other.
Tibetan architecture fuses with modern design in the property's lobby, restaurant, bars, living room, and conference space. Plus the spa, gym, and 122 guestrooms and suites feature diffused oxygen supply systems that alleviate the impact of the more than 11,000-foot-high altitude of the location. Various shades of green employed throughout reflect the seasonal changes of Lake Basong Tso, while interior elements pay tribute to the local cultural history and natural scenery.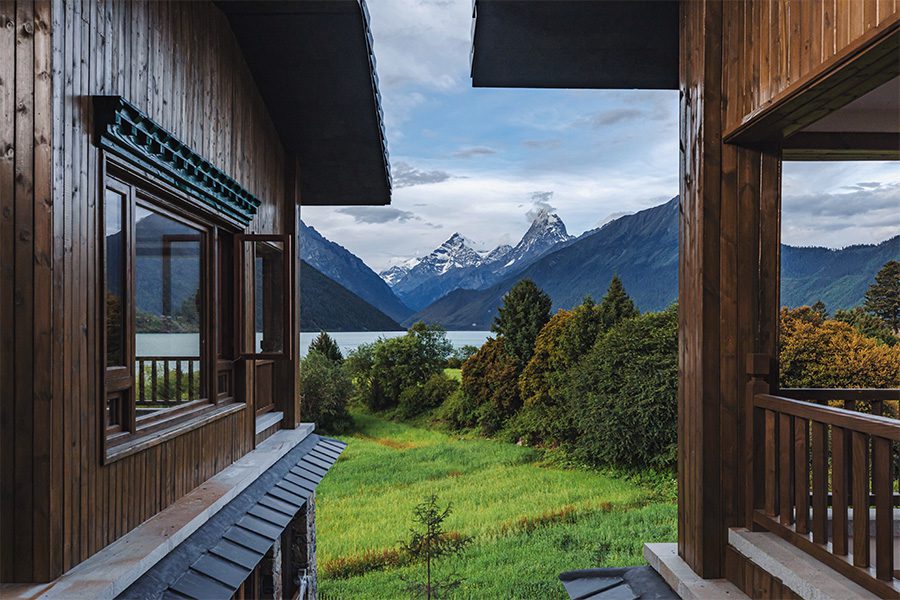 More from HD:
Glamping Gets Even More Luxurious at ULUM Moab
Industry Leaders Discuss the Obstacles of Running a Business
Genuine Partnerships Are Paramount for Ryan Crown