The BoTree hotel has officially launched in London at the fashionable intersection of Marylebone, Mayfair, and Soho. The 199-room property, part of the new Place III Hotels collection, exudes a chic elegance reflective of its location thanks to a design by EPR Architects and interiors from Amsterdam-based Concrete.
"Marylebone is stylish and elegant but different from other high-end districts because of its close-knit community feeling," says Melanie Knüwer of Concrete. "Stepping into the hotel, you become part of the Marylebone neighborhood and its bohemian lifestyle. The BoTree hotel's design pays homage to this community feeling, with a stylish and elegant aesthetic that also feels approachable and welcoming."
A residential-style warmth characterizes the interior design, with lobby public spaces configured akin to a living room or a conservatory. Natural hues of red, cognac, and green as well as materials like oak and leather promote coziness and tranquility.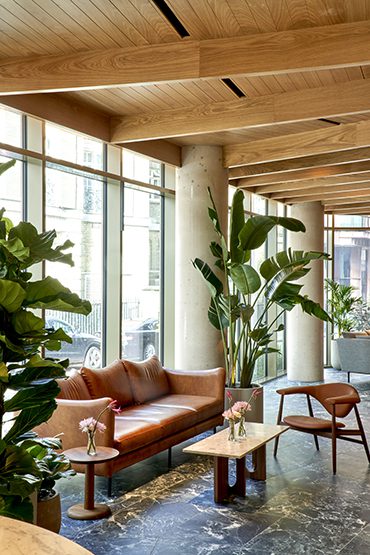 The BoTree comprises social hubs like a boutique screening room and a fitness center. Four F&B outlets operated by Tao Group Hospitality will also be featured onsite, including the UK's inaugural LAVO outpost.
In the hotel's 199 guestrooms (including 30 suites ranging from 335 to 840 square feet), colorful natural fabrics and eclectic textiles set the tone. Suites boast lounges, balconies, personal bars, and integrated cocktail stations. For ample room, the presidential suite is capable of expanding with an adjoining suite to create a 3,770-square-foot urban retreat atop London.
"As the first hotel within Place III Hotels, the BoTree combines uncompromising standards with a purpose-driven ethos embodying our core values of truth, love, and compassion," says Rishi Sachdev, founder of Place III Hotels. "We are extremely excited to bring this new form of luxury—conscious luxury—to life at the BoTree, introducing a vision for hospitality that inspires connection between people, place, and planet and a strong sense of belonging for our guests, our team, and our local community."
More from HD:
What I've Learned Podcast: Tina Edmundson, Marriott International
Asheville Emerges as a New City To Watch
With Quartz Linked to Silicosis, Manufacturers Seek Alternatives