Restored from three historic buildings in the heart of Montgomery, Alabama, the Trilogy Hotel, part of Marriott's Autograph Collection, unveils an elevated hotel experience enriched with the soul of the South.
"Not only was this project about design, but it was also about education and transformation," says Julie Purpura, owner and creative director of Chicago-based studio Avenir Creative. "Our team researched and learned as much as we could about the complicated and layered history of Montgomery so we could do our best to help move the renovation forward in the most respectful and positive way."
What were once early-20th-century warehouses, the two primary buildings are now home to the hotel's 117 guestrooms, while a Greek Revival mansion dating back to 1851 houses the refined yet approachable Kinsmith restaurant.
In the lobby lounge, an organically molded ceramic light fixture, informed by the crafts of the Poarch Band of Creek Indians, suspends above a vibrant teal limestone front desk, which is backed by a custom Gees Bend quilt that tells "such a powerful story about the people of the South," Purpura says. Beyond the desk is a textural wood wall that references the stained glass window patterns at the nearby Dexter Avenue King Memorial Baptist Church where Martin Luther King Jr. was the pastor—another nod to the city's history.
Meanwhile, the Montgomery House Bar takes inspiration from the region's jazz influences, with lush fabric banquettes and chandeliers resembling trumpets. "The community," adds Purpura, "was our biggest inspiration."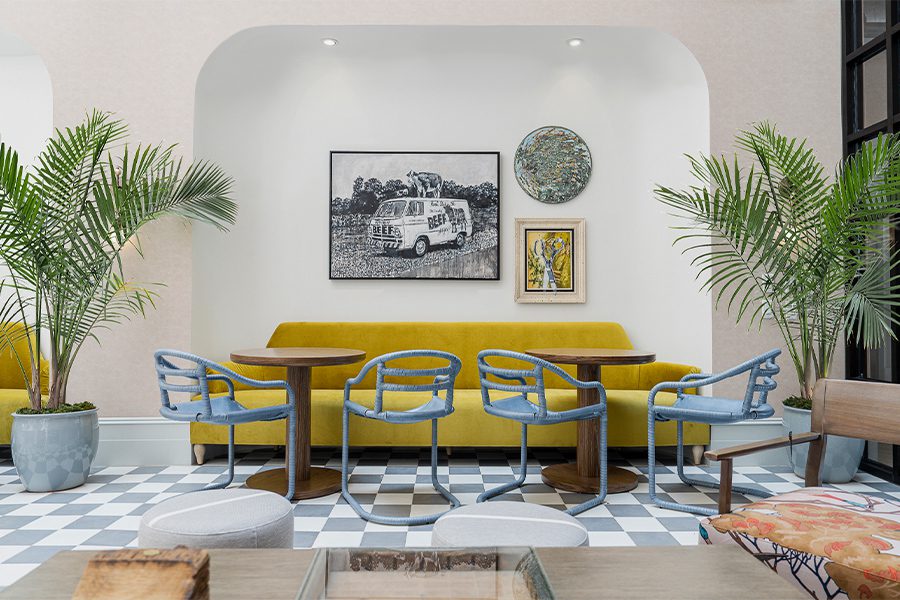 This article originally appeared in HD's October 2023 issue.
More from HD:
The Hospitality Industry Makes Strides in Sustainability
HDTV Tours the Penny Williamsburg in Brooklyn
A German Medical Spa Takes Wellbeing to a New Level