Streetwear brand Kith expands its footprint with a new store in the Williamsburg section of Brooklyn. The second Kith store in the borough, the retail concept echoes the brick aesthetic of the 25 Kent commercial development with a showstopping brickwork centerpiece that highlights Kith's footwear offerings.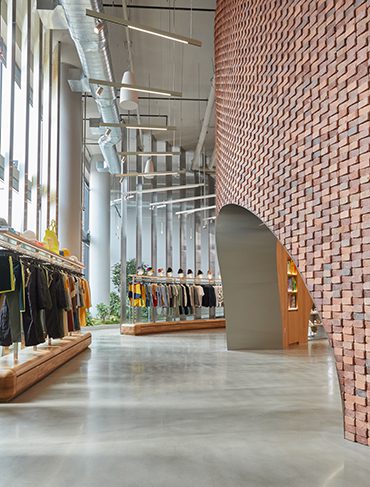 Designed by founder, CEO, and creative director Ronnie Fieg, the flagship complements Williamsburg's industrial backdrop while also infusing a nostalgic warmth. "My family and I moved to Williamsburg in 2017 and I fell in love with the neighborhood. The restaurants, the shops, the people, and the atmosphere make it a very special area in New York and were all factors in us moving our brand HQ there in 2021," Fieg says. "It's my home, our team's home, and it only made sense for us to make it a home for our community."
An expansive round brick sculpture lined with locally sourced solid oakwood ensconces shoppers in the heart of the space. Inside, a custom chandelier featuring three concentric circles mirrors the form of the central focal point.
Meanwhile, changing rooms are crafted with Venetian plaster and covered with classic Kith logo wallpaper. The store includes a Kith Treats location as well, elevating the concept with Rosa Aurora stone and stainless steel countertops and stools.
More from HD:
34 Notable Women Shaping Hospitality and Beyond
2023 Development Update: Miami
Palm Beach's Colony Hotel Maintains Its Youthful Glow