Entrepreneurs, restaurateurs, and brothers Michael and Bryan Voltaggio have opened Retro by Voltaggio inside the Mandalay Bay Resort & Casino, expanding the Las Vegas property's dining lineup.
Inspired by the aesthetics of the 1980s and '90s, the brothers worked with Southern California artist Keith Magruder and Mandalay Bay's in-house team on the restaurant's design, resulting in a mash-up of bold colors, bright neon signs, and specific nods to each decade. "It was important to display items that are recognizable from [guests'] childhood memories and would transcend through the generations," says Janet Wagner, executive director of creative services and event productions at MGM Resorts International.
A sense of nostalgia is immediately evoked upon arrival, where a red arch and multi-colored neon signs recall 1980s movie theaters and storefronts. "The flashing lights and colors draw you closer, promoting curiosity at first glance," adds Wagner.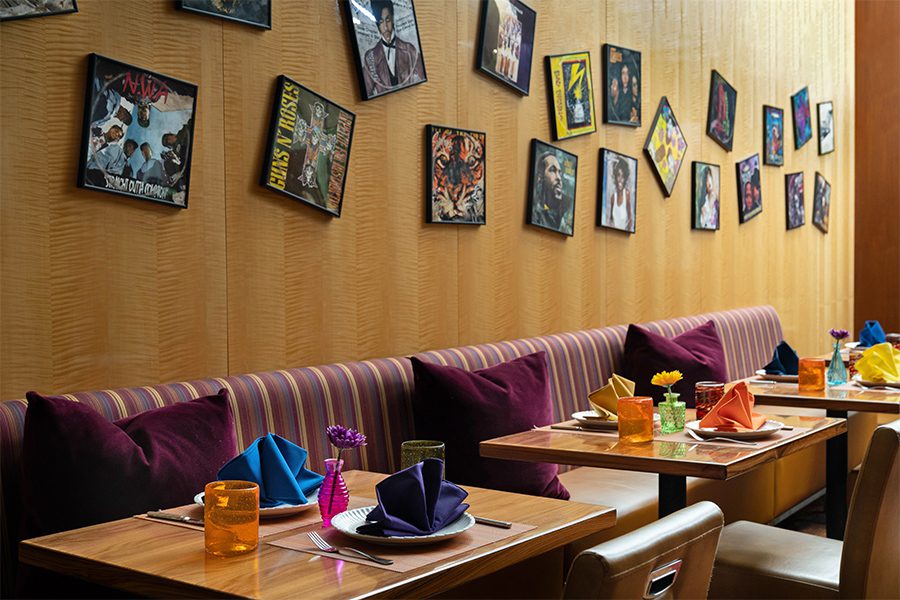 As guests descend down a flight of stairs into the restaurant, they are met by a glass case holding guitars, video game memorabilia, rollerblades, and more that doubles as a retrospective exhibit. The dining room also features a wall is lined with album covers, including Straight Outta Compton by N.W.A and What's Going On by Marvin Gaye.
"My team and I were fortunate to spend time with Michael and Bryan to hear about their vision and discuss how we could translate the brand into the design," Wagner adds. "The culture from the '80s and '90s is robust, so our team researched all that was trending and memorable from that period then designed to what was relatable and would best tell the 'Retro' story,"
Retro by Voltaggio is a one-year residency and will be open through May 2024.
More from HD:
5 New Hotel Brands Respond to Travelers' Wants
Striking Architecture Defines This Zhejiang Hotel
Designer Mimi Shodeinde's Work Is Deeply Personal