1 Hotels has officially introduced its first sustainable, nature-driven destination in Europe. Located in London's historic Mayfair neighborhood overlooking Green Park, the eight-story 1 Hotel Mayfair—designed by GA Group in collaboration with SH Hotels & Resorts' in-house design team—opened on July 13th.
"We've reimagined the traditional luxury hotel experience for Mayfair by infusing our love for nature with effortless sophistication," says Raul Leal, CEO of SH Hotels & Resorts. "With this opening, we celebrate our distinctive brand's entry into Europe and the dynamic and culturally rich city of London."
Shying away new construction, the property, which was built to BREEAM Excellent standards, utilizes 80 percent of an existing structure to minimize its negative environmental impact.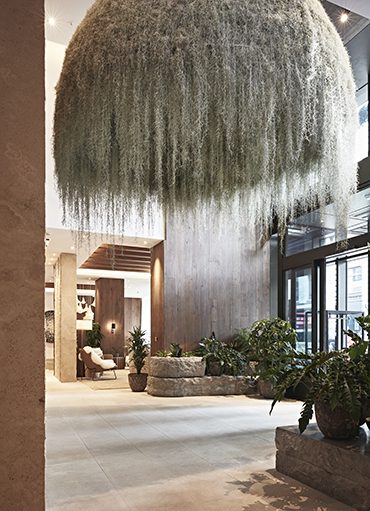 From living walls to planting beds in the bedrooms, more than 200 plant species and 1,300 individual plants can be found across the property. Exterior walls, for instance, are covered with living greenery, converting hard façades into vertical landscapes. A parking lot has also been converted into a outdoor public space to further integrate guests with natural, as well as the local community.
1 Hotel Mayfair includes 137 guestrooms and 44 suites, each featuring moss walls, oak flooring, and Welsh slate bathroom vanities. At nearly 2,950 square feet, the double-height Green Park Penthouse boasts the title of the largest one-bedroom suite in Mayfair. The lavish accommodation is also expandable—reaching 3,272 square feet as two bedrooms and 3,659 square feet at three bedrooms.
Ground-floor restaurant Dovetale is helmed by Michelin-starred chef Tom Sellers, while cocktail bar Dover Yard and coffee bar Neighbours café offer two additional onsite food and beverage options.
1 Hotels also launched its flagship property, 1 Hotel Hanalei Bay, in Hawaii earlier this year.
More from HD:
4 Up-And-Coming Designers Share Their Pulse on the Industry
Striking Architecture Defines This Zhejiang Hotel
Industry Leaders Discuss the Obstacles of Running a Business