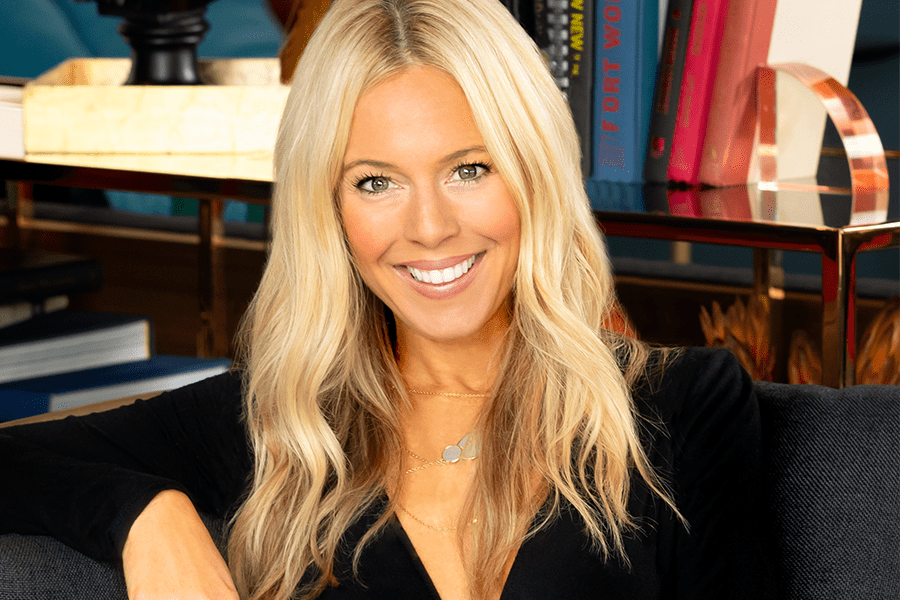 Born into a family of painters, musicians, and designers for Hallmark, and growing up in the art-centric city of Kansas City, Missouri, Kellie Sirna was enveloped by creativity as a child. After pinpointing her passion for interiors and spending a decade at Dallas-based Duncan & Miller Design, Sirna set out on her own. The multifaceted firm she cofounded, Studio 11 Design, now operates offices in Austin, Dallas, and New York, and works with some of the biggest names in the hospitality (IHG, Kimpton, and Omni, to name a few). And, rather than setting limitated, Sirna has expanded the design firm to offer branding, art development, and procurement services, too.
Stacy Shoemaker Rauen: Hi, I'm here joined with Kellie. Kellie, thanks so much for joining us today. How are you?
Kellie Sirna: Good. Thanks for having me.
SSR: Of course. So we always start at the beginning. Where did you grow up?
KS: I grew up in Kansas City. Kansas City, Missouri.
SSR: And were you always a creative kid? Did you have a love for design early on?
KS: Always a creative kid. I think I loved design but just didn't know it. I didn't put two and two together unfortunately until after my first degree. But as a kid, just like a lot of us designers, rearranging our rooms or making my own arts and crafts and creating things to decorate my room. In college, in the sorority house, I was the one that was in charge of the room themes and painting and all the decor. So I should've put it together sooner than later, but here we are.
SSR: Better late than never.
KS: Yes.
SSR: Were either of your parents or anyone in your family an influence or where you grew up, the setting an influence at all?
KS: Well, Kansas City in general has a huge art community, and a lot of my family members on my mom's side are artists. So I have aunts that were artists for Hallmark, painters. We have a lot of musicians in the family. So yeah, it definitely runs in the family. Not specifically design, interior design, but artists in general.
SSR: And did you travel a lot growing up at all?
KS: No, we were in Kansas. Everything was-
SSR: Everything was in Kansas?
KS: … was via wood paneled… I mean, what do you call it? What did you call those? Oh, not Volkswagen, but yes-
SSR: The family [inaudible 00:02:02]?
KS: Yeah, pretty much. Four of us in the back seat. Anything that was a road trip was our travel. So yes, not a lot of world travels as a kid.
SSR: Any good road trips that you remember?
KS: Oh, we loved Branson, Missouri. Silver Dollar City, the Ozarks, that was the big ones. And then my dad had a lot of work in Omaha, so not super sexy, but I used to love road trips with him. I'm the middle of five kids, so getting that one on one time with him, even though it was to Omaha and hanging out in the car with him during his meetings, which I'm pretty sure is illegal now. I just remember that a lot. So great memories.
SSR: So you said that you didn't realize you loved design or that this should be your calling until after your first job. So what did you go to school for and what was your first career?
KS: So went to school for international business and Spanish, double major. So lived in Spain just for a couple of months, two different stints. I always had a love for other languages, so Spanish was… Even in high school, I loved it, learned all the words and then learned how to put everything together when I lived in Spain. Came back, worked through my first degree, and then went back. The second time until I ran out of all my internship money, but was fluent in Spanish.
I'd like to say it comes back after I've been in a Spanish speaking country for a day or two, but then went and interned for an Italian tech company and realized almost immediately I was not going to be successful in that realm. So went back to my parents and again, remembering I'm the middle of five kids, they were super excited to have me out of school. Went back and broke it to my dad via a PowerPoint presentation that I needed to go back four more years for interior design school. So that's how that started.
SSR: Wait, I love that you made a PowerPoint presentation. What did this presentation say or do?
KS: I don't know, it's probably on a floppy disc somewhere. But no, I basically went back and just said, "This is really where I…" and I don't know what triggered it. I know that Spain was my first time out of the country at 18 years old, had a one-way ticket and went by myself. And it really changed everything for me. It changed my perspective on life and I continued with the degree with my business, and Spanish degree.
I thought that's what I was supposed to do. My dad felt I was going to be good at business, which he wasn't wrong. Obviously it's come full circle and came in handy. But it was the second time in Spain where I just, all the beautiful architecture and design and all those things, it just triggered something and I knew that's where I needed to be.
SSR: So where did you pick to go to school?
KS: I went to the University of North Texas, so I'd already done the fun college thing and sorority thing. So your second time around isn't as crazy. So I had a full-time job at a large furniture source, they didn't offer internships. And then, yeah, I went to school at North Texas. It's a CIDA accredited school and was fairly close. So it was nice, it was good.
SSR: Did those four years cement that this was the right career path for you? And after school, what did you end up doing? Where did you go and what was your first job?
KS: For sure cemented. I mean, I would be up until 4:00 or 5:00 in the morning. I think the OCD and perfectionist in me came out. And in design, we struggle with this as designers to this day, there's no stopping point. You continue to develop and develop and I realized I had a huge passion for it. And then I got out of design school, 2004, and it was a recession again and we survived a couple now. But there were no interior design jobs.
Was still interning for this furniture store and became the buyer for art and accessories and lighting and then they kept letting go of people above me. So my internship turned into me buying the art and accessories and lighting and rugs and other things for this large furniture retailer in Dallas. And then I attended an NEWH event, and wasn't sure even what realm of design I was going to go into. And I'm so lucky, I feel so blessed that I fell into hospitality, and got a job with Duncan Miller and was there not quite a decade, but got a job there and have never looked back. I know this is definitely where I'm supposed to be.
SSR: What were your major takeaways from working at Duncan Miller?
KS: I had the great opportunity with Kimberly to work on both the design and the business side. So starting off as a designer and then Kimberly realized I was also strong in relationships, threw me into a lodging conference. And I remember being in the back seat of the car. I call them Mom and Dad, I was with Kimberly and Turner, and was terrified because I had figured out how much this lodging ticket had cost.
So I just remember being just like, "How am I going to meet people?" And just walked around, went to a few of the different… What do they say? The panels? Went to a few different panels and just stayed after and met everybody and started to gather contacts. And I loved that side of the business. I was googling how to write a press release and started to put together marketing materials and the side of the business that they really don't teach you in interior design school. So I was afforded that opportunity, which I think helped tremendously.
SSR: And why did you decide to launch your own firm? It's not an easy undertaking and what gave you the strength or the want to take that leap of faith?
KS: So I realized I think as much as I love design, I'm a serial entrepreneur and I didn't even realize at the time, so I left Duncan Miller. I mean, I loved my opportunity there, but took a break to be with my family. The boys were one and three, they were so little, and I just felt like I was losing time with them, getting home so late that I was missing them going to bed.
And I knew that I wanted to do something different but wasn't sure what. So I took just a little hiatus that didn't last long. One of my still closest friends in the industry introduced me to Stacy, and there was a couple of other opportunities, another partnership opportunity and some different rep opportunities. But this one seemed to be a good fit.
If you had told me three months before I would be starting my own firm, I would've told you you were crazy, but the pieces with Stacy seemed to fit. We wanted to do very opposite in things and thought, "Well, this will be great and if it doesn't work, I'll just go back to working for another firm." So that started Studio 11.
SSR: So you're talking about Stacy Ellison, not me, the other Stacy.
KS: Yes. Sorry. You were integral too, Stace.
SSR: Yes. So you met Stacy Ellison, and what year is this and what is the name? And what did the name Studio 11 mean? And then at the same time, sorry, to layer on, what kind of practice were you guys hoping to create?
KS: So, well, I'll start with it was the year 2011, so you can probably gather how creative we were about the name. But we realized how different we were immediately because I'm wanting to be edgy and cool with whatever… My design names were not rock and roll design, but super sexy. And I remember one of Stacy's was Evergreen Design. I'm like, "Okay, we're definitely very different." And we did go back and forth and we started the firm without a name, and we got our first slew of projects in hospitality, which is both of our backgrounds.
But we got our first slew of projects from a friend that I'd never worked with. We'd just known each other in the industry. And he called and said, "I'm going to go work for this company." He was new, I was new. And we had a SpringHill Suites and a couple of… Our big break was a SpringHill Suites in Midlands, his name's Darpan Bhakta.
We're still friends and do some work for him to this day, but he called and we just asked him if we were to stay within budget, if he'd let us do something custom. So we really started from the very bottom again, won some awards for this SpringHill Suites project, and then took off from there. And I know you didn't ask this question, but I think our big break was about a year later when we had the opportunity to do that project in Haiti, which was the Best Western Resort & Spa.
And I think only a young entrepreneur with nothing to lose would take a Best Western in Haiti, so we were like, "Yes." So that was our big break. We were on the cover of a couple of publications and won some awards, so I feel like that's really when we got put on the map initially.
SSR: And talk to us a little bit about that project because I know it was very special to you all and to the community and the owner that you were working with.
KS: Yeah, it was interesting because there really wasn't anything in Haiti like this, but when people ask who's going to be staying at a resort in Haiti, you've got dignitaries. The Kardashians had just been there, the Clintons. So you have people going down primarily to do humanitarian or political work. And it was a group of four brothers that lived in Haiti and did very well for themselves.
They own the conglomerate of Home Depot here in the States. One has had lost his wife in the earthquake. So part of the project was to pay tribute to her, and then the beauty of Haiti, and then a lot of people portray Haiti as destitute and poor and almost fourth world. And we saw a lot of that. But we saw a lot of the beauty in Haiti. So our focus and our narrative was really telling the beautiful story of Haiti.
And we tried to get as much materials, art, and source as much as we possibly could in Haiti. So we were visiting all the local artisans, the tile makers, the photographers, the artists. It was pretty incredible. There's a village called Croix-des-Bouquets that we would go down to, and it's an artisan village. And I believe, if I'm correct still, Sean Penn worked to create this village where he could go around to these different huts and visit all these artisans' tiny little… I mean, seven-by-seven-foot huts that we could select artwork from.
So I have quite a bit of Haitian artwork in my home, but the entire hotel was recycled oil barrels made into art, recycled tires, recycled t-shirts. It's incredible how resourceful they were with something like an oil barrel.
SSR: Yeah, that's amazing. So you did the Midland project, you did this project. What were the early days of Studio 11? Did you have an office? Were you guys working side by side?
KS: Oh, sure.
SSR: How many people did you have? When was the part… not the part. When did you start to grow and become what Studio 11 is today?
KS: Sure. We started with myself, Stacy, and then Kimbra Elgin, who put Stacy and I together and basically said, "I don't want to own a firm, but I want a cool place to work." And Kimbra was our first designer and still with me to this day. So it's really fun still getting to work with somebody that was there from the very beginning. And we had a local rep, Brian Adcock, who was down the hall. He was in the Meadows Building and we weren't quite at the point where we could have our own office.
So we rented a couple, three desks from Brian and then we moved from there in 2012 to our tiny shoebox office. Tiny, tiny. And it was about a bit after the Haiti project. So by 2012, we had four or five designers total, including Stacy and myself. We were busting at the seams there, and then we just moved up a floor. And since then, we've just creeped down the hall. We haven't quite hit 50 yet, but I'm at 50-ish people now.
So the trajectory has been consistent, very constant. Every year has been what we call growing pains. So yeah, the first time we really tapered off was just before COVID. We weren't aggressively hiring, luckily. The November before COVID is when we just stopped aggressively hiring. So we had a little bit of a breather and we were lucky that the timing was right for that.
SSR: And what do you think has been some of your secrets to success to go from what you started with only 11 years ago to today?
KS: I think a lot of it is we've all worked for each other and I think we all do a lot of the same things across the board. And I think leaning into and having your competitors become your allies, and I call them competitors, but we work together. There are projects that don't work for me that I would give to another design firm and vice versa, and sharing those things.
And then also it really comes down to relationships. People want to work with people they like and people they know and people they trust and people they know are going to get the job done. And I think a lot of these guys that I work for know that the hustle and know that I'm not going to let them down. So it's a very relationship-based industry.
SSR: No, 100%. And I think that you have a lot of repeat clients, so I think that also shows up in your work because people come back to you.
KS: Yes, yeah. I think one thing our clients love too is I met with one before this call that we haven't worked with yet, but one of the things he liked about our portfolio is you don't open it up and say, "Oh, that's Studio 11." We really like to tell the story and the narrative of the project and that if it's historical, that specific era, or the narrative that the client wants to tell. We aren't walking in creating the same thing with a few changes or aesthetic changes based on the narrative and the project. So I'm very proud of that
SSR: Has there been one project that's been your most challenging or that you learned the most from? I know you learned something on every project, but was there one that… or you could either flip it and do something like you're super proud of that you just opened too.
KS: Sure. Well, I'll touch on, I mean, we talked about Haiti. That was 100% logistically the most challenging project ever. I would say The Hutton in Nashville was also a challenging project. Creating a music venue out of a three-story parking garage was kind of wild. And it became a passion project because it was a very, very tight budget.
So it's really where Lou Verne, our art company, was put to the test. So every floor had a different art theme, custom art, and I think our budget for the art on the corridor level was $130 a piece, which don't quote me on that, because I'll never do that again. And then I'm really proud of, I call them our COVID babies, the projects we were able to complete during COVID, both of our Thompsons, Thompson Buckhead, Thompson Savannah, we had a great ownership group in Keith Mac, the project manager working alongside us as a part of our team was amazing.
The Senna House Project, the curio in Scottsdale, we're really proud of. Lots of challenges on that project that came through with Tyler and his team. And gosh, I mean we had about 13 during COVID that we installed. Some of them came on board all at once, so it was definitely a challenging group of projects to complete during COVID.
SSR: Wait, you had 13 projects during COVID that opened?
KS: Yeah, we had 13 projects we were installing during COVID.
SSR: Gosh.
KS: So that was just three of them. Thompson Buckhead, Thompson Savannah, Senna House were three of them. Everything went on hold. We had a few that were still moving along that kept us alive, thank goodness. But then I think everybody got sick of COVID about the same time, so they're like, "Okay, let's go, everybody, let's do this." So our skeleton crew, with some of the brands not even able to travel, owners weren't able to travel, we were really representing a lot and holding up the fort for a lot of people on these projects and managed to complete some really beautiful work during COVID, so I'm really proud of that.
SSR: And did you keep your team motivated through COVID, and now that things are "getting back to normal," how are you continuing to motivate and create a company culture with this new work from home/at the office hybrid that we're all trying to figure out?
KS: Well, I'll start by saying post-COVID was actually, for me personally as an owner much more difficult than COVID. I mean, COVID was challenging. One of the things we did, we did not have to let a single person go. We had 30 something people, we didn't have to let anyone go for financial reasons during COVID. So we got really, really creative.
Our marketing group, we started pivoting and reaching out to our vendors and owners saying, "Hey, your only visibility right now is on social media. Let us run your social media for XYZ." And I feel like we have a pretty strong social media presence, so we were like, "We already have your clientele, we already have all of these things put in place, let us help you guys with that." So that was one of the ways we stayed relevant and alive during COVID and then started doing some residential work, which we still have a few of those projects, but our hearts we all decided are definitely in hospitality.
Oh, and one of the things we did during COVID that I think was instrumental is I brought on a life/business coach during COVID for the team so you could schedule meetings and talks, and I just realized quickly that I was not equipped to handle some of the things that were coming out of the woodwork for our team. Some of the emotional things that were happening. And I think as a whole, I can say as hospitality individuals and designers, we are social people at heart. We love collaborating, that's why we're in the industry that we're in.
So it was extra hard for us to be isolated and not able to go to conferences or socialize, or even just collaborate and do charettes in person together. So our life coach, she's actually located in Australia, but with Zoom, she was incredible. She met with different members of our team and worked through personal issues, professional issues, goals, how to talk to us about things that they wanted to chat with us on.
And then she worked with Stacy and myself as well, just on how to deal with some of these things that she was hearing. But that was instrumental for us. And then post-COVID, it's anything but normal, I think some of our projects ended up getting siloed. What we're trying to create again is what we had pre-COVID, which is the teams, the actual teams. Things were spread out a little bit and we were just in survival mode.
So coming out of survival mode and restructuring the firm has been my number one goal. I quit my day job and started getting back into projects. We've hired 16 people, extremely talented people. We didn't hire a head hunter because I wanted to make sure it was people that were going to continue to build with us. And then we're really looking outside of just Dallas now. We've got interviews set up in Atlanta and DC and a couple of designers in each city and we'll see, but I think what COVID did was opened us up to more remote positions and knowing that it can work without being physically in the Dallas office.
SSR: And you talked about diversifying, but you also have launched your own, I mean besides the social media, you have an art and branding division. You've grown your company, not just the design. Can you touch a little bit on that, or strict interior design, I should say?
KS: Yeah, absolutely. So we have a branding component to the firm. So when I referred earlier to the social media aspect of… Studio 11 has always supported Brand Bottega, the branding component to our firm, and it's always supported Lou Verne, the art component. Well all of a sudden, Josh and our Lou Verne team and the Brand Bottega team were now supporting Studio 11 and keeping Studio 11 afloat.
So it was really cool because it gave both of those companies an opportunity to grow during COVID, whereas I hadn't had a lot of time to focus on them previously. Since hotel work wasn't moving forward, I could focus on building the branding component to our firm and the art component to our firm. So Lou Verne, we started 2016 and it was really just for our projects. We brought the art process back in-house. We still love working with the third party art vendors, but we brought telling the story and what pieces of that story we're going to tell back in-house.
So we create our own art packages and then we work with a third party art vendor to do all the production. So during COVID, we have now other design firms that Lou Verne, the art company is working with. And that's been really successful and really exciting.
SSR: Right. Good to expand in other ways.
KS: Yes.
SSR: Is there a project that you're really looking forward to that's going to open up soon that you think encapsulates where you see Studio 11 heading?
KS: Yeah, we have several that I'm so ecstatic about, and it's hard because we have a lot of really cool projects, a lot of renovation work, but a lot of that work that went on hold, the new development that went on hold all came back at once. So not necessarily something opening super soon, just timing of things. We have everything now going on the same trajectory to open a year and a half, two years from now, several projects moving there. But we have a project in Chicago, it's an Unbound, and it's even more relevant now because it's like Mick Jagger meets the queen.
So it's that classical, traditional English design you would see at the palace, but it's those very plush velours and heavy textures, but splatter painted, and you've got that Mick Jagger look and feel and vibe. So that's going to be a really, really fun project in a cool up and coming neighborhood in Chicago right outside of Gold Coast. So that's a fun one.
We've got a historical project in Chicago, we've got a lot in Chicago right now, but the Talbott Hotel is an autograph, and it's a really fun ownership group out of Canada. And they really allowed us to tell a story where we created the story of this woman and this is her home and the design is really based on her world travels and then we're working with Evolution right now, but we reprogrammed some of the spaces. They had an old conference room meeting space with no windows and we're doing a private club.
SSR: Awesome.
KS: So yeah, I'm really excited about we are doing a lot of membership-driven clubs right now, which you just wrote about, thank you.
SSR: You're welcome.
KS: But they're trending. Just this particular project happens to be in a residential neighborhood, so we just felt it would really bring the community and make it more part of the hotel and vice versa. And activate the hotel component to… I'm sorry, the lobby and bar and food and beverage of the hotel, really have the neighborhood be activated there.
So as you're coming into your private club, they're getting your table ready, you're going to go have a drink in the lobby bar. So things like that, just kind of having them work together now.
SSR: Amazing. Is there one part of the process you love the most?
KS: I like to consider myself the bookend of the project. I love the beginning, I love programming, obviously I could talk about it for days. Programming, space planning, I love schematic. I love being a part of that process, up until the end of DD and then I fall out a bit during specification and documentation. You definitely don't want me in that. And then I love the styling aspect of projects. I love sourcing locally. I love working with a local artist and watching them install their projects and seeing how excited they are being involved in their community projects. And so I love the end of the project as well. And the opening part is obviously very rewarding.
SSR: How would you describe your own style?
KS: It's interesting because I had to address that when I did my own home. I'm very layered. I'm not very era-specific, but I love layers and anything in my home tells a story. So I don't just go pick a piece of artwork that somebody picked out. It tells a story. It's either a friend's art, it's like Andrew Alford, I'm lucky enough to have a beautiful piece of his art in my house, or something that tells the story of my travels.
So it's probably why sourcing gets a little dangerous with me because I'll be down in Savannah, one for the hotel, one for me, but very layered, and I do have kind of a mid-century vibe going as well. So parts and pieces of that.
SSR: Because you did just renovate your house, or you bought a house and renovated it. When did you finish that? It feels like forever ago, but it was fairly recent.
KS: I'll say I did finish it, and then the whole house flooded. So the whole house flooded for three straight days while I was on a business trip. So we started over and we finished it again and any designer can relate to this, it's never finished. My GC asked not too long, he was like, "When is she going to be done?" And it's like, never.
I'm always coming up with something else that I want to do. But now I get to enjoy the home. The boys and I got to move back in. Last fall we were displaced. We moved in, lived in the house for three months and then it flooded. And then just rebuilt almost the exact same thing, put some brass inlays on the floor. I tried to find things that got me excited about the second renovation, but we hosted our office Christmas party at the house, so nothing motivates you to finish something more than that.
SSR: Yeah, especially with a bunch of designers in your house.
KS: Yeah, no pressure.
SSR: And I always say you learn more from your mistakes than you do your successes. Has there been a lesson learned from a mistake that has stuck with you, or stays with you?
KS: Oh my gosh, yeah. I mean, I could go in a million different directions with this. I'll never forget way back in baby designer days ordering a couple hundred sofas, didn't realize that they needed to fit up an elevator. So we've had to cut sofas in half. So anytime the PTSD still hits me with my design team, I'm like, "Okay, does it fit up the elevator?"
And then just a few years ago, it fit up the elevator but it didn't fit around the corner. So had to [inaudible 00:32:34] it up again. But then on the business side, a lot of lessons learned. I think COVID was, again, like I said, post-COVID was the best/worst time of my entire career, but rewarding in a way that it was humbling and getting to do a deep dive with the team again and be involved in projects to the level that I haven't been involved for a long time, but making sure we've got the layers of teams so you're covered and your team is covered, and I think owners can relate to this.
I think it spans past just design, but it's like you're either up all night like, "Okay, how am I going to manage all these projects? How are we going to take care of this?" Or you're up all night, "Okay, how am I going to get enough work to pay all these designers and feed all these families?" There's never a happy medium. You're always worried about one or the other. So I hope that answered your question.
SSR: It does, it does. Mentorship is so important and you're pulled in 18 different directions, but especially as a woman in this business, how are you mentoring or creating a culture that allows your team to ask the questions and grow, which isn't easy to do?
KS: No, it's not. But it is hugely important and I feel like it is our responsibility, for sure. We had the OGs back in the day that we learned from, and there's some that for better or for worse that we learned the hard way or got thrown into something. But I've had so many designers throughout the last 11 years that have left to start their own careers and start their own… whether it's design firms, accessory firms, just one went into residential and I always have a book that I buy each of them.
I'm always here to be a source for them if they need bookkeeping or whatever advice, I'm always… I'm sorry. I'm always there for them. I do feel it's my responsibility. There's enough room for all of us, so I love mentoring actually. I get super excited when I hear of somebody starting their own company, whether I know them or not, I'm like, "Okay!"
Because I've loved building, I've loved building Studio 11 and its sister companies. So I nerd out and get very excited when anybody, even if it's one of my own that I'm sad to lose, I know they're not going to be with me forever, so I need to support their next steps.
SSR: That's a really great way to look at it. Which book do you buy them?
KS: I love The 4-Hour Workweek. It's so good. It's good. It's so cliché, and I've been dying for him to come out with another one for a good decade. But it's so great. It gives you checklists. What are your goals? And I need to read it again. It's like, what are your four business but also personal goals? Which are really important to weave into, especially as an entrepreneur, your personal goals because those can get lost.
I've got two boys that are 12 and 13 now. It's like, "I want them to experience this with me," and keeping sight of the reason you're doing this, making sure you've got some balance. It's important. So he hits on a lot of those things, but he also talks about a lot of resources and when he says the four-hour workweek, obviously that's not happening, but how to be more efficient throughout your day and they're things that are super simple, but you're like, "Wow, that's brilliant." So it's a good one.
SSR: What does work-life balance mean to you? Does that exist, especially as a working mom of two boys?
KS: No, does not exist. I know for a fact it doesn't exist for you either.
SSR: True. Just curious if you have any advice?
KS: No, my boys are growing up in this industry and Larry [inaudible 00:36:37] would say, this is just an example, we almost pulled out Reed's first tooth. I love that the boys are growing up in an industry I'm so passionate about. They know a lot of you guys from the time they were tiny, one and three, and you had the summit last year at Lake Tahoe and they got to come and they join me for installs, sometimes.
I put them to work installing a restaurant not too long ago. So the work-life balance for me, good and bad, I don't have that, they're very fluid with each other. So I'm looking to install a project this Friday, if hurricanes don't get in the way and the boys are going to come with me and we're going to stay for the weekend and enjoy it. So I think we're really lucky that our work can intermingle with our personal lives as well.
We're in a really cool, sexy, fun industry that that can happen. I do struggle with when I'm on panels or interviews, the hardest question's, "What's your hobby?" I'm like, "What do you mean? My children and Studio 11." So I get to live my hobby as a career, so it's hard for me unless you count my 90s rollerblading days, which I don't think count anymore
SSR: Wait, I need to see an image of that at some point.
KS: I'm going to send one to you.
SSR: But it's also really great for your boys to see a powerful woman in business, and get raised by one. So it's great that you're-
KS: I hope that's what they see. They do. Sometimes they forget, I go to work and then they show up on site or they're working with me and it's important that they see, because it does take up a lot of our personal time as a family as well, the three of us. So it is important that they see why and why I'm so passionate about it and I love it. We did a little place called Super Chicks just up the street, and of all the cool projects I've done, they're like, "My mom did Super Chicks," they're so excited I did a neighborhood chicken place, so.
SSR: Well, at least they're excited.
KS: It is fun when they are excited and proud. It's cute.
SSR: Looking back over the last 11 years and now looking forward, a lot has changed obviously in the industry with your firm, what do you think are the biggest challenges the industry facing today? And at the same time, what are the greatest opportunities?
KS: Well, I think we right now have a shortage of talent, I think. So it's a little diluted and I'm super excited, there's a lot of new up and coming firms that have started but just not enough designers to work. So I'm hoping a lot of them, a lot of these guys went to residential, or went to rep, or went into totally different careers, which I think happened like 2008 to 2011 as well.
We lost a whole era of senior designers. So I think there's a gap there. So just filling in those blanks, there was a lot of burnout during COVID. So a lot of designers that are even doing a little bit of contract work for me, 20 or so hours a week that are looking for a bit of a break from the firms they were working at before. So just trying to figure out how to. It's not really a balanced industry to be honest. We are crazy across the board.
We're all pretty passionate. Schedules are really aggressive right now with clients, so we're trying to push back on that a little bit and be realistic for both the client and our team because everybody's trying to get everything and make up for the time they weren't able to get things done during COVID. So I think lots of challenges there
SSR: What's one piece of advice knowing all this that you would tell your younger self, if that makes sense? Yeah.
KS: Yeah, that list is long, but what would I tell my younger self? I think just take it easy. I think I am so passionate. I don't have an off button. I too burned out and ran myself into the ground, and I'm full throttle. I don't know. Anybody that knows me is probably going to agree. So it always looks good on paper.
My calendar always looks great. I can do these six cities in eight days, this is great. So just being realistic and fitting in some rest time and some time to regroup. And this past weekend after being in four cities in a week, the boys and I just DoorDashed and Netflix and hung out. So scheduling in and being really intentional, is my word for this coming year. Being really intentional about my time and making sure to fit in some rest time as well and not feel guilty about it, so yeah, that's probably what I'd tell my younger self.
SSR: Taking care of yourself as well as your team.
KS: Yeah. Yes.
SSR: Is there one thing that people might not know about you besides obviously your rollerblading career that we missed?
KS: I don't know. I think people are a little bit surprised sometimes that I'm just a bit of a country girl. I love camping and I'm kind of a tomboy at heart, but I love dressing up and being a fancy designer as well. So I don't know, that juxtaposition, people are always a little bit surprised, being like, "You camp?" or "You love the outdoors?" that surprises people. I'm not as big a diva as I act, I guess maybe. I don't know, I'm a pretty open book, Stace. There's not a whole lot you guys don't know about me, so.
SSR: Probably true. All right, well, I hate to end this conversation, but we always end the podcast with the title of the podcast. So what has been your greatest lesson or lessons learned along the way?
KS: Greatest lessons? I think finding your way, finding a way to give back and to make sure… I know we didn't even touch on philanthropy, but finding a way as designers to give back to not only your community, the communities your projects are in. Make sure you're giving back and supporting the talent within your organization, making sure they are incentivized personally.
I think that's one thing. We haven't gotten so big that I don't know what incentivizes my… I mean, I haven't lost what incentivizes my talent individually, so I think that would be the one, the one takeaway, to make sure you're continuing to find ways to give back both in your organization and supporting your team to give back as well.
SSR: Yeah. Is that part of what keeps you inspired?
KS: 100%. Yeah. We work with a school here in Dallas and there's a lot of local artists that donate their art and time. So every so often, we like to put a piece of their artwork because they get the rights to the art. So it's like five to $7,000 that goes back to this self-funded school.
We do philanthropy days within the firm. We have little projects here and there. We've redesigned and designed a little corner in a children's area of a homeless shelter. There's been some different schools, we've done the teacher conference rooms. So we try and keep little projects that one, are building for the team and help us to feel fulfilled. We're not saving lives over here. So finding little ways here and there that we can still give back to our community is super rewarding.
SSR: Yeah, for sure. Well, thank you for taking the time to chat with me today. Always so fun-
KS: Thanks, Stace.
SSR: .. to catch up with you. Of course, and can't wait to see the next 11 years of Studio 11.
KS: Me too. Thank you so much.