Tom Parker + Andy Goodwin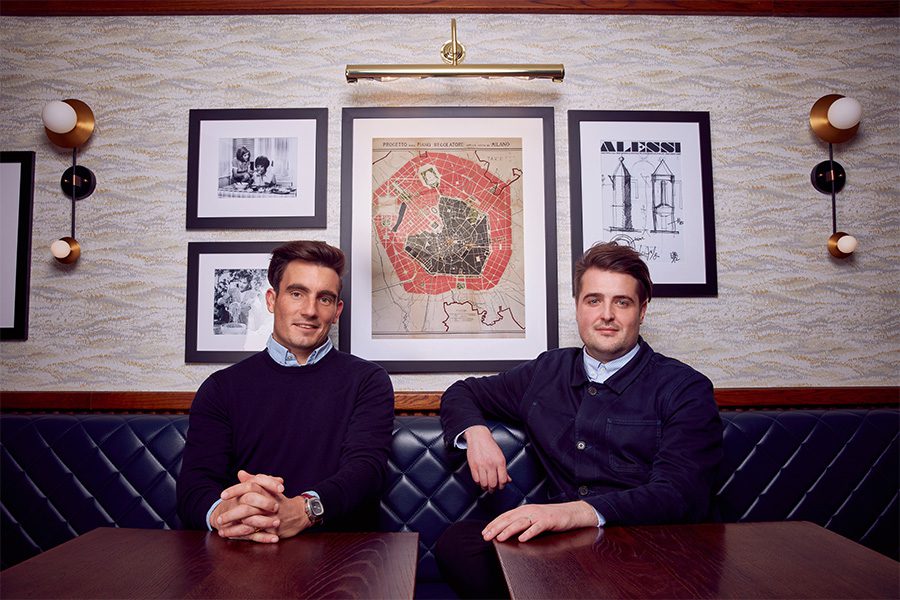 Tom Parker and Andy Goodwin founded the London- and Los Angeles-based Fettle in 2013 after a decade working with some of London's most notable design firms including United Designers and Martin Brudnizki Design Studio. Launching their own firm was the natural next step for the friends-turned-business partners. "At the time, it was very exciting and it felt like we were on the precipice of something great," says Parker.
Today, their portfolio includes the Hoxton, Portland in Oregon, the Draycott in LA, and the just-opened Georgian, their meticulous revitalization of a grande dame in Santa Monica, California.
Stacy Shoemaker Rauen: Hi. I am here with Tom and Andy, of Fettle design. Thanks so much for joining me today. How are you guys?
Andy Goodwin: Doing well, thank you.
Tom Parker: Thank excited to be here with you.
SSR: Yes, it's going to be fun. All right, so let's dive in. So Tom, let's start with you. Where did you grow up?
TP: I grew up in a small town called Reading, which is about half an hour outside of London. There's literally nothing particularly noteworthy about Reading other than it is a great location in that it's easy access to London, 25 minutes on train. And then it is surrounded by a lot of really great countryside. So you get best of both worlds really. It is close to Oxford, it's halfway down to the west country, which is basically farmland in the UK where all of my family are from. So most of our family, we're down in the ferry rural part of the west country, and it was just my mom and dad who'd left there to come to originally go to London and then settled in Reading. So it was a really good mix of, although Reading as a town gets a bit of a bad rap, it was a really, really good mix of access to London as we got older.
But then a lot of access to countryside and bike rides and adventuring and the UK is set up slightly differently to the U.S. in that you can literally wander into countryside and walk across all of the farmland. There's right of ways all across all of the farmland, whereas obviously if you do that in the U.S., people are going to be less than pleased. So it's slightly different, it's very, very free in the countryside in that part of the world and Oxfordshire is beautiful. So it was a good location to grow up.
SSR: Amazing. And what were you like as a kid?
TP: Quite geeky, I think. My mum would probably say, I liked quite geeky stuff. I would probably end up doing a bunch of drawing or just playing in the garden. I've got two brothers who are very close in age, so we just spent a ton of time tearing up the house and driving my parents mad and playing a lot of sport. But yeah, if left to my own devices, I'd be probably sat doing some very, very poor quality drawings. Not much has changed in that way.
SSR: So how did you figure out that this might be the career for you or was that something you fell backwards into or did you figure out design was something you wanted to do?
TP: I think I noticed pretty early on that it was always the art and design based subjects at school, I think already came from school and it was always the art and design based subjects at school that I was most interested in. I've got a very vivid memory of being 6 or 7 and at school you were told to draw this almost little encampment in the desert and I ended up doing a little axonometric view of it and then you had to place where you wanted the camel to live. And I remember being very, very concerned about the wellbeing of this camel.
And then from there I just was very interested particularly in, it's a subject called D and T, which Design Technology in the UK. And it was a very different scale, much more product focused. And we used to, it's probably highly illegal now, but we used to get to play with band saws and all kind of belt sanders and stuff and make these tiny little models of, I remember we went, made a small model of a laptop using all various different materials. So I was always somewhere between art focused and design technology focused really and was not great at most of the other subjects.
SSR: Were your parents creative as well?
TP: Not in a traditional way, I don't think. My mom was a school teacher and then my dad had a slightly unusual life in that he worked in the betting shops when he was younger, but then when they had the three of us quite close together, he actually gave up work and brought us up. But then he'd work nights, I think he'd look after us all day and then work overnight a bunch of nights in a supermarket. So I think probably I get a lot of my drive and probably my working nature, probably my side of it comes from that I think. But my mom's very creative in terms of she can have any tiny bit of anything, she can invent some pretty elaborate tasks, which probably comes partly from being a school teacher, but then also partly from having to deal with three boys I would imagine.
SSR: So did you end up going to school for design?
TP: Yeah, I studied Both Andy and I, once we finished school, had a pretty similar path really. I went to a university in Oxford called Oxford Brookes, which is for the record, not Oxford University, but it's a more architecture and design driven school and studied interior architecture there. And from there I was good friends with a lot of people in the years above us who all basically at that point there wasn't that much in interior architecture and design outside of London job wise. And obviously places like Manchester and the bigger cities in the north of the UK, but pretty much everyone from that course then moved to London. So when all the people from the year above moved to London, we all stayed in touch. And I eventually got a job working in London from there, essentially from one of the girls in the year above was at a company called United Designers, which is where Andy and I first met.
SSR: Amazing. All right, so great transition into Andy. So Andy, where did you grow up?
AG: So I was born in Sheffield, but I moved probably primary school age, quite young, over to Derbyshire, a little town called Matlock in the Peak District. So obviously Sheffields and Derbyshire as well, the northern side of the UK, but right in the middle of all some of those bigger northern towns, Nottingham, Manchester, Derby, Sheffield, Leeds. Yeah, so I suppose the area that made me really was Derbyshire, although that's the Peak district, beautiful countryside, I've always considered myself a bit of a townie, I suppose a bit more city orientated, but I don't really know why because I was a baby and small child when I was living in Sheffield, really.
SSR: Got it. And were you creative as a kid?
AG: I was always interested in drawing and art generally, I was much more interested in building things. I had a ridiculously big Lego collection that I was always playing in. And one of the huge benefits of growing up in somewhere like Derbyshire and the Peak district is that, like Tom was saying before, huge access to the countryside. So right in the back of where I grew up, the house that I grew up there was huge woods so we used to build dens and tree houses and I think I'd be proud today that the tree house we built when we were about 11, that and sport is how I spent most of my time when I was a kid.
SSR: Got it. And did you have any early influence of design? Were your parents creative or how did you end up finding that?
AG: So my dad was a design and technology teacher actually when I was younger. So worked on a lot of both the technical drawing side, that's probably more for the older kids at school and then as well in construction and woodwork, metalwork. So I was joined at the hip with father from being quite young. I used to spend weekends with him making toy racing cars in the design technology workshops in the school that he worked in. I was with messing around with his drawing boards and all the equipment that he had there. So I'm sure that obviously had an influence on what I did later on. He then left teaching and went into set up his own business. He's got an engineering business. So yeah, I'm sure both of those things definitely influenced where we are today. Albeit I'd like to think the hospitality world that we live in is probably a little bit more glamorous than what he does in engineering for sure.
SSR: Yeah, for sure. And then did you end up going to school for design or architecture?
AG: I did indeed. Yeah, a similar path to Tom. After school, I went to university in Nottingham, did an interior architecture and design course there. What really drove me to go to that course was that it was a four-year sandwich course, so on the third year you went into industry and as part of that, I came down to London and worked in an architectural practice called Child Graddon Lewis for a year. If I'm honest, I think that's where… I was always incredibly interested, but I think from studies at university, I didn't really necessarily have the passion for what we do until I went into industry.
And then I understood why we were learning the process of what we were doing and actually being in industry really, it opened my eyes to what that could be. The Child Graddon Lewis, amazing practice with phenomenal people, won't necessarily say the work that I did when I was there was particularly inspiring compared to what we do now in the hospitality world. But I was lucky enough to work on a few hospitality projects then, and as soon as that had happened, I was pretty sure that that's where I wanted to go. Once I'd finished that final year at university and got a job back down in London, which is like Tom said earlier, that's where I met him at United Designs.
SSR: Awesome. And for either one of you, what was your time like at United and what kind of projects did you work on?
TP: It was really good. It was quite an intense place to work in terms of, it was quite long hours and the projects were quite fast-paced, but they had some really interesting stuff in the studio and they did a lot with W Hotels so Greece and the Middle East, they were working with W. And then things like Mandarin Oriental in Moscow and there's some very high level, particularly hospitality focused projects. And it was interesting that it was quite a conceptual approach to a lot of the projects and that's probably where Andy and I get a lot of our process from.
But a lot of the projects were very, very concept or narrative driven and some of them were so concept driven that it was impossible to build a lot of them. So it was a weird one that we designed a lot of stuff, but we didn't necessarily, partly because of the nature of the projects and the length of them, we didn't spend a huge amount of time on site or in construction really. But it was a lot of very early conceptual design, which was interesting. It was a good studio in terms of exposure to projects and if you worked hard there you'd get probably slightly too much piled on your plate. But they had some great projects in the studio at that time.
SSR: And so how long were you both there and did you have a different job or did you decide from there to start your own firm?
AG: So as well as working together, actually we both lived in really similar locations in London. Tom was five minutes up the road from me and campus down in North London. So we used to spend a lot of time cycling back and forth into the office together and we spent a lot of time together at weekends as well. You've probably been there maybe six months, Tom, or a year,  after I joined. And then I ended up staying at United for about 18 months, two years, but just maybe six months, eight months before that Tom had had actually left United and had gone and joined Martin Brudnizki.
To be honest, as Tom said before, it was an amazing experience at United, and we were exposed to loads of fantastic projects, but the construction element and being involved throughout the design process was something that was possibly lacking for, not necessarily for all, but certainly for someone at our level within that studio. And Tom, obviously I was still speaking to Tom regularly on the weekends and he told me about a potential opportunity over at Martin Brudnizki and as a result he got me an interview and yeah, I followed shortly afterwards.
TP: Yeah, it was the only time in our working careers that we've been apart. It was a very sad seven or eight months.
SSR: Did you miss each other? 
TP: I was glad for a break, to be honest.
AG: I saw him most evenings on the weekends anyway.
SSR: So you were still together?
AG: A little bit. It was more dangerous, me cycling anywhere on my own, to be honest. It was always nice when I was behind Tom making sure that I didn't fall off. But yeah, that didn't last too much longer to be honest. Cycling all the way down to Chelsea.
SSR: So you both are at Martin's, what was your time there and what were some of your biggest takeaways from Martin?
TP: I think that was really exciting in that, at the time, it was a very small studio. I think when I joined, I think I went there in about 2009 and it was I think probably 17 or 18 people, from memory. And there were some really, really great designers there who have gone on to do a lot of their own great studios within the industry, which was exciting. It was a very dynamic studio, but it was great because a lot of the projects were a very quick turnaround. You had a mix at that point of some mid-end projects as well as the amazing high-end projects he's doing now. There was also some more mid-end chain restaurant stuff, which was great because it meant that we got the stuff that we were lacking maybe from United.
So a ton of time on site and a ton of time on project installations and project completions and just seeing how all, for me at least, seeing how all the more conceptual creative work that we've done at United, how that really came together and in a physical manner was really, really interesting. And you were just on project after project. Everything was, particularly when I started there, we were working on, I've done a lot of the rendering work and then working on a few of the more mid-end projects, which was perfect. So we worked on Jamie's Italian, which were big brand names in the UK and you'd be doing back to back projects. So you'd spend months and months of each year on site in construction, which was very, very exciting at the time.
AG: It was really quite a fast learning curve for both of us because certainly talking for myself, I came from, we'd been doing huge drawing packages at United and really complex details and concepts and then when I went over to Martin's, I was working on three projects at the same time. Overseeing some almost independently, my director there, Neil was fantastic, he really supported me. But let me do a lot of the learning myself in terms of the next stages in the project or the communication with the wider team.
And then obviously the bigger and the more complex the project, the more support you'd get. But yeah, it was amazing. I think having never been to site, I went to three different sites in four days of starting and I wasn't just there to have a look around. It was, oh, next week I need to be starting to oversee this, or at least working alongside the wider team to make sure that everything that had been designed was coming to fruition. So yeah, it was amazing. Like Tom says, it was a really exciting time at that studio where the studio was growing, the profile was growing, there were lots of projects coming into the office and we were there at the right time, I think to be able to work on these amazing projects that were coming in and learn so much.
SSR: Was there one project that you might've learned the most from there?
AG: There were several for me, I was really lucky. I worked at that studio for just over five years, so we worked on a number of projects, so ran some of the smaller restaurant projects initially. I worked on the Battery Palace, a restaurant project, the Nobu project there, the start of the Ivy collection works. And then the big one, the big project that I did there was overseeing the refurbishment of the Ivy on West Street, the original site. That was definitely because of the scale and the importance of that project and also the client as well, I learned a lot. I was working very closely with Martin day-to-day and the rest of the team who worked on that project to deliver it. And it was exacting, there was a lot of high end details and complexity to it and it was done at breakneck speed as always. So yeah, personally I felt like I learned a huge amount from that project for sure.
TP: And I was working, when I first started there, we were working on a number of new concepts with Caprice Holdings who own Sexy Fish and Ivy and all those bits. They also, at that time, were doing  a bit of a rollout and some new concepts were slightly more mid-end, so they did a concept called Grill Shack and then they did another concept called Jackson and Rye, which I believe still exists. And that was really interesting in that they're obviously a renowned brand who had these very, very already very established sub-brands like the Ivy.
But then developing complete new concepts completely from scratch and seeing how that process works all the way through from the initial very first idea all the way through branding, conceptual narrative, and then all the way into construction, particularly on Grill Shack and the first Jackson and Rye, which was in Waldorf Street in Soho, seeing those from start to finish. And then we were both at MBDS for quite a long time and I actually, after a few years of being there, the opportunity came up to move to New York. And then from there I worked on a lot of States-based projects, like a restaurant called Bullion down in Dallas. And then the Pendry, I spent a lot of my time in New York, Martin's working on the Pendry in West Hollywood, which obviously has been open a few years now.
SSR: Yeah, okay. So you moved to New York, you're still back in London. When did you guys decide that it was time to take a leap of faith and start your own firm and what was it that gave you that courage to do it? Because it's not easy to do all the time.
AG: Yeah, talking for both of us, Tom, I think we didn't really have much, we'd been talking about it for a long time and then we were really lucky in that three or four opportunities were presented to both of us at the same time. So a private residential project, I'd started to speak to Tom about a project back here in Kensington, one of the restaurant brands that we were working with with Martin, they were looking at expanding. And Martin was probably not the right fit at that time, I think from both parties that was fairly well understood.
And then a friend of a friend decided that they were going to open a restaurant, a pub restaurant, really in Windsor. And they asked me whether or not it would be something we'd be interested in. And that all happened, obviously Tom and I have been talking about the idea of setting up for some time and we'd started putting things in place that meant that might be an opportunity. And then, yeah, the projects came in and I don't know, I think Tom, you probably got slightly before I did and made the big leap and then yeah, I joined soon after.
TP: We'd been talking about it, I can't even remember when we first started talking about it. It must've been months of meeting. We used to do these at United, we used to do these funny little side projects where we'd do little renderings for a client. So we did a rendering of a CT scanner for example, but it was very odd, tiny, tiny projects that you could manage at the weekends. But it got us used to how to work together and how the back and forth worked and the dynamic. And I think it was just a very natural, natural fit really. It felt exciting and we both had the same work ethic and just a desire to get stuff done, I think.
SSR: Yeah. And so what year was it that you officially launched?
TP: I think 2015 so it's been a while now. And we started, I was back and forth a lot of the time, so I'd left Martin's in New York and I was back and forth a lot at the time and had moved to LA and so it was traveling back and forth between London, LA and at that point most of our initial projects were London based. So from 2015 through 2016, '17, we did a lot of London-based initial setup work essentially, and started to build a team. At first it was just me and Andy and a tiny, tiny box room trying to work on some very, very, very light refurbishments of some very, very small restaurants.
But even then it was very, very exciting. It never felt scary, I think because we thought about it so much, it never felt terrifying. It just felt like the normal thing to do. And the thing that we've been planning for so long was finally happening and it was just looking back now, it terrifies me much more than it did at the time I think. At the time it was just very exciting and just felt like we're on the precipice of something great, which we're still waiting for so that's good.
AG: Lots of small steps. Most of the time we were so focused on achieving the next thing, the next project or getting something done and yeah, I wish I had the attitude I do now when we first set up. I don't know whether I'd be doing sleep much nights for five days on a run to do a minor refurbishment of a small restaurant with Tom and stressing all the time about it. But I suppose it's all paid off or starting to at least.
SSR: Yeah. I always say ignorance is bliss so maybe that was a little bit of it. Question, Tom, what had brought you to LA?
TP: I've been traveling tons. When I was in New York, I was traveling to various different projects. I've been a lot to Dallas weirdly, of all places for work. And then when I started working on Pendry, I was traveling to LA a lot because it was a project in the making for 10 years, but before I left it was just starting on site and in construction and the whole client team was in LA so I'd spent a lot of time traveling to LA for that. And then met with my wife and then I wasn't quite ready to, I always wanted to live abroad. I'd been in New York for three years and I wasn't quite ready to go back to the UK, so I was debating whether it's LA or thinking also about maybe Western Europe, like Spain or Portugal.
But then everything, it's like anything in life, isn't it? Everything just fell into place and I made the jump to just give it a go in LA and see what happened. I'd say the edge was taken off it because I'd been in London for a month and then LA for two months and then London for a month for work. So it was a quite gradual transition into West Coast life. But I always really enjoyed LA, just New York and London are quite similar in a way in terms of living there and the hustle and bustle and LA had an element of that. But then also just great access to nature and great surfing, great winter sports, easy access to a lot of other great places on the West Coast. So it's a city that I think can get a bad rap, but one that when you get to know it, I think it has a lot to offer.
SSR: Yeah. And it allowed you to open an office there and in London, right? So you could be both US based and London based. Has that been helpful for you as you both have continued to grow the company?
TP: I think it has become because we launched in that way, which I think is probably quite unusual, most companies you look at probably have an office in one place and then decide to expand, whereas because we launched those things simultaneously, it quintessentially became just part of the way we worked and part of the way the office was built. And it gave us access to so much different, particularly inspiration things and new places and content. And even just the lifestyle in both places is so different that very quickly, I think having LA and London opening simultaneously became very quintessentially part of what the business is really about nowadays as well.
AG: We gained so much in terms of just knowledge and understanding from different client teams. There are connections and we've worked with clients from the UK studio and European projects and we've also worked in the US and vice versa. But the majority of our clients are interlinked in the same way that the rest of the clients that we work with in the UK are, and as a result they approach projects in different ways. There's slightly different processes and as a result, Tom and I, we've got a wider understanding of how the clients want us to work in different practices. And I don't think all of the processes and things that Tom does sometimes in the US works here and vice versa. But yeah, I think it is definitely a huge benefit to us.
SSR: Why do you guys work so well together? What's each other's strength and weakness and why are you guys a good duo?
AG: For me, the most important thing is that we're really good friends. We can be super honest with each other. We don't tend to argue, we trust each other's opinion. We've got really similar work ethics and I think that can be something that is difficult to find in someone and passions for what we do as well, for sure. From a skillset perspective, I think most of our skill sets are relatively similar. I'd say Tom's an amazing creative thinker and he's got unbelievable design knowledge, which is always something that we utilize here in the UK as well. And there's lots of conversations during those early parts of the projects with Tom to drive a concept forward. But then more importantly than that is what Tom's like as a person and super calm, really positive, which I'm not always naturally, I'll be honest, but Tom can keep a calmness and a levelness and yeah, he always gives great perspective for sure.
TP: I think from Andy's perspective, it goes back to what you were saying that we're very similar, but then our approach I think is very different. He's by far the most meticulous and detail oriented person I know and he's got an unbelievable eye for the stuff that I don't. We could both look at a space plan for example, and the stuff that he'll pick out is within seconds, he'll know exactly what's wrong with it. Whereas I'll be able to have a great idea about something nice like Andy essentially.
AG: Sounds like relationship therapy or something.
TP: I know.
SSR: I love this. Keep going.
AG: We're not normally quite as nice to each other all the time I'm sure. But yeah, thank you anyway, Tom. Appreciate it.
TP: Yeah, I think it works pretty well because we do have the similar skillset. I always understand Andy's approach to things, which is nice, but then also he'll come at things from enough of a different perspective where it's beneficial and I think that works really well. I think we found, especially as the company's grown, that's become more and more important to have someone we both probably, I would say probably we have a shared weakness in that we both get way too close to projects and we're probably too involved in a lot of the projects. And we've become friends with most of our clients, so it is very hard to have without a second person, it's very hard to have that step back, bird's eye view of the situation.
So we're both involved in all the projects and we'll both comment on all the projects, but I'll review the UK stuff from much more of a distance. I won't be in the day-to-day and vice versa. And in that way you get a great second opinion coming from the same background and perspective that you have, but there's a level of objectivity to it, which I think is very hard. As part one of the things I've found really difficult about running the business is that you just get so emotionally invested in every client team and project and it's so helpful having a second opinion on that. It doesn't have to deal with those people on day-to-day and isn't in the weeds on every single detail of the drawing package or concept deck for example.
SSR: For sure. And so what do you guys think was your big break, where you felt like, okay, we got something here, we're moving forward, we can continue to grow this company, it was a great idea?
TP: I think there's been a number of years the more we've gone on and done more projects and more international stuff and bigger profile and bigger budget projects. The more I thought about it, the more I just think getting the first few was probably, even though it is a very light refurb of some mid-end restaurants, I think just getting up and running and getting that momentum, it is hard. For me, it's the hardest thing about starting a business and once you have the momentum and you're working with teams regularly, almost all of our clients become repeat clients.
So once we got that momentum, it naturally led and one thing led to another. But I think getting those first few was a huge thing that we probably didn't appreciate at the time because we've been at big companies who constantly have this turnover of projects. So I think we just took it for granted that we'd get projects but in reality, looking back, that was a really, really big stepping stone. We've gone on to do, I think each project we've opened has had a huge benefit to us and to the studio, but certainly getting those first few was huge.
AG: I think as well alongside those first ones, and I don't disagree at all, those were huge and we're really grateful that those clients who had known Tom and I whilst we've been in other studios, had that trust and faith in us to deliver what they wanted. For me, and it's probably easier for me to say because I do have that perspective, but the first projects that we worked on in the US were huge I think personally because we weren't reliant upon a reputation gained at another studio.
We awarded those on our own merits and working on the Hoxton in Portland for example, that was a huge project. It was the first hotel project that we worked on. It was huge project in the U.S. And then at a really similar time, Tom and the team started working with Matt and Marissa Hermer on the Draycott project in LA. So our first restaurant project in LA and those two for me really stand out actually as a huge turning point for the studio and knowing that we were going to generate projects or generate interest at least in both the U.S. as well as the UK.
SSR: Yeah. And so how have you grown the firm? Because I know it's a fine line, you don't want to get too big where you have to take on too many projects, but you need team members to do great work. So how have you done that and how have you balanced workload with getting bigger?
TP: No, I think we've tended to do it very, very slowly over the years. We have seven people in LA and nine now in London, but we are seven or eight years in. So it is growing very, very steadily. And I think we've always tried to focus it on what we want as a studio rather than taking too many projects, being too greedy and then being forced to expand. But it's been at times very hard to be disciplined when you get offered a number of projects at the same time. To not take everything on has been tough, but then it's meant that we've had a very, very steady growth. And it also meant that we've kept the people that have worked for us. We were really, really lucky with the designers in both studios, we've had a lot of them for a very long time now partly because I think of the steady way in which the business has grown.
AG: I think we're also very aware of the trust that clients have given to us in delivering a project for them. And if anything, I think that we're probably overly cautious in terms of ensuring that we've got the right resource to be able to really deliver the best project that we can for the client team. And if that means that there's going to be more time spent on that project to make sure that that's right and not overstretching ourselves, and that's the approach that we've taken. It was always done with the mentality that we just wanted to do the very best that we could do for the clients that we had.
And if that meant that we had to turn some projects down so that we could make sure that we did that, then that's what we've done.  think from both perspectives, I'm sure you'd agree, Tom, probably again, something that we could have done better and Tom and I very involved in the projects that we work on. We don't sit in the background and just have a partial overview. We understand the details and we're involved with those discussions on most of our projects. And I think that becomes more difficult the larger the studio that you have, for sure. That's the bit that we enjoy. And to be honest, if we wanted to oversee a team, a huge team, we could have stayed where we were previously before setting up because that's what we were doing there anyway. So yeah, we do it because we enjoy it.
SSR: Exactly. How big is your firm now?
TP: We're at 16 between the two studios at the moment, so it's a good size. I think we've got to a point where we've leveled out a little bit. I think we're not actively trying to expand aggressively anymore. So I think it's a good manageable size where both of us are at the limit of our stress levels that we're willing to tolerate, I think.
SSR: And what do you look for when you're hiring?
AG: For me, most of it really comes down to personality. We've not always been perfect when we've taken on people in the past, but I think the team that have lasted the course and remained with us, it's all to do with what they're like as people. And it doesn't necessarily mean a skillset or I don't know, certain personality type. It's more to do with if you can get on with them, if you can communicate effectively. Yeah, that's definitely what welook for. It's also quite interesting, I think both Tom and I enjoy being challenged in the right way creatively and pushing us to change the way that we do things, that's always interesting. But for me, the most important thing is about the personality and whether or not you can get on with them.
TP: I think to expanded on that, anyone that is clearly quite inspired, I think by particularly hospitality design and keen and just would be interested in it as a hobby even if they weren't working in it. I think it is a tough industry at times to work in, I think having that inbuilt enjoyment of it is really important when we're interviewing people. And I think that comes across very quickly in interviews or when you meet people in person.
SSR: Speaking of which, what is it that you love about hospitality and what you all do? Because most of your portfolio is hospitality, so what is it that draws you back to doing these types of projects?
TP: I think from my perspective, a huge amount of it is we are very lucky to work often with historic properties. And I think when you go into a great hospitality project, that sense of, even if it's not a time and place that you're familiar with, but that sense of nostalgia and escapism and of just being immersed in surroundings that are unusual for you in a way that really is what was always drawn me to hospitality. And particularly nowadays, I think you see it a lot with, there's a lot of great brands out there doing very exciting work like Big Mamma in the UK and resorts for example, in the U.S.
You can be quite daring I think with a lot of what you're doing, particularly in Big Mamma's case. A lot of the restaurants that they're producing at the moment are very, very daring and they're very immersive in a way. And we do occasional residential projects, but it's tricky. It's tricky in terms of that level of immersion and interest within the project and escapism and nostalgia I think is much harder to achieve with residential work, just from our experience. I'm sure people probably would say the opposite, but the residential projects we've done were very different I think from the hospitality projects that we're used to.
AG: It's experience based, isn't it? When people are entering a hospitality environment, they're looking to have a good time. And from a client perspective, I've always really enjoyed, there's a certain creative freedom I think that you have with certainly the vast majority of the client teams that we work with, they look to us to create a theater for people's enjoyment. And as a result, that means that you can be more daring and the budgets often allow you to, they can be really experimental and daring really with the design choices that you make. That's always going to be more difficult in a residential environment, for example, where someone's got to live within those spaces day to day. Yeah, like I said, right at the start, I think as soon as I'd started working on hospitality projects, for me it was definitely, it felt the part of the industry where I really connected to and I felt that it would give us the most enjoyment to be honest.
SSR: Yeah. And is there a part of the process that you love the most? 
AG: For me, I'd say, going back to what you were talking about, about the team and the guys who worked for us, lots of people certainly during the interview  process, lots of people talk about how interesting the concept stage is. And I don't think many designers would argue that that is definitely one of the most of exciting times in a project, when we can really start to see the ideas that you've worked up together come to life. But for me, definitely the most exciting is during that construction phase and as you can start to see the real finishes and I don't know, prototypes come into life and really dealing with specialists who you can really learn from.
Working on some of the projects that we've worked with San Carlo recently working with amazing marble specialists and joiners and Johnson who had produced decor mirrors for us or mural artists and working almost hand in hand with them. They're the specialists, so just leaning on their experience to make the best result. That for me is definitely the most exciting time. It's not like the excitement is over when it's finished, but it's that anticipation of what's going to come that I think is great.
TP: Yeah, I'd agree with Andy on that. I think also just even probably me, even earlier, we'd look at a lot of very early feasibility work in the U.S. because I think there's probably a higher ratio of new build resorts and stuff like that. And even just looking at, we're looking at one at the moment, which is some new build resort halfway a mountain essentially. And just even at that stage, looking at those resorts and trying to understand what the project is and how it could potentially work, there's just so much freedom I think in that phase of the project. There's so much freedom where it could really turn out to be anything and you get to see different operators and different clients and their take on that and how they think differently about those things I think is really interesting as well.
SSR: Yeah. All right. Let's do a little lightning round. The biggest challenge of running your own business, Tom?
TP: I would say when not being able to control things when projects are going wrong, which inevitably some projects do. I think we've had a few, particularly as we've grown, there's been a few projects that just went wrong and you just could not control it and it was just beyond, you are completely out of your own remit and often not through any fault of your own. But just being able to detach yourself from that and I think when you get that close to something, it's very hard to watch a project go belly up basically. And it can be heartbreaking if you poured a lot of creative energy into it.
SSR: Right. Andy, you get the opposite. What's the most rewarding part of the job?
AG: Probably the completion, when it's successful when you're working with an amazing client. We're lucky that we've got some clients that we really have great relationships with that end stage of a project when it's successful is super rewarding, but for everyone for sure.
SSR: Do you ever go and watch people use your spaces?
AG: Yeah, all the time. I went over to see Tom as part of a, I don't know, working vacation, whatever you want to call it this year and for Tom's wife's birthday, we were in the basement of the Georgian, so we were one of those experiencing that. It was amazing.
TP: And Andy was still making a punch list. At the end of the night, I got a list of stuff that needed fixing.
AG: Wasn't working all night, come on. And amongst the Negronis, we did a little bit of work maybe.
TP: I think that's really interesting though with builders when you do finish something like the Georgian, I think whenever you do complete a building and despite the fact you've spent so long planning and doing renderings and you've really, with the modern CGIs, obviously you've really seen the space. But then when that comes to life, the Georgian being an example, the way the light comes into the bar and restaurant area as the sun's going down over the Pacific. As the building's really, really come to life and have a life of their own beyond what you'd imagined, I think is extremely satisfying as well. And watching people within that environment, it's really interesting.
SSR: Yeah. Speaking of the Georgian, so that's a historic property that you renovated in Santa Monica. What was the takeaway from doing such an iconic project in that town?
TP: I think the takeaway from our perspective was that it was a very, very challenging project in many ways because it was built in 1933, a classic west coast art deco style building, but there were so many anomalies on site, there were rooms that were entirely… There's a shower room in the basement that was entirely walled in. There was so  many anomalies with the plans and that project at times was very, very challenging. But then I think from my perspective, I learned that a lot oftentimes it's really those kinds of challenges of what in the end make those properties so special.
And when we finished, it has all these unique little areas and unique elements to it because of some of the challenges and implications that we faced on site from it being such an old building. And I think there's something fascinating about old buildings and how they have, no matter what you do to them or what you change or renovate, they have their own story. And there's almost, they have their own will of what they're going to be in the end. So I think it was, from my perspective, it's really the challenges are often makes things very unique and successful in a way.
SSR: Yeah. Okay. So how do you stay inspired? Where do you find inspiration? Andy, I'll give you that one.
AG: From all over really, travel is always great. I don't travel as much as I'd like to, but I'm visiting certainly whenever we pick up a project in an area that's outside of London, we always like to go to that area initially and spend as long as possible. A couple of days, longer if time allows, just walk in the streets around the property or just trying to embed yourself as much as possible within the locality and draw as much inspiration out of that as possible. As Tom was talking about the Georgian, many of the projects that we work with specifically in London actually, they're within historic buildings or traditional buildings and as such, you can look backwards to reimagine some of those principles to pull something together that's new for the space. We do that a lot, not always, obviously it depends on the building that we're working with, but yeah.
SSR: Okay, love it. And then Tom, for you, how do you define success? What is success for you, for your company, for a project?
TP: I think that's one that's really changed over the years, I would say probably for both of us. I think in the early days it was about certain types of projects or working with certain types of clients, but I think as time's gone on, for me at least, it's become just more about being able to enjoy the flow of the day-to-day and enjoy the steps and not get too wrapped up in where you're trying to get to. I think if you can look forward to going into work and look forward to spending time with the team, and that for me is a huge success.
And if the times where I feel like we've been successful with the company is when the team here or the team in the UK is happy and content and feeling inspired. And I think if you can keep that creative energy within the studio, for me, that's always when you generate your best work. So it generates more physical success, but having that energy within the studio I think is always a good sign about the studio and in my opinion, probably a sign of something being successful or something working at least.
SSR: Yeah. Wait, what's one thing for both of you that people might be surprised about or might not know?
TP: I'm quite superstitious to the point where when we started the company, I made Andy make a list of the things that we wanted to achieve and then we set fire to it in a park near the office. Which actually was probably quite dangerous looking back because it was the middle of summer and it was quite warm and you definitely wouldn't get away with that in California. But yeah, we made this list of things that we wanted to happen and Andy was very, very skeptical and it's not really his cup of tea, shall we say, but then they all came true, so he was wrong.
SSR: Do you remember those five?
TP: Yeah, I remember some of them. A lot of them were just about getting the first few bits completed in London and then picking up a project. We just wanted to pick up one project in the US at the time, it was really, really early days. So pick up one project in the US finished the things we were working in London and I think there's probably some other more personal ones I would imagine. But yeah, they were pretty basic looking back now, but it did the job. But I've got a lot of little superstitions and yeah, I try and keep most of them on the down low to be fair because a lot of them are a lot stranger than that.
SSR: Andy, what about you?
AG: You've got some incredibly odd habits, some things that I watch. So Tom and I, obviously there's an eight or nine hour time difference most of the time. So Tom is a morning person and he's up surfing as much as he can. It's not as much as he'd like to, I'm sure, but that means that I work late here. So I end up watching some just to get some background noise, I listen and watch the weirdest '90s crime dramas. That's my little nuanced weirdness that Tom knows about. Most people probably don't, but yeah, that's mine.
SSR: Is there one in particular?
AG: A Touch of Frost or Adam and Silent Witness, all sorts of quite odd old-fashioned '90s BBC dramas.
TP: I think he's underselling it a bit here because whenever I speak to him, he's always watching the same episode essentially, or the same couple of episodes. In fact when I'd first phone, I can hear in the background and then he'll pause it but quite often I can tell he's watched the same episode. There must be episodes that you've watched, I don't know, 13, 14 times.
AG: It's white noise essentially, isn't it? Especially if you've seen something before. It's just white noise in the background, just while I'm waiting for Tom to stop surfing for the day. Something like that.
SSR: The real issues come out now.
AG: Yeah, no, it's not a problem. With three little ones, it's very rare that he gets time to surf anymore.
SSR: Yeah, I was going to say which wins? Good luck with superstitions.
TP: After jinxing the whole process of having twins in the first place, my superstitions have had to go on hold otherwise my wife's going to kill me.
SSR: For sure. All right, well, I hate to end this, but we always end this podcast with the name of the podcast. So for each of you, what has been your greatest lesson or lessons learned along the way?
AG: For me, it would definitely be to trust in your instincts. I think I probably learned that from Tom to be honest. Just make sure that when we are confident that we're doing the right thing and pushing forward with that, then that's the right thing to do. I think we've questioned ourselves so many times over the years about lots of different things, but yeah, trust in your instincts, that'd be mine for sure.
TP:  And I think mine would be just to try and very much enjoy the process and the day-to-day. I think it's very easy to get, especially when you're working on 2, 3, 5 year projects, it's very easy to look really far ahead and think, oh, we're going to be in a great position when this completes or that completes or we get this project. But actually, I found we've been most successful as a company when we are just really immersed in the day-to day and when Andy and I are happy and contented and enjoying the process and inspired by the process, I think it would be the thing. It's definitely been a big learning curve for me, I think.
SSR: To enjoy the journey. Well, thank you both so much for joining me for this last 45 minutes to an hour. It's been such a pleasure. And hopefully I'll see you both in real life soon.